Tilting at Windmills, or The Crimson Monkey
by Jeff Morrison (started 2012, updated annually)
It is the surest thing in college football. The win percentage is more lopsided than Notre Dame over Navy. The underdog's win total is less than Indiana over Michigan or Ole Miss over Alabama.
No matter what else may happen in a season, Oklahoma beats Iowa State. The series record is 74 OU wins, five ISU wins, two ties, a 92.6% win record (and 8.5% of OU's all-time victories). Of long-term series between conference opponents, there is only one with a higher win percentage: Alabama over Kentucky, 93.75%. But the vagaries of SEC scheduling mean they only have half as many games; it's 37-2-1. (The two played only twice in the 1948-79 span.) Oklahoma State's mid-century entry into the Big Eight explains why Nebraska only leads 37-5-1 there. The bottom line is, no long-running conference series has more wins against as few losses than Oklahoma-Iowa State. (Maryland has only beaten Penn State twice, but neither were B1G when that started.)
For the record, the ISU wins were in 1928 (the first meeting), 1931, 1960, 1961, and 1990; the ties were 1936 and 1981 (both 7-7).
Oklahoma has been ranked 50 times when playing Iowa State; 17 of those were as AP #1, #2, or #3.
About once a decade, the Oklahoma game serves as an inflection point on what up until then has been a decent or even stellar season for Iowa State, and the Cyclones' inability to win sends the team on a spiral that lasts the rest of the year and sometimes much, much longer. But the Cyclones keep playing. Sometimes, once in a lifetime, Sisyphus wins, and the victory is all the sweeter. (And, after being faced with Conferencepocalypse near-oblivion twice, it's a lot better than the alternative.)
1938, 1944: One team to beat
From 1928 to 1957, Iowa State had six winning seasons. In 1938, Iowa State went 7-1-1, tying Kansas State and then losing to #7 Oklahoma 10-0 in the last game of the season — the first game ever against an opponent ranked in the Associated Press poll. Oklahoma won the Big Six Conference title. The next year, ISU went 2-7 and would not win seven games in a season again until 1959.
In 1944, if Iowa State had beaten Oklahoma Nov. 4 in Ames, the Cyclones would have finished 7-0-1 (4-0-1) and won the Big Six title. But instead...
Oklahoma 12, Iowa State 7. ISU had as many first downs as points. Oklahoma went without a loss in the conference (oddly enough, both ISU and OU tied Missouri 21-21 that year) and the Sooners repeated as Big Six champions. Iowa State went 6-1-1 — the last one-loss season in ISU football history.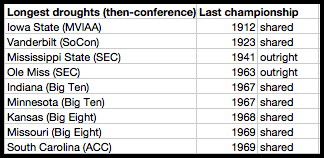 1959: The Dirty Thirty
The 1959 "Dirty Thirty" team is a legendary one at Iowa State. A team comprised of only 30 players including future Tulsa and Ohio State coach John Cooper, led by coach Clay Stapleton, played to a 7-2 record with one game remaining. Although the Big Eight Conference had formed the previous year, Oklahoma State was not yet on the schedule. The Cyclones had their best record in 20 years and the Orange Bowl was on the horizon.
"Norman, Oklahoma, and the Dirty Thirty can still get to Miami," says the narrator in a season-recap film. "All they have to do is beat Oklahoma and tie for the title." At the time, ISU had not beaten OU in nearly 30 years.
Oklahoma 35, Iowa State 12. The Sooners (7-3, 6-1) won the conference title over Iowa State (7-3, 3-3) and Missouri (6-4, 4-2) went to Miami over both of them. Iowa State has come that close to a bowl of that caliber only once since, in 1976, when a victory in the last game of the season would have put ISU in a three-way Big Eight title split. ISU would have gone to the Orange Bowl as the "least recent" (i.e. never) team. Instead, ISU lost to Oklahoma State 42-21, missing out on a ninth regular-season win and staying home because there were far fewer bowl games then.
After the 1959 game, Iowa State exacted a measure of revenge, winning two in a row over two of the worst Oklahoma teams in seven decades. ISU finished 1960 7-3 and OU 3-6-1 — the only time in the postwar era that ISU has ended with a better record — and both went 5-5 in 1961. Iowa State's only home wins against Oklahoma were in 1928 and 1960.
On Sept. 12, 1962, when President John F. Kennedy asked "Why does Rice play Texas?" in his famous moon speech, the Owls were a not-completely-awful 19-29 all-time against the Longhorns (but went 2-41-1 in the next half-century). At the same time, Iowa State was 4-29-1 against the Sooners, and two of those wins were the previous two years. If JFK really wanted to show how hard getting to the moon would be, he would have come to Ames and asked, "Why does Iowa State play Oklahoma?"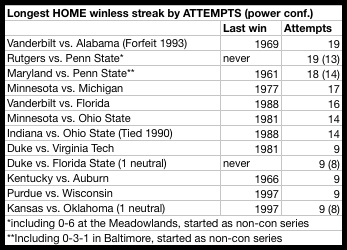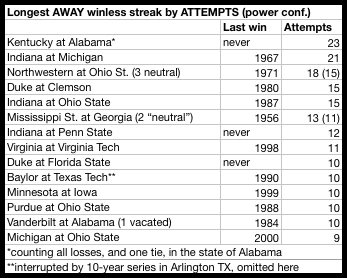 1972: The start of a skid
In 1971, Iowa State had had three regular-season losses, to the teams that finished 1-2-3 in the polls: Nebraska, Oklahoma, and Colorado. In the first weekend of November 1972, Johnny Majors' 5-1 Cyclones were climbing in the polls for the first time ever.
#7 Oklahoma 20, #14 Iowa State 6. The week after that, Iowa State tied Nebraska — because of a missed extra point, naturally — and then lost the last three games of the season before losing to Georgia Tech in the Liberty Bowl. OU won the Big Eight. Majors went to Pittsburgh and won a national championship four years later.
Once again, a near-decade spiral against Oklahoma ensued. Earle Bruce's eight-win teams of the late 1970s were no match for Barry Switzer's nine-, 10-, and 11-win teams.
In 1976, Iowa State had a chance to win a share of the conference title with a win over Oklahoma State and an Oklahoma loss to Nebraska. Neither happened; OU beat NU in the last minute with only two completed passes in the entire game. Instead, the Big Eight had a three-way split for champion — Oklahoma, Oklahoma State, and Colorado, the last time until 1990 that any team other than Nebraska or Oklahoma had a share — and the 8-3 Cyclones stayed home for the holidays.
1981, 1990: Not losses, so we'll take them...right?
OU-ISU in 1981 was the conference opener for both teams, in Norman on Oct. 3, and the third time in 10 years that both teams were ranked at the time. Oklahoma was 1-1, having just lost to #1 USC, and Iowa State was 3-0 including a win over Iowa.
#5 Oklahoma 7, #20 Iowa State 7. With a minute left in the game, ISU kicker Alex Giffords "missed the kind of field goal he could probably make nine times in 10 with a paper bag over his head," The Des Moines Register's Marc Hansen later wrote. Iowa State lost by 21 to San Diego State the next week, rebounded against Missouri and Colorado, and then closed out the month by losing to 1-6 Kansas State. That meant an exit from the AP Poll for the last time in the 20th century, and eventually a 5-5-1 finish. Then — well, then the '80s happened to Iowa State.
On October 20, 1990, 2-3-1 ISU went to Norman to play 5-1 Oklahoma. Late in the linked video, radio "Voice of the Cyclones" Pete Taylor is ecstatic: "Third and goal at the 1-yard-line. The sneak, is he in? TOUCHDOWN IOWA STATE! Pedersen gets in!"
Iowa State 33, #16 Oklahoma 31. It is ISU's only win against a ranked OU team, ISU's only win in Norman since 1961, and ISU's only win against OU in my lifetime. It was also one of three wins over Top 25 teams in the Jim Walden era (1987-94) and the final highlight of the "Century of Cyclone Football" video that came out in summer 1992. Marvin Seiler is involved in two of those Walden upsets, throwing a fake punt pass against OU and then serving as starting quarterback for the 1992 Nebraska game.
As it turns out, though, the 1990 win means Iowa State can't even manage a losing streak properly. (We fail at failing!)
If the Cyclones had lost in 1990, Oklahoma over Iowa State currently would be tied for the second-longest active streak for consecutive wins over a conference opponent (26), now trailing only Florida over Kentucky (30 after a 3OT squeaker in 2014), and fifth place for "consecutive wins over a major opponent in a nonconsecutive series" in the NCAA record book.
If not for the 1990 win and 1981 tie,

if

those had been

losses

, Oklahoma over Iowa State (47 games, 1962-2016) would be the longest conference win streak of all time and spoken in the same breath as Notre Dame over Navy (43 games, 1964-2006). It would also be first place in "consecutive wins over a major opponent in an uninterrupted series" (34 games, 1962-95).
Instead, the streak is sitting at "only" 18, currently the sixth-longest active for a BCS-conference game. (Vanderbilt's win over Florida in 2013 bumped the ISU-OU streak up one. Incidentally, if Kentucky had not beaten Alabama in 1997 and tied in 1939, that streak today would be at 38 games, but the last and only win would be all the way back in 1922.)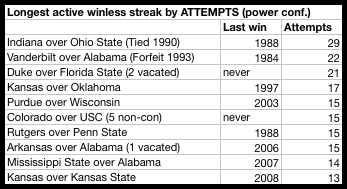 1998: The seedy side of the McCarney years
The formation of the Big 12 Conference ended a 67-year continuous streak of ISU-OU games. As a result, Iowa State would only get one game against the Sooners in the John Blake era, the worst in Oklahoma football in generations. The Halloween 1998 game was in Norman against a redshirt freshman quarterback making his first start. Coming into the game, Iowa State had won one Big 12 game in the three years of the conference's existence. Oklahoma had won five. (Three of those combined six were against Baylor.)
Darren Davis and ISU scored first. The Cyclones did not trail until there was 1:12 remaining in the fourth quarter. And then that redshirt freshman, John Sills, threw a 44-yard touchdown pass. It was Oklahoma's first conference win of the year.
"There is no statistical category for Iowa State's 17-14 loss to Oklahoma," Cedar Rapids Gazette reporter Marc Morehouse wrote. "Even the finger of blame would turn away in sympathy." 1998 was Dan McCarney's second chance to beat Oklahoma, and it may have been the best. He would have to wait another year for his first Big 12 road win. "If Dustin Avey had hung onto a sure interception on first down of the Sooners' winning drive, game over," Morehouse wrote. "If the Cyclones had come away with TDs on either of [Todd] Bandhauer's interceptions — one came from the Sooners' 16 in the first quarter, the other came from their 21 in the fourth quarter — game over."
2002: A hard and fast fall
Oct. 19, 2002. Iowa State was 6-1 and had beaten Nebraska for the first time in a decade. The week before the Oklahoma game, quarterback Seneca Wallace had run up, down, over, around, and through Texas Tech — in a single play, mind you — and propelled the Cyclones to their first appearance in the AP Top 10. Unprecedented heights, a spot in the year's first BCS rankings, and seven wins before Nov. 1 for the first time in history awaited Iowa State. All they had to do was beat Oklahoma.
#2 Oklahoma 49, #9 Iowa State 3. The Sooner Schooner ran over Wallace's Heisman aspirations with brutal efficiency. Iowa State had five first downs and 60 yards of offense the entire game. Iowa State lost all but one remaining game of the season, including the Humanitarian Bowl against a rising Boise State. Oklahoma won the Big 12 championship and the Rose Bowl.
Six of the 13 games in which Iowa State has had five or fewer first downs all-time are losses to Oklahoma.
2017: What it all adds up to
In the 12 ISU-OU games of the Bob Stoops era — the Big 12 era minus 1998 — the average score has been OU 40.8, ISU 10.5. Of those 720 minutes of football, ISU has led for five spans that combine for 53 minutes and 32 seconds, about 7 percent of the total. Two of those spans consist of a kickoff plus one play: In 2015, a field goal was answered by a 75-yard touchdown pass, and in 2016, a touchdown was answered by a 65-yard touchdown. Iowa State went six consecutive games (2002-11) without scoring in double digits, and the OU game resulted in the season's fewest or second-fewest total first downs in a game seven consecutive times (1999-2011). University of Iowa graduate and Hayden Fry disciple Bob Stoops must have taken deep pleasure in beating Iowa State like a rented mule.
In the 12-team Big 12, Iowa State won one road game against every conference opponent except Oklahoma (Baylor and Missouri twice) and won at least one home game against every opponent except Oklahoma, Texas, and Texas A&M.
Paul Rhoads pulled off four serious monkeys that seemingly had permanent residence on Iowa State's back: Beat Nebraska in Lincoln for the first time (and the last) since 1977, beat Texas for the first time ever (and then the second time ever), beat a top-six opponent for the first time ever, beat a top-15 opponent on the road for the first time since 1977 (despite the asterisks that 2012 TCU game may have). A win against Oklahoma — any win against Oklahoma — is one of the last, and certainly the longest-lived, regular-season monkeys left. (Excluding beating a #1 or winning a conference championship. I'm trying to be realistic.) After Rhoads was fired for what can best be described as Iowa State football being Iowa State football, Matt Campbell will have his chance at being the second Cyclones coach since Clay Stapleton to beat the Sooners.
In 2011, two weeks after beating #2 Oklahoma State, Iowa State went to Norman. The Cyclones took the lead for the second time since 1998 with a first-quarter touchdown and never scored again — the extra point attempt clanged off the left upright. #12 Oklahoma 26, Iowa State 6.
Last updated 8/17. Streak statistics are through the 2016 season. Sources: CFB Data Warehouse, mcubed.net, soonersports.com, ISU football media guide, ESPN