(April 30, 1923-December 31, 1990)
NORTH End: 3rd St., Woden, Hancock County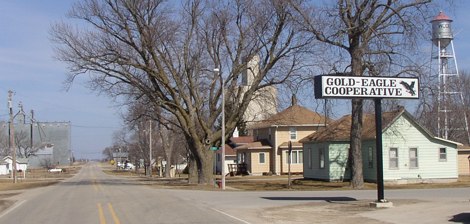 Facing north on 111
At this intersection, the white line stops and the pavement narrows. This is at the southwest corner of Woden, less than two miles from Winnebago County. Prior to this trip I thought the Gold-Eagle Cooperative was only in Goldfield and Eagle Grove, more than 35 miles to the south. To the south of this picture, a speed limit sign is low on the pole, probably because the city limits sign used to be there. The final route log entry for this route gives a distance of .3 miles from city limits to end, so this location works if the east-west portion of the road is not considered within city limits.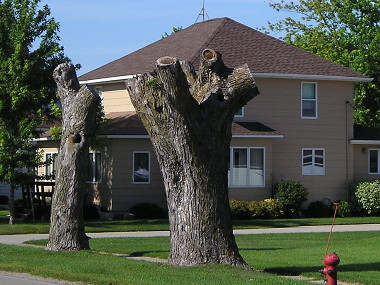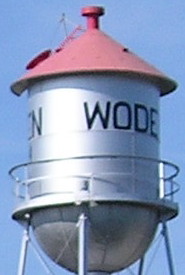 LEFT: The big trees in the background of the top picture got a, uh, little trim after September 2009 (as seen in Google Street View). RIGHT: Closeup of the water tower.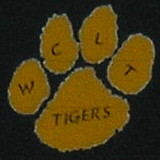 In 2008, the Woden-Crystal Lake-Titonka school district closed the elementary in Woden. The two districts went their separate ways in 2011. Although Woden-Crystal Lake and Titonka have been in whole-grade sharing for a long time, they never became one district. I passed by the softball diamond in Woden hours before the last-ever WCLT home game was played there. WCLT beat Rockford 10-0 in five innings in the first round of regionals, but lost in the regional final to North Sentral Kossuth/Armstrong-Ringsted. NSK/AR was recently created, while WCLT was on its way out — two ships passing in the night.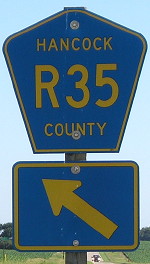 Facing south on 111 (2003 / 2011)
The entire route of this very long double spur (27 miles) is longer than Hancock County is tall (24 miles), yet because of the large westward turn stays entirely within the county. The entire route was signed as R35, but the east-west part between Woden and Crystal Lake would have better been B16. To the 'right' is R20. The arrow eventually got replaced.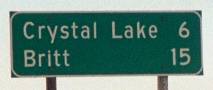 Facing east, but heading south, on 111
The double spur met US 18 in Britt, and then continued south to Kanawha.
Along the route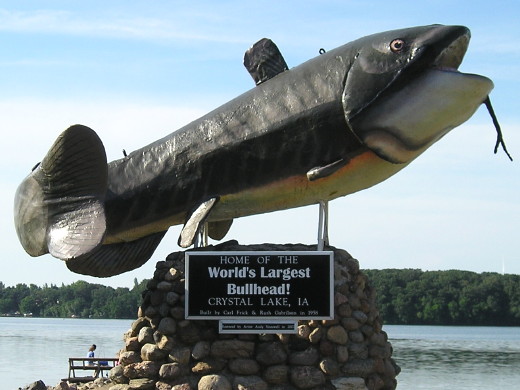 Crystal Lake, a mile north of old 111
SOUTH End: UP railroad tracks, Kanawha, Hancock County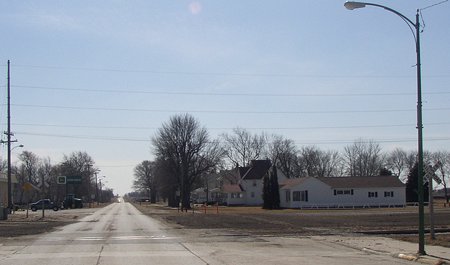 Facing south on 111
Having previous experience in seeking out old ends of spurs, I postulated that 111 ended either at the south end of the business district or at railroad tracks. In this case, it was both. I wasn't sure at first, but a DOT-style LGS at B63 north of here, and then the sighting of mile marker 1 (on a wooden pole), confirmed my suspicions. The "End 111" sign most likely was attached to the light pole on the right. The town's slogan is "100 years and still on track!" but it's barely so, because the railroad no longer continues west of this intersection.
Last seen: 1991

Hancock County assumed control of the road at the beginning of 1991.
All pictures by me: First, sixth, eighth, and tenth, 3/22/03; second-fifth, seventh, and ninth, 7/6/11
Page created 6/18/03; last updated 4/11/12