WEST End: I-29 exit 89, Harrison County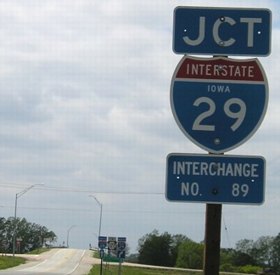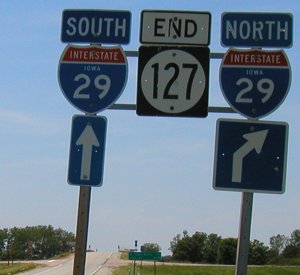 Facing west on 127
Unlike many interchanges, this "End" sign comes before the interchange. This is just west of 127's original west end at US 75 (now K45), and because of the extension there is a Mile Marker 1A near Mondamin.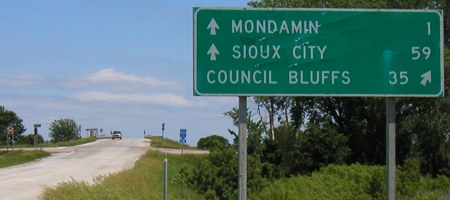 Facing east on 127 (technically, the gravel before it)
This beat-up LGS is on gravel, with pavement starting just before the west-side ramps. Just behind this picture (to the west), there is a T-intersection. Gravel travelers meet this sign halfway between the T and the interchange. The first 127 sign does not come until the east side of the interchange.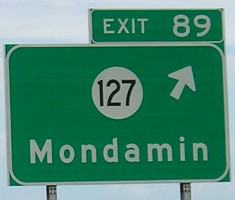 Facing north on 29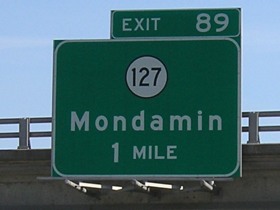 Facing south on 29
This bridge-mounted sign is something rare for a rural area.
EAST End: Stoplight (was 4-way stop), US 30/7th St., Logan, Harrison County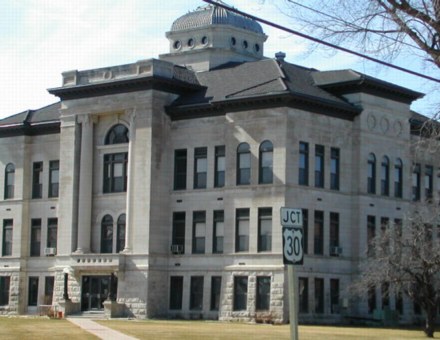 Facing west on 127
Photo by Neil Bratney
This is a really nice picture of the Harrison County Courthouse. It's a rare sight nowadays for a junction of highways to occur so near downtown, especially if one of those highways happens to be US 30. Although such a site would logically seem to have been around since the beginning, Lincoln Highway routings mean that 127's original end in Logan was elsewhere, possibly the intersection of 6th Street and 4th Avenue, three blocks away (127 is now on 2nd Street).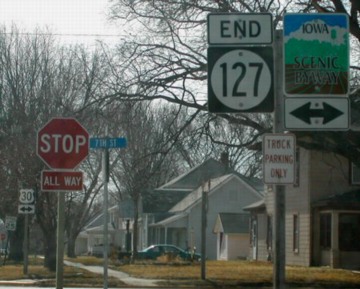 Facing west on 127 (February 2002)
Photo by Neil Bratney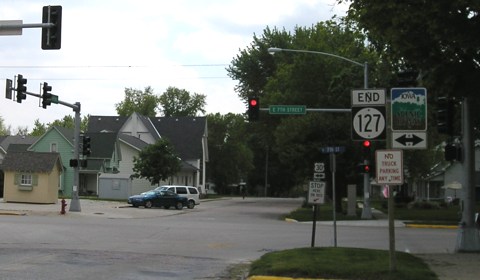 Facing west on 127 (May 2006)
The stoplight in Logan was exceptionally new in 2006 because a driver's license FAQ at the Harrison County Treasurer's website, accessed after my trip, said that CDL (commercial driver's license) tests are not given in Logan because, quote, "we do not have a four-lane street, stoplight, or railroad crossing in Logan." One down, two to go. (The page is still up four years later, but stuck inside a website frame.)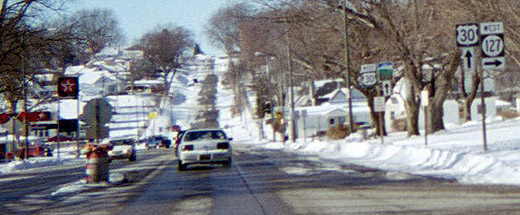 Facing west on 30
Like many Texaco stations in western Iowa, in 2003 the Texaco in Logan became a Shell station. Compare this January 2003 view to the May 2006 perspective two pictures down.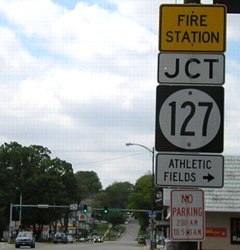 Facing west on 30 (May 2006)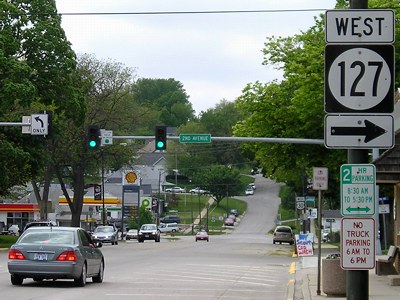 Facing west on 30 (May 2006)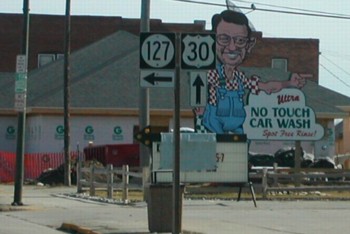 Facing east on 30 (February 2002)
Photo by Neil Bratney
With the new stoplight, this assembly moved from the middle of the intersection to before it: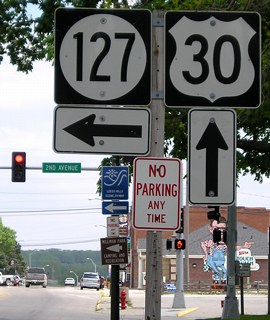 Facing east on 30 (May 2006)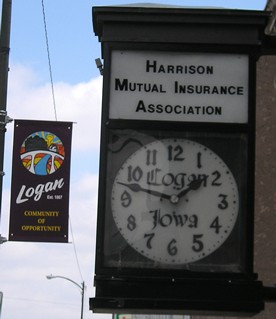 This old clock is about a block east of the intersection.
Pictures by Neil Bratney: Sixth, seventh, and twelfth, 2/23/02
Pictures by me: First, eighth, tenth, eleventh, 13th, and 14th, 5/7/06; second and third, 6/9/03; fourth, 6/12/05; fifth, 5/13/07; ninth, 1/19/03
Page created 3/22/02; last updated 2/25/10