(September 1, 1964-July 1, 2003)
NORTH End: 4-way stop, I Ave., Nevada, Story County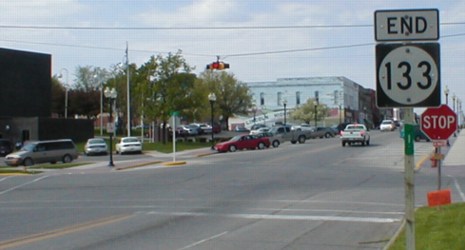 Facing north on 133 (5/10/02)
Contrary to previous thought, 133 did NOT end at the Lincoln Highway, but a few blocks short, exactly one mile from its south end. Think the sign looks normal? Look left. That's facing east looking at the same sign. The wood is (was) heavily warped on it.
There is (was) one shield on the route, one more than the minimum needed. The eight 133 signs needed are two at the north end, two at the south, and two in each direction on 30 (and I have pictures of five of them on this page).
SOUTH End: Stop sign/T intersection, US 30, Nevada, Story County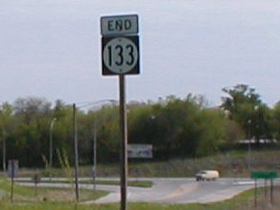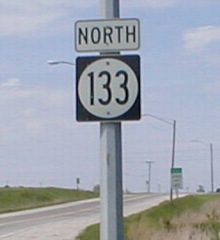 Facing south on 133 / Facing north on 133 (first sign) (5/10/02)
Because nearly the entire route is within the Nevada city limits, it received no county road designation at decommissioning. Actually, now it is entirely within city limits, but the sign remains: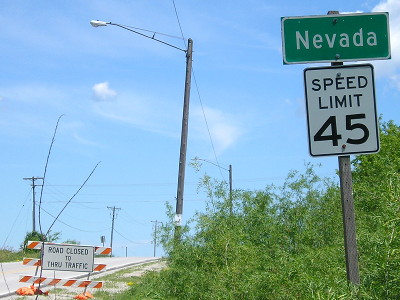 Facing north on 133 (6/20/17)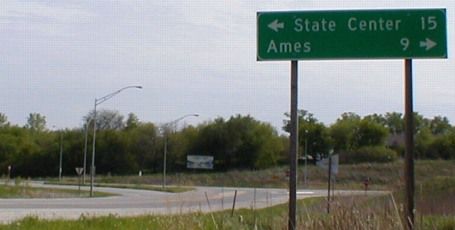 LGS in above picture (5/10/02)
I tried to take these pictures in a way to show that the intersection wasn't just a straight T, but had a few other parts to it. Traffic from SB 133 to EB 30 sort of curves into the other lane. This sign is gone now.

Facing south on 133 (6/20/17)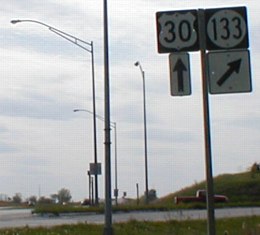 Facing west on 30 (5/10/02)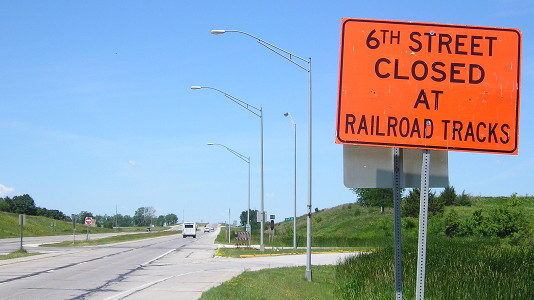 Facing west on 30 (6/20/17)

Facing east on 30 (11/29/01)
Nevada is "The 26th best small town in America", according to the sign by the white dome. (This is from some survey, but I am unaware of which one.) An LGS now points to Nevada Central Elementary School.
This intersection used to be the end of 30's four-lane - it went to two between the intersection and the bridge - but in 1998 the four-lane section was extended to US 65. It took about 15 years to close the gap to Marshalltown.
Last seen: 2003
Page last edited 1/12/18