NORTH End: Stop sign, IA 10 and L36, O'Brien County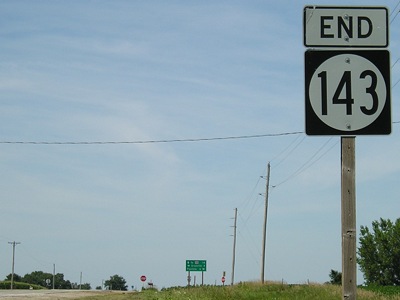 Facing north on 143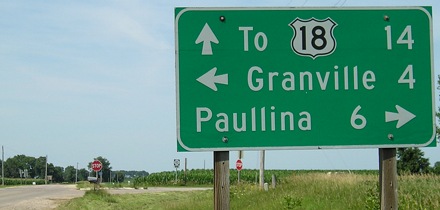 Facing north on 143
The north end has US 18 on the LGSs, the south end US 20, separated by 49 miles.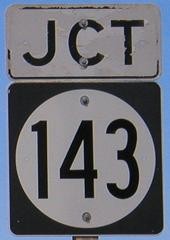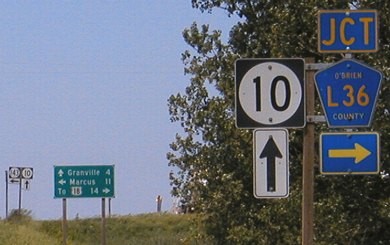 Facing west on 10
The county road shield in this picture has an apostrophe in "O'Brien", but the eastbound sign does not.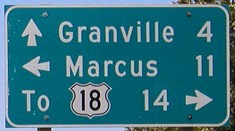 LGS in above picture

Facing west on 10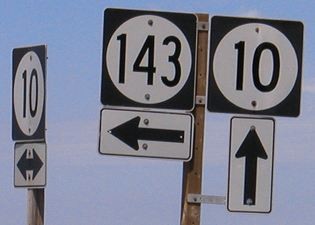 Closeup of signs at right
The left sign, on the north side of the road, is for northbound 143.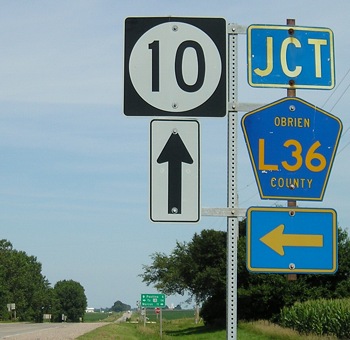 Facing east on 10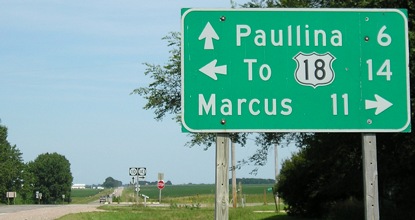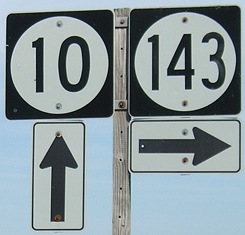 SOUTH End: Stop sign, IA 3 and L36, near Marcus, Cherokee County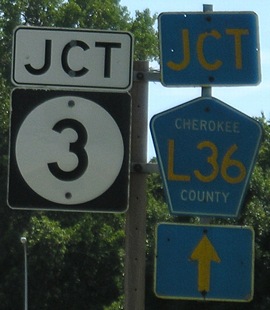 Facing south on 143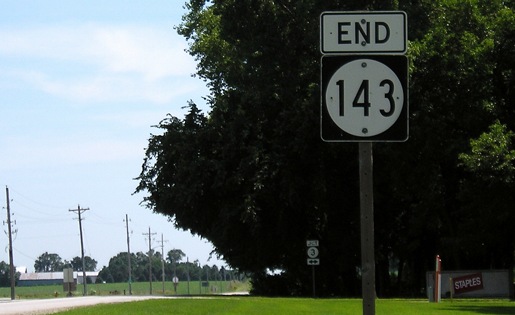 Facing south on 143
Between 2004 and 2009 someone incorrectly stuck a "Jct" on top of that 3 shield in the background.
With two exceptions, the first versions of highways 137 to 146 were replacements for numbers taken for the US highway system in 1926. In this case, 143 replaced IA 75. It was the sole remaining spur in western Cherokee County after IA 5 (now 3) was realigned between Marcus and Cherokee. Prior to realignment in 1931, 5 went south from this intersection to what is now County Road C38, then straight east to Cherokee. Spurs to Cleghorn (IA 145, previously IA 32) and Meriden (the first IA 33) died upon realignment. The tiny spur 143 survived the realignment and was later extended to IA 10.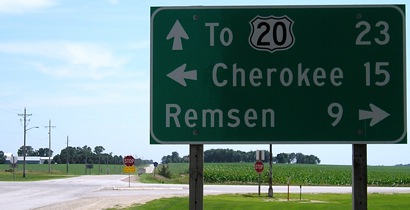 Facing south on 143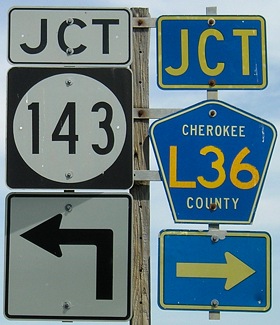 Facing east on 3
On IA 3 at both IA 140 and IA 143, the junction sign with the county road also has an ahead-and-turn arrow for the state highway.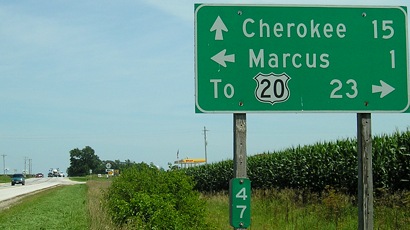 Facing east on 3
Notice the gas station in the background of this picture, and no gas station in the earlier picture below.

Facing east on 3
The last shield assembly in either direction didn't have a 3 shield as part of the set, but that was fixed westbound (see below).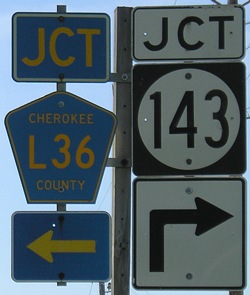 Facing west on 3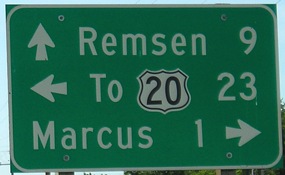 Facing west on 3

Facing west on 3 (2004)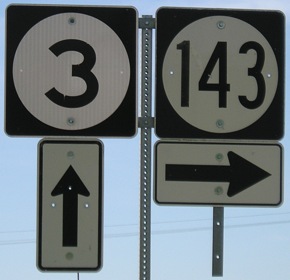 Facing west on 3 (2009)
To my knowledge, this is the only Series E (very wide) IA 3 shield in the state.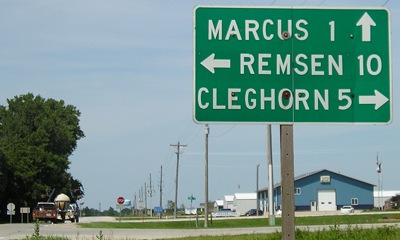 Facing north on L36
Compare the mileage to Remsen on this county sign and the state LGSs above.
All pictures by me: First, second, eighth-fifteenth, 17th, 18th, 20th, and 21st, 7/23/09; third-seventh, 6/15/04; 16th and 19th, 6/14/04
Page created 8/23/04; last updated 3/10/10