(March 4, 1930-1990)
NORTH End: 4-way stop, US 30, Boone, Boone County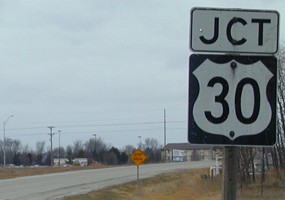 Facing north on 164
The "End" sign would have been in the vicinity of the "Stop Ahead" in the background.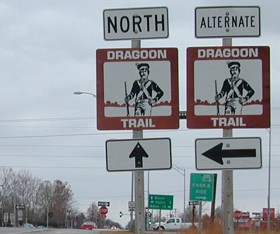 Facing north on 164
There is excellent signage for the Dragoon Trail throughout Boone County. The route follows the path of Dragoons, light cavalry soldiers, who explored central Iowa after the Black Hawk Purchase of 1832. The route goes from Fort Des Moines to Fort Dodge.
The green sign on the right is for a Park-and-Ride; many Boone residents work in the Des Moines area.

Facing north on 164
This DOT-style sign indicates downtown Boone is straight ahead. Until US 30 was rerouted to this location in 1964, 164 continued north to what is now the intersection of Mamie Eisenhower Avenue (old 30/the Lincoln Highway) and Story Street. Boone holds the distinction of being a community along the Lincoln Highway in which the Lincoln is not named Main Street or Lincoln Way.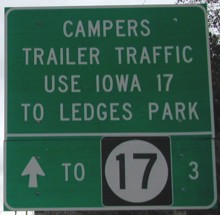 Facing east on 30
This one-of-a-kind sign is a mile west of the intersection, before the overhead flashing "Stop Ahead" sign. The notice directs traffic along 30 to 17 south, then E52 to the east entrance of the park. This is most likely because 164 was gravel until at least the last five years of its existence. The 1986 map marks 164 as unpaved; the 1991 map, the first after the route was decommissioned in 1990, shows a paved R23.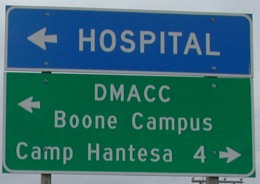 Facing east on 30
The BSV Railroad has its own website, which includes a song that plays on the front page. The Boone County Musuem has a Lincoln Highway marker in front; another one is in front of the courthouse. Camp Hantesa is a general kids' camp; a Boy Scouts-only counterpart, Camp Mitigwa, is farther down the Des Moines River, six miles west of Luther. (And, as a former guest of Mitigwa, I can vouch for it being a very enjoyable place.)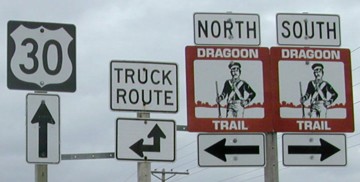 Facing east on 30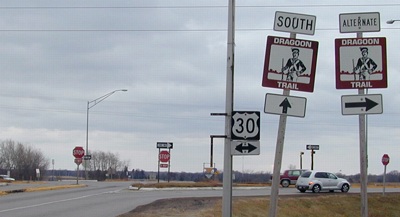 Facing south on Story St. (164 until 1964)
It's easy to tell that the left half of the sign assembly had a 164 shield with an up arrow. (It would be a full up arrow like under the 30 in the above picture, not the stunted one on the Dragoon Trail sign.) A mile south of here, there is one stop sign for southbound traffic as 164/R23 goes west; northbound traffic does not stop. No mile markers remain.
SOUTH End: Ledges State Park, Boone County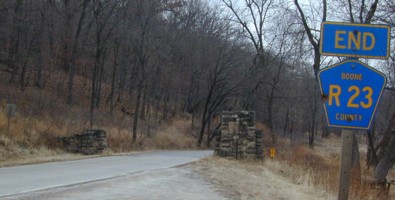 Facing south on 164
Of all the old state highways, this has to be one of the easiest to locate where the "End" sign was. :-)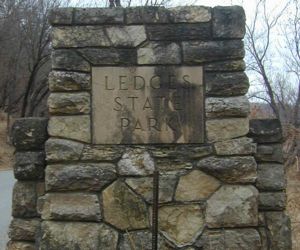 Closeup of the entrance
Last seen: 1990 (1986 map)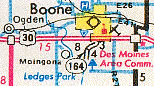 All pictures by me: 12/20/02
Page created 1/24/03; last updated 1/27/04