NORTH End: Stop sign/T intersection, IA 2, Appanoose County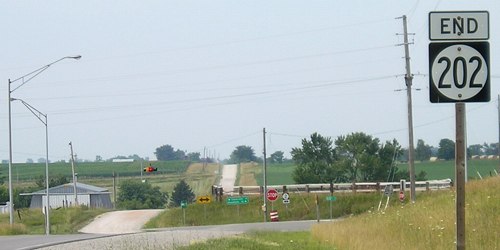 Facing north on 202
The 202 designation, once the last of five sequential Benton County spurs, was used in the Great Renumbering after (coincidentally?) being dead for two years.

Facing north on 202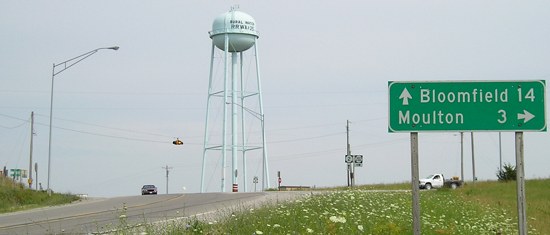 Facing east on 2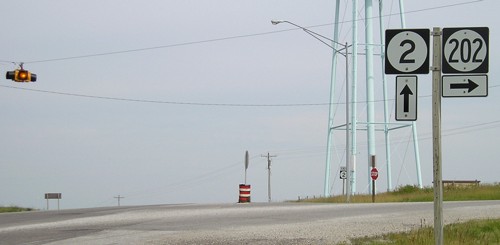 Facing east on 2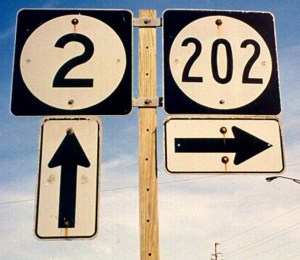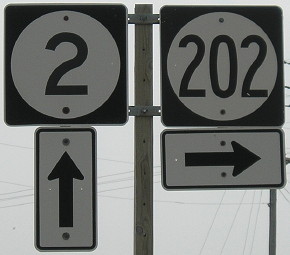 Closeup of signs at right (1998 / 2011)
Left photo by Mark Roberts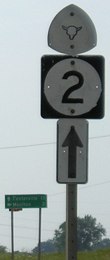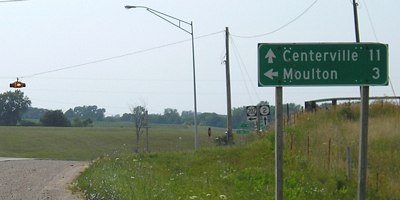 Facing west on 2
This part of IA 2 is marked as the Mormon Trail, but the sign is faded. Update: The Mormon Trail marker is gone, and that particular IA 2 shield has been replaced with one of two known shields that have the number in the narrower Series C font; the other is a few miles east of here.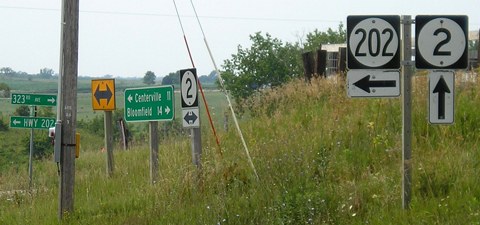 Facing west on 2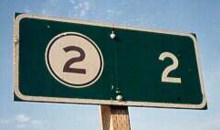 Facing north on 202, 2 miles south of the north end
Photo by Mark Roberts
This is the only leaving-town LGSs on 202, since the only Iowa town 202 goes through is Moulton.
SOUTH End: Missouri state line, Coatsville MO, Davis County IA/Schuyler County MO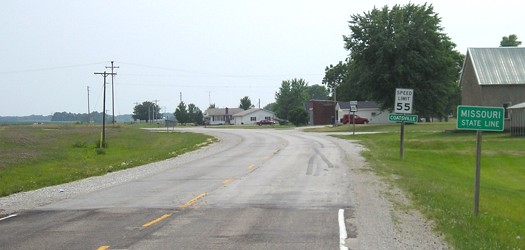 Facing south on 202
Pavement quality changes noticeably at the border (not that Iowa's is perfect, mind you).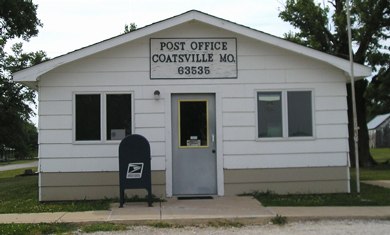 The post office for this unincorporated town is within sight of the state line - it's the white building behind the red Jeep in the above picture. Even though this spot's in Missouri, geographically it is farther north than Athelstan, Iowa, in Taylor County - about 1 1/3 miles farther north. Why? Blame J.C. Sullivan, who drew the original Missouri border in 1816. You can read more about Iowa's southern border problems here.

Although Iowa is one of the two states to suffer the worst percentage of post offices threatened with closure in 2010-11, handfuls in other states closed too, including Coatsville.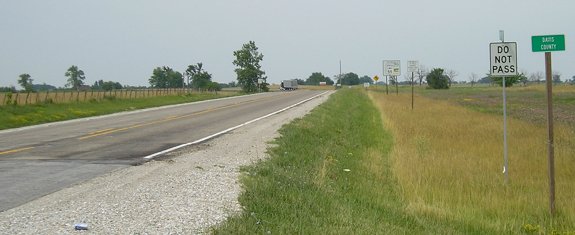 Facing north on 202
Usually a highway shield is placed at the county line, but not so here. "Do Not Pass" signs are somewhat common in the southern tier of Iowa counties, even though (or because) that's more Missouri's style. Highway 202 only spends a little time in Davis County before angling into Appanoose.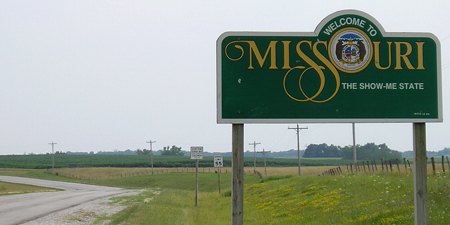 Facing south on 202
Despite being a relatively unimportant road, the welcome signs are dutifully posted.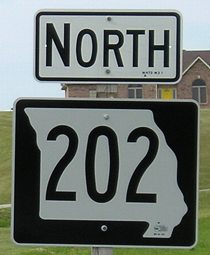 Facing north on 202, just north of old US 136
A casualty of custom-shaped shields: If you go to a "wide" style for 3-digit highways, like Missouri is tending to, the state shape gets distorted.
SOUTH End of Missouri 202: Stop sign, US 63 and US 136, Lancaster MO, Schuyler County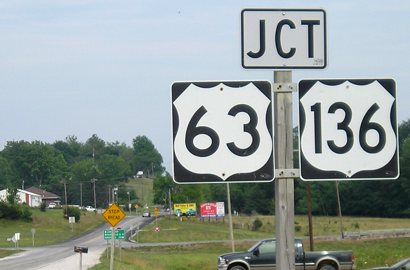 Facing east, but heading south, on 202
In Iowa, Series D (wide) numbers for 63 are nearly unheard of. In Missouri, that's all there are.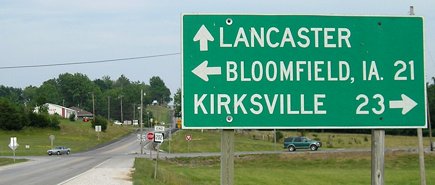 Facing east, but heading south, on 202
MoDOT mileage signs use all-caps, with the exception of BGSs.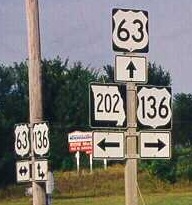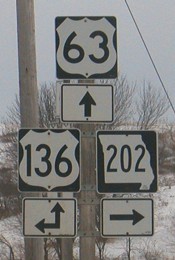 Facing north on 63 / Facing south on 63
Left photo by Mark Roberts
These two pictures capture three directions; at left of the left picture is what you see on 202. Here, 63 runs across the intersection while 136 separates from 63 and goes east into Lancaster.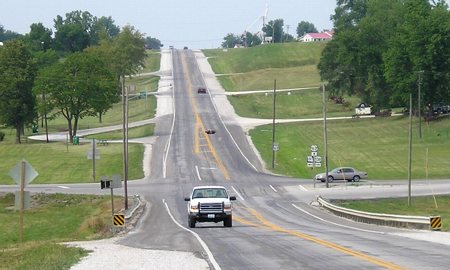 Facing north on 63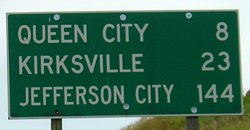 Facing south on 63, same spot as above photo
MoDOT posts mileages after the intersections instead of before them. That has always seemed odd to me, especially if there is a mileage sign at the intersecting road prior to the sign. This sign, the first to mention Jefferson City, is just south of 202...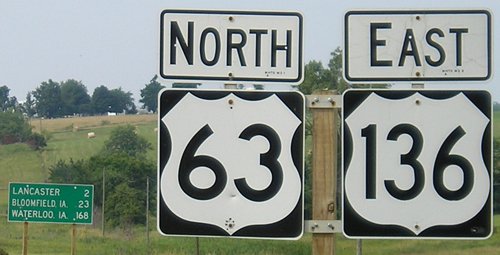 Facing north on 63
...and this one is just north of the south 136 junction. These signs show that there is at least one mention of Waterloo farther south than the first mention of Jefferson City on 63's mileage signs.
The intersection of 63 and IA 2 is 21 miles north-northeast. Highways 202 and 148 are the only north-south Missouri highways with even numbers because they're based on Iowa routes.
Pictures by Mark Roberts: Fifth, tenth and 19th, summer 1998
Pictures by me: First-fourth, seventh-ninth, 11th, 12th, 14th-18th, and 21st-23rd, 7/11/05; sixth and 13th, 6/8/11; 20th, 1/31/04
Page created 10/13/02; last updated 4/4/12