(January 8, 1931-July 29 or December 1, 1980)
Even though Kossuth County agreed to take over multiple routes in July 1980, for whatever reason, transfer of jurisdiction agreements were not all executed at the same time. IA 226 was a straggler and so it remained on the 1981 state map.
NORTH End: Main Street, Titonka, Kossuth County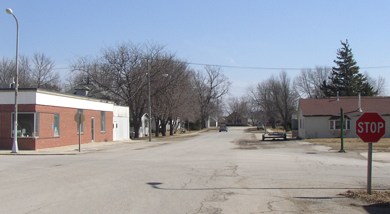 Facing east, but heading north, on 226 (3/22/03)
As with many other spurs in the Great Decommissioning, the assimilation into the county road system went well. In 226's case, the route comes into Titonka from the southwest, curving east to enter town before coming to this stop sign at the south end of the business district. The final state map this route was shown on (see bottom of this page) makes it look like 226 went through town to B14, but the route log and documentation disagree. But I didn't know that when I visited Titonka for the first time.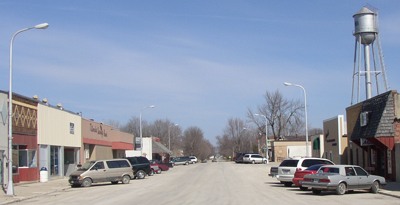 Facing north (3/22/03)
Did it turn north and go through the business district? Once again, as with IA 351, I looked for someone who might be able to tell me the answer. A man was able to help; he told me that it did end at the south end of the business district. He also told me that once there were plans to extend it to IA 9, but that never happened.
There were a lot of Minnesota plates downtown that Saturday, perhaps not surprising for a town 18 miles south of the border. Kossuth County is in the viewing area of two CBS affiliates, KIMT (Mason City) and KEYC (Mankato), and even is on the map for WHO (Des Moines) - but it appears no ABC station wants the county.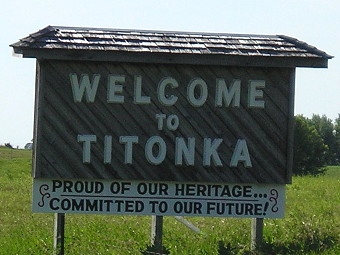 This welcome sign is on B14 north of town. (7/6/11)
SOUTH End: Stop sign, US 18, Kossuth County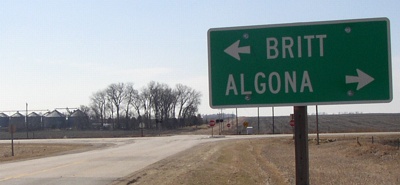 Facing south on 226 (3/22/03)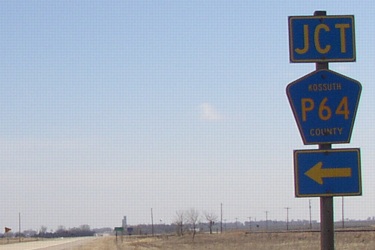 Facing east on 18 (3/22/03)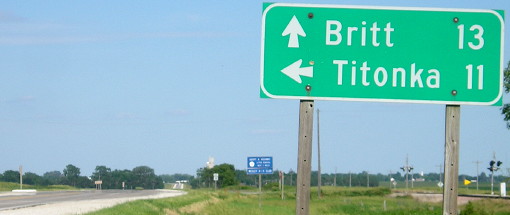 Facing east on 18 (6/19/15)
The LGS is either from before 1980 or replaced in a straight-up copy because the next city ahead is listed. There had been a sign for Union Slough National Wildlife Refuge but not now. Union Slough is the dividing area between the Blue Earth and (East Fork) Des Moines rivers. The Blue Earth's watershed in Iowa is pretty small, a triangle roughly bounded by the A16/P20 intersection, the A42/P66 intersection, and the A16/R34 intersection. (Buffalo Center, Lakota, Ledyard and Rake are in it, but not Swea City or Titonka.)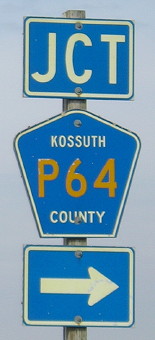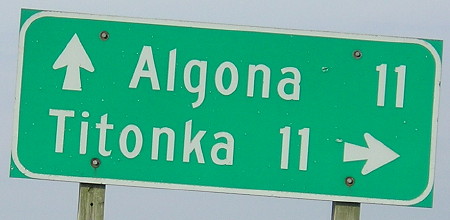 Facing west on 18 (10/4/16)

Facing west on 18 (10/4/16)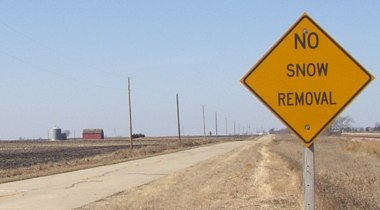 Facing west on old 18 (3/22/03)
Just south of the intersection, on the other side of the railroad tracks, is this old alignment of US 18. East of this intersection, the asphalt is new and up to modern widths. This westernmost mile or so, though, is narrow and concrete, and not used often, as the sign might tell you.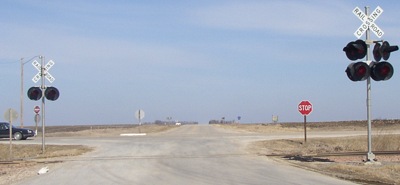 Facing north (3/22/03)
This side of the railroad tracks is where 226 would have begun prior to 1961. The crossroad is 18.
Last seen: 1980 (1981 map)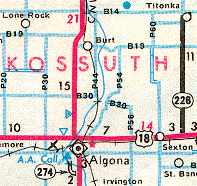 All pictures except third by me: 3/22/03; third, 7/6/11
Page created 6/22/03; last updated 2/20/17