(April 14, 1931-April 10, 1981)
NORTH End: Stop sign/T intersection, IA 9, Osceola County

Facing north on 237 (6/15/04)
Were the sign to include towns actually on Highway 9, it would read "<- Rock Rapids 32; Spirit Lake 19 ->", the longest distance on a highway in Iowa without towns.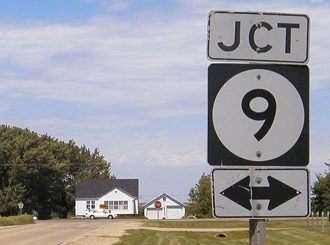 Facing north on 237 (6/15/04)

Facing east on 9 (6/15/04)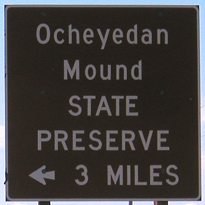 Facing west on 9 (6/15/04)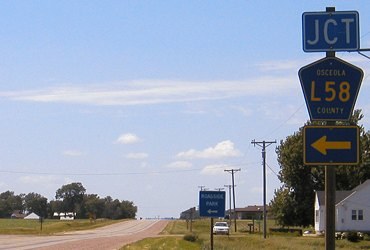 Facing west on 9 (6/15/04)
SOUTH End: Downtown Ocheyedan, Osceola County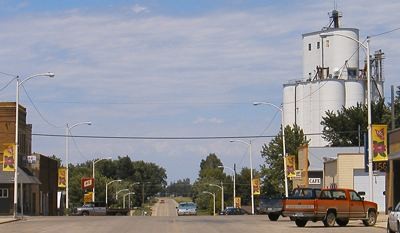 Facing north on 237 (6/15/04)
This is an educated guess on 237's south end. South of here the road becomes narrower. This is facing north on 237's first block. The north end is in the deep background.
Iowa DOT documentation put online in the mid-2010s listed IA 237's original south end on Main Street at Third Street. The city received its portion on July 1, 1980, but the State Functional Classification Review Board — created in fiscal 1980 to determine roads that would become part of the Great Decommissioning — deleted the rest of the route from the state rolls April 10, 1981, explaining its inclusion on the 1981 state map.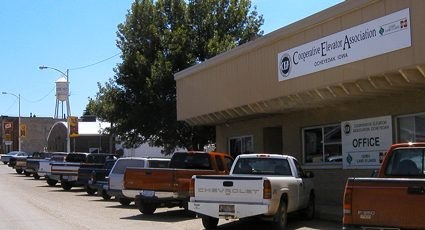 Pickup, pickup, pickup, pickup, van, pickup, pickup, pickup ... your quintessential elevator parking. (6/15/04)
Surrounding area information: Ocheyedan Mound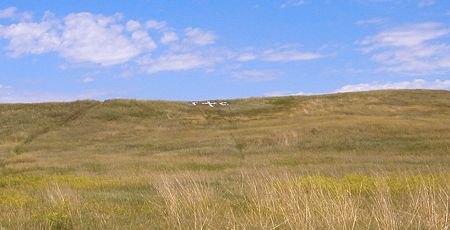 Facing north-ish (6/15/04)
Just northeast of the intersection of L58 and A22, approximately where the "O" in "Ocheyedan" is on current maps, is Ocheyedan Mound. White rocks spell out "stc"; their meaning is unknown. A large wooden sign with engraved letters reads: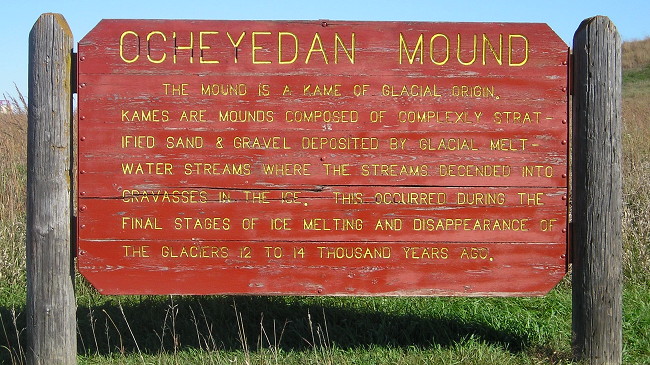 "The mound is a kame of glacial origin. Kames are mounds composed of completely stratified sand & gravel deposited by glacial meltwater streams where the streams descended into cravasses in the ice. This occurred during the final stages of ice melting and disappearance of the glaciers over ten thousand years ago." (9/30/15)

View of Ocheyedan from the mound (9/30/15)
This used to be the highest point in Iowa. In those two words - "used to" - is a strange story of how the highest point in Iowa ceased to be the highest point in Iowa. Maps prior to about 1970 - the 1968 map shows it - label Ocheyedan Mound as the highest point in Iowa, 1675 feet. (On the official map, the dot was southeast of where the mound actually is.) By the 1972 map, however, the mound's mark had been removed with no replacement. On the 1976 map, the "highest point" had moved northwest and dropped five feet! The new "highest point" was about smack dab in the middle of Iowa's portion of a triangle formed by IA 9, IA 60, and US 59. It wasn't even done moving then; maps 1977-1999 (see below) mark it on the right (east) side of County Road L44 while 2000-present maps mark it on the left (west) side, approximately the center of a triangle formed by IA 9, IA 60, and L44. The maps simply say, "Highest Point in Iowa - 1670 ft." This point, unlike the mound, is on private property, a farm northeast of Sibley.
How, pray tell, does a ten-thousand-year-old hill shrink? My speculation lies with modern scientific equipment, better at determining exact elevations. Topographic maps indicate Ocheyedan Mound is 1613 feet. Since Ocheyedan Mound was no longer Iowa's highest point, the place with that honor did not have a name. On March 23, 1998, Gov. Terry Branstad signed House Joint Resolution 2004, naming the place "Hawkeye Point."
Last seen: 1981 (1981 map)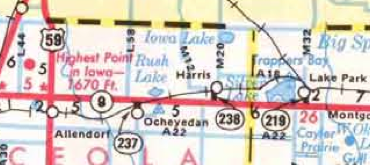 Page created 8/23/04; last updated 12/13/16