(1980-July 1, 2003)
NORTH End: Stop sign, US 71/IA 175, near Lake View, Sac County

Facing north on 243
Photo by Neil Bratney
Neil writes, "Iowa Highway 243 is a strange little highway, extending six-tenths of a mile into the back door of Black Hawk Lake State Park. While most of the park's facilities are on the west side of the lake, near Lake View, IA 243 leads only to a picnic area, a beach, and some cabins on the east side. IA 243 is not even marked on the park map!" In fact, save for the house at right, there aren't any buildings on the tiny route either, which you might be able to tell given the grassy shoulder.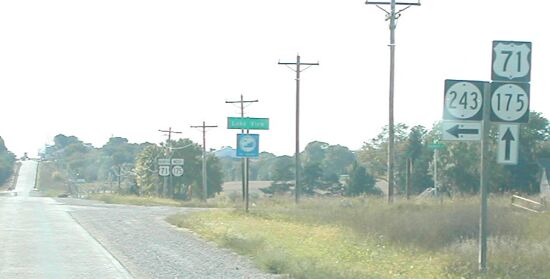 Facing west on 175, but heading north on 71
Photo by Neil Bratney
Unlike most other spurs to state parks, no brown signage points to the lake here.
The Lake View city limits sign, along with the post-intersection shields, are the only remaining signage at the intersection.
SOUTH End: Black Hawk Lake State Park, Sac County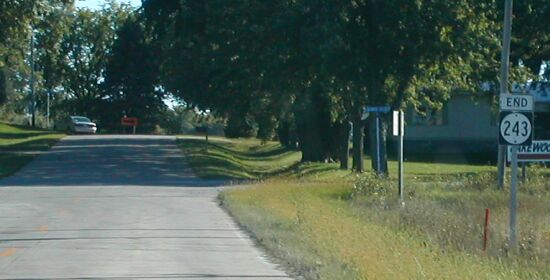 Facing south on 243
Photo by Neil Bratney
According to the county map, this photo is outside the Lake View city limits, but the city jurisdiction starts at the intersection. It then goes east to include the houses along the north side of the lake.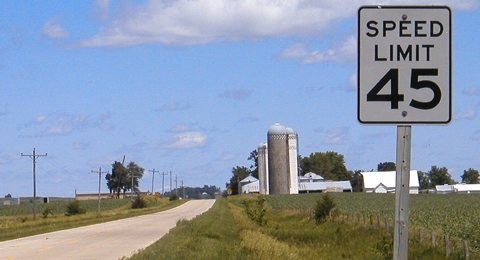 Facing north on 243
The intersection is just over the hill; the yellow "Stop Ahead" can barely be made out to the lower left of the silo. Notice the shoulders are entirely grass.
Last seen: 2003

Pictures by Neil Bratney: Top three, 9/20/02
Fourth picture by me: 6/14/04
Page created 5/2/04; last updated 8/10/04