(1980-July 1, 2003)
NORTH End: Stop sign, IA 191, Neola, Pottawattamie County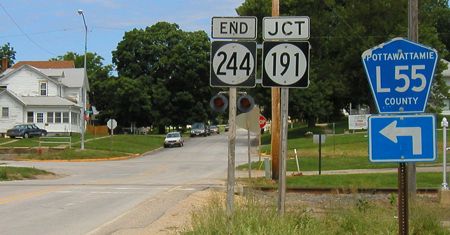 Facing north on 244 (2003)
Highways 244 and 152 were both christened in 1980 for what seems to be the same purpose: Connecting the nearby interstate (80 and 35, respectively) to a major route (IA 191 and US 69, respectively) at the closest point. Highway 244 ran directly north and south except at the very northernmost part, where it made a little zigzag right before this picture. L55, duplexed with 244, runs with 191 for a bit before turning back north. Since July 1, 2003, this has become the intersection of L55 and G8L (see below), with no state highways in sight. Three miles north of here is another state-state intersection that is no longer one. I believe the last time that situation existed because of decommissioning before 2003 was IA 105 in 1995, which made the intersection of 105 and the spur to Joice (decommissioned 1980) a county-county intersection too.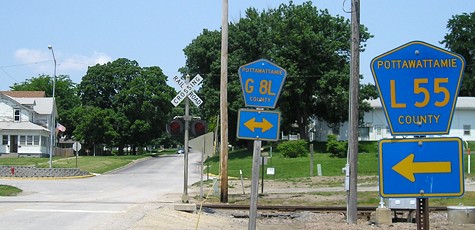 Facing north on 244 (2007)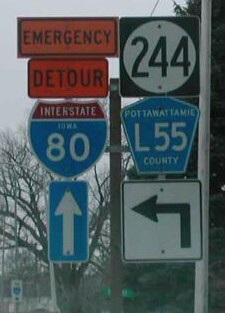 Facing southwest, but heading south, on 191
Photo by Neil Bratney
The "Emergency Detour" for I-80 we saw leaving Council Bluffs on 191 is also signed here. The white sign in the lower left hand corner is a "To I-80" sign. In early July 2003 only the L55 remained on the right side.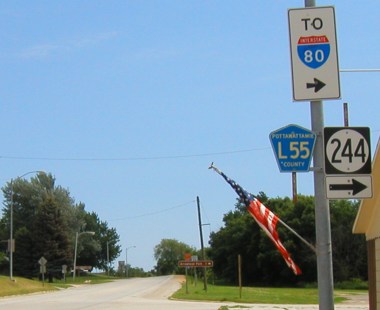 Facing northeast, but heading north, on 191
There's no arrow under the L55 although there's a space for it.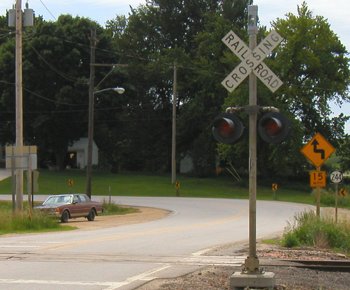 Facing south on 244 right at 191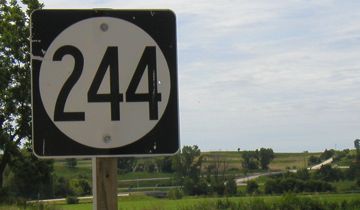 Facing south, same shield as in above picture
Crossing the railroad tracks and going about 20 yards past 244's north end encountered the first shield for 244. It was easy to see the interchange with I-80 and the other end of 244.
SOUTH End: L55, just south of I-80 exit 23, Pottawattamie County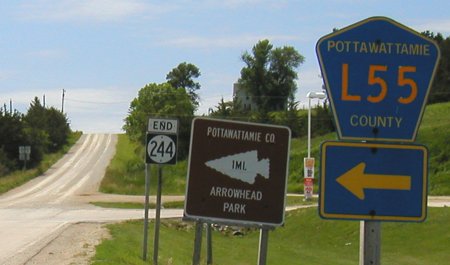 Facing south on 244
The end for 244 is NOT at I-80, but just south. Neil writes, "IA 244 continues a few hundred feet farther south, where L55 turns left, and there is a truck stop driveway to the right." L55 takes a turn where 244 ends, but it is close enough to the ramps that the end location could still be fudged back to the interchange.

Facing southwest-ish
The L55 shield in this picture is for the county road traffic turning north onto 244.
This picture holds a special significance for me because it contains the last full-body picture of my car before it was stolen almost exactly a month later. I hadn't expected to take a picture facing this direction and I figured the car was out of the shots, but because of subsequent events it was nice to have it in there.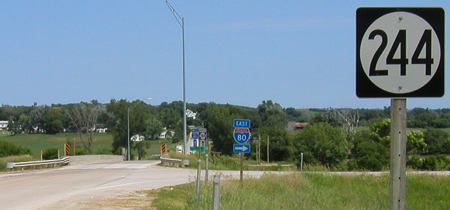 Facing north on 244
This first sign for 244 was between L55 and the eastbound ramps but after the initial "East 80 <up and right>".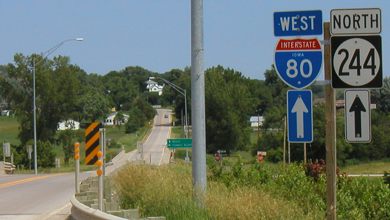 Facing north on 244
The curve right before 244's north end is visible in the background.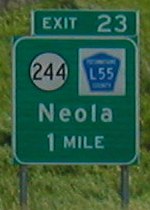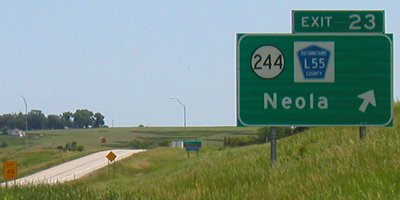 Facing northeast, but heading east, on 80
The 244 in the right picture looks like an add-on, meaning the sign was originally put up before 1980. Perhaps unintentionally, the sign was technically correct, since 244's end was a bit south. Now the left BGS looks funny and the right one looks OK. Prior to decommissioning this BGS could have read "244 L55 TO 83" since 83 had no interchange with 80.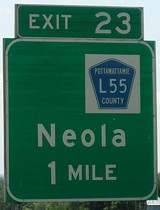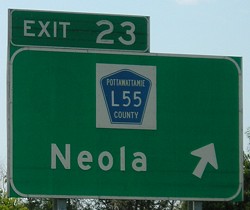 Facing southwest, but heading west, on 80
Last seen: 2003

Third picture by Neil Bratney: 1/20/02
Pictures by me: First and fourth-twelfth, 6/9/03; second, 13th, and 14th, 6/4/07
Page created 4/6/02; last updated 2/11/08