NORTH End: Stop sign, US 30 and N65, near Scranton, Greene County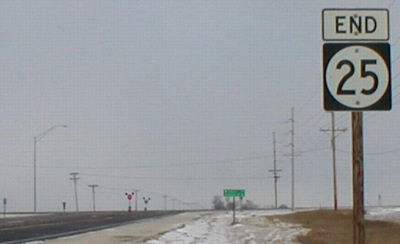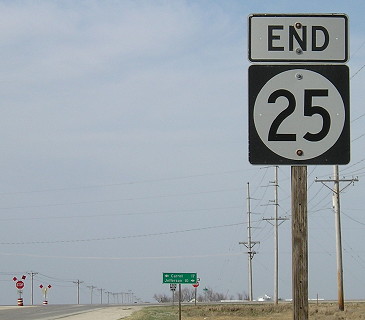 Facing north on 25 (2001 / 2010)
Left: This was the first end photo I took in western Iowa. Right: Three cameras and eight years later.

LGS in above picture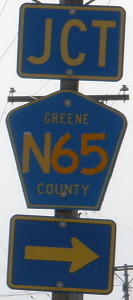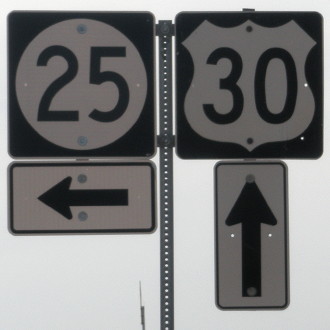 Facing west on 30
IA 25 is one of a handful of highways in Iowa aside from US 30 with some of the original Lincoln Highway route. The original route went through Scranton, joining 25 at either State or Madison streets depending on the alignment, then crossing modern 30 to go north one more mile and turn west at the Moss markers. A little later, and then until 1958, 30's route went straight north-south on the west side of Scranton, then east on E53. Upon completion of a new route through most of Greene County, replacing some of the earliest paved Lincoln route in Iowa, IA 25 was extended to this point.

Facing west on 30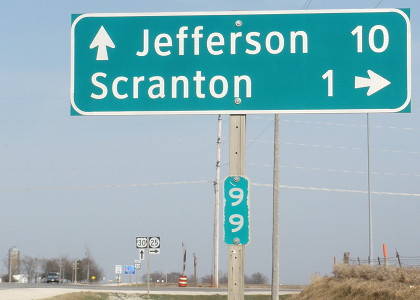 Facing east on 30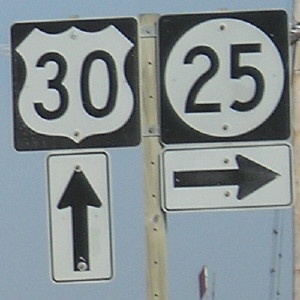 Facing east on 30
Surrounding area information: Moss markers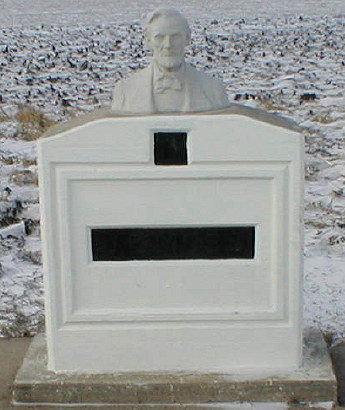 A mile north of 25's north end, a curve in the road indicates the old Lincoln Highway route to Ralston. Civil War veteran J.E. Moss, who owned the land at the corner, said he'd give the Iowa Highway Commission land for the curve (PDF) if they'd put up memorial markers. The markers were vandalized in the 1950s and restored in 2001, a few months before I took this picture.
SOUTH End: Intersection, IA 2, Taylor/Ringgold county line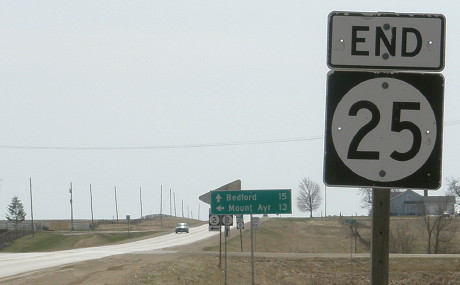 Facing south on 25
The last 27 miles of IA 25, southwest from Creston and then down the county line, only pass one incorporated place, Clearfield, and even then only skirt it. State Fair campground shuttle riders are perhaps familiar with the town, aka "the capital of Iowa Lionism" as proclaimed on the back of the shuttles. Clearfield is also, as far as I know, the only Iowa town to have a Civil War statue in front of the school.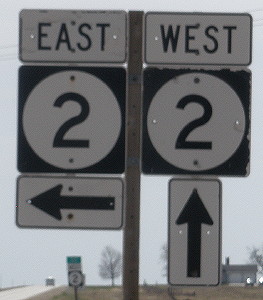 Left: Intersection in 1981; middle and right: Enlargement of signs in above picture
In 1981 this intersection was a T, with a large WB-SB curve and 25 ending (or, earlier, joining 2) in the middle of it. The last assembly on 25 has a little redundancy instead of a single 2 shield with a left-and-ahead arrow. The background IA 2 shield has a Ringgold County sign on top.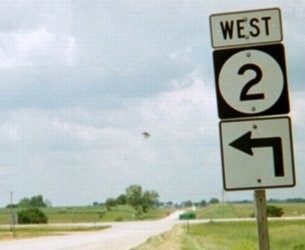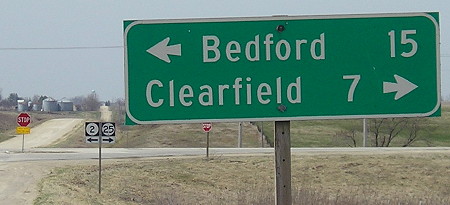 Facing west on 2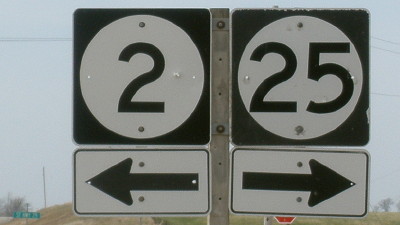 Facing west on 2

Facing north, but heading east, on 2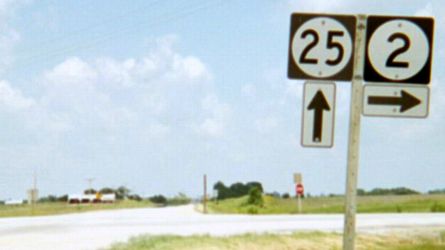 Facing north, but heading east, on 2
The mile markers on 25 still count down to the 1938-78 end at the Missouri line; the last one I saw as I traveled to the line was 7 (but I stopped after not seeing 6 and 5). On 25 itself, the first one you see is MM 10; use the current markers to tell you how far you'd be from Missouri OR subtract 10 to find out 25's (near-)actual mileage. The extension was an attempt to get Missouri to connect with its own state highway, but it never happened.
Old SOUTH End (June 17, 1978-July 1, 1980): J55, Blockton, Taylor/Ringgold county line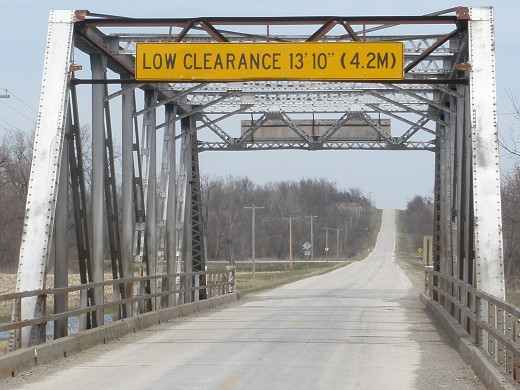 Facing north on 25 between Blockton and 2
What is that metric point doing here? If you consider that this was last a state-maintained road in the late 1970s (this is the bridge over the Platte River) (yes Iowa has a Platte River), that would have been just the time of the hardest push to impose the metric system on this country. While the sign certainly doesn't look 30 (now almost 40) years old, it's possible, or the replacement was a direct copy.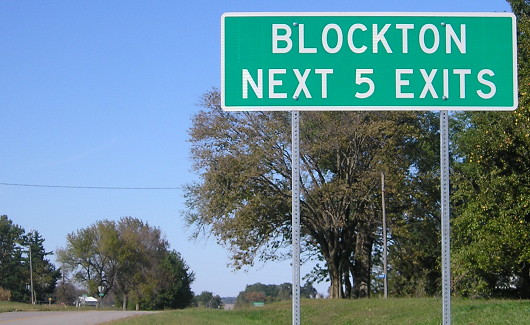 Facing north on 25
The intersection that would have been the endpoint of 25 for two years is at bottom left. This sign was funnier than those there, though.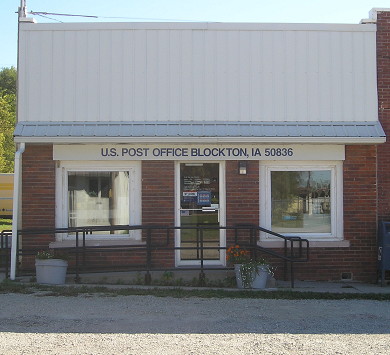 Definitely southern, very-small-town Iowa: Even downtown Blockton doesn't have paving.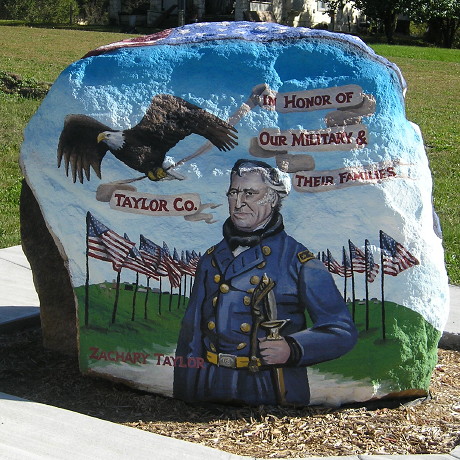 The Taylor County Freedom Rock is in Blockton.
Old SOUTH End (May 24, 1938-June 17, 1978): Missouri state line, Ringgold County IA/Worth County MO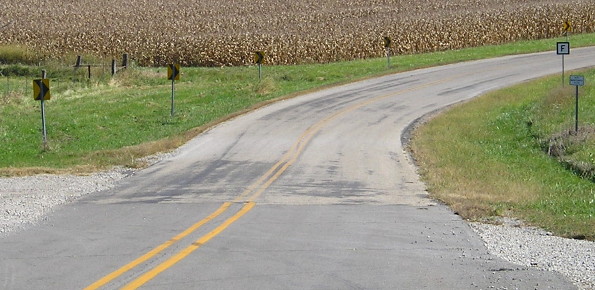 Facing south on 25
The Missouri "State Maintenance Ends" sign is the little white one on the right.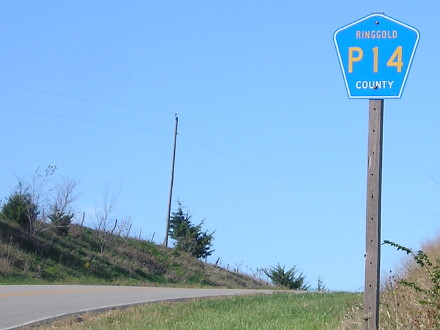 Facing north on 25
The first 25 sign would have been here for 40 years. There's a bit of a curve here to align the roads so this is in Ringgold County but straddles the county line practically by the end of the view of this photo.
Pictures by me: First, third, and ninth, 12/23/01; second, fourth-eighth, tenth, eleventh, 13th-15th, and 17th, 4/1/10; twelfth and 16th, 6/16/03; 18th-22nd, 10/2/15
Page created 2/21/02; last updated 4/2/17