(January 16, 1934-July 1, 2003)
WEST End: Stop sign, US 69,Clarke/Decatur county line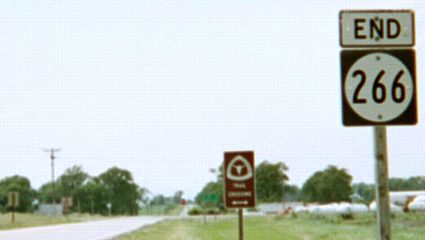 Facing west on 266
At the end of its existence, IA 266 was marked on state maps as a bituminous road. J.D. Adams told Jason Hancock that the road's surface is a "glorified seal coating." The 2002 official construction history at the DOT indicates that the road received 2 inches of "Type B Asphalt Cement Concrete" in 1995, with the only other date listed being a bituminous seal coat in 1938.
The brown sign indicates the Mormon Trail crossed here.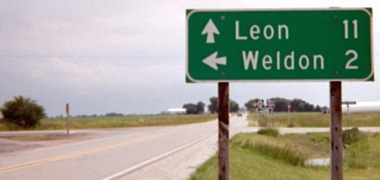 Facing south on 69
The rural sign by the right post lists "Clarke-Decatur Road." The line runs across the centerline of the east-west road.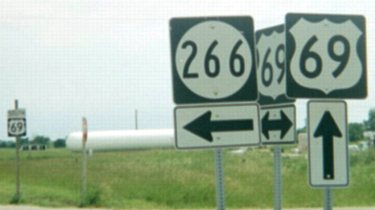 Facing south on 69 (June 2003)
...but the Decatur County sign is strangely absent. You can see where it is supposed to be on the left.
In 2003 I wrote: "The shields here scream 'temporary,' possibly explained by recent asphalting that was done on 69." Well, scratch that - they're still there.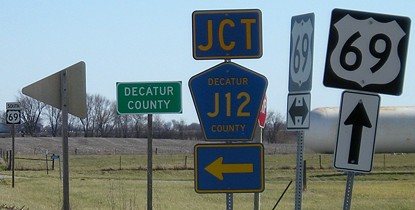 Facing south on 69 (April 2007)
The Decatur County sign was put up by August 1, 2003, one of the first large county signs in the state.

Facing north on 69
Photo by Jason Hancock

Facing north on 69
Photo by Jason Hancock
There IS a shield for Clarke County, though. The pole at far left is the southbound "Jct 266."
EAST End: 3rd St. Weldon, Clarke/Decatur county line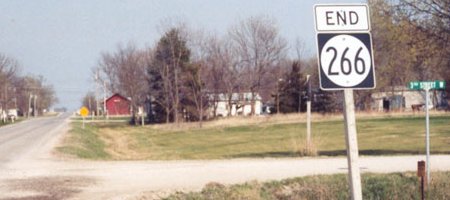 Facing east on 266
Photo by Jason Hancock
I once read a collection of "small town" lines that included "You know you're in a small town when Third Street is on the edge of town." Perhaps the author had visited Weldon. There was no city limits sign here.
Last seen: 2003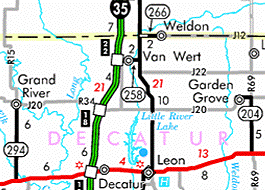 Bottom three pictures by Jason Hancock: 4/14/03
Top three pictures by me: 6/15/03
Page created 7/27/03; last updated 7/31/07