Old WEST End (September 19, 1958-May 29, 1963): US 63, Waterloo, Black Hawk County
Old WEST End (May 29, 1963-December 1, 1983): Stoplight, Old US 20/Franklin St., Waterloo, Black Hawk County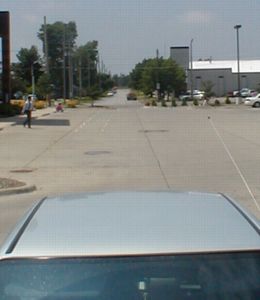 Facing southwest, but heading west, on 281 - really (6/26/02)
OK, here's the deal. Before the early '40s, US 20's route through Waterloo was very different from that it followed even in 1964. First off, west of what is now US 63, it didn't follow the Broadway alignment it did in 1986; it followed a series of other streets, some of which have their intersections blocked off today. Second, between Logan Avenue and 5th Street, IA 59/US 63 was duplexed with it on Franklin until that road went southwest on 5th. The road headed east out of town to Independence on what is now IA 281 (Independence Avenue, natch), but in order to get to that street it had to jog north one block. According to old gas station maps obtained from Parks Library, the 1934 map puts this jog on 5th; the 1937 map shifts it to 6th; it changed again later.
I found final confirmation of the last connection between Independence and Franklin in the Waterloo Courier's coverage of the opening of the new alignment for US 20 east of downtown. The article specifically mentions the new alignment is between East 7th Street and Jesup. The road itself, between Elk Run Heights and Jesup, wasn't open or signed as 20 until September 1958 despite that year's state map showing 20 running along Lafayette Street. When IA 281 was extended along Independence Avenue, then, it did use 7th to connect to Franklin (20) - a road that disappeared in the late 1990s, resulting in the photo above.
On October 14, 1958, a month after the new 20 opened, the Iowa Highway Commission specified that 281 "commenc[ed] at the intersection of Franklin Street and Park Avenue," which at the time would have been US 63. This makes sense for the time, because 281 was taking over old 20 and that kept a connection to 63 intact. Possibly before but no later than May 29, 1963, according to internal route descriptions put online in the mid-2010s, the end was moved to 7th at Franklin.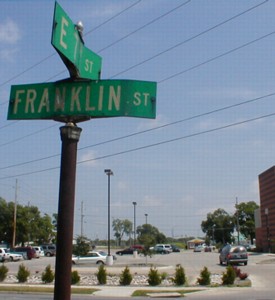 Facing northeast (6/26/02)
This is on Franklin looking north at the car whose roof the top picture looked over. The clinic was built in 1999. J.D. Adams told me in an e-mail that he remembers the intersection being at 7th Street, with single stoplight poles on the corners.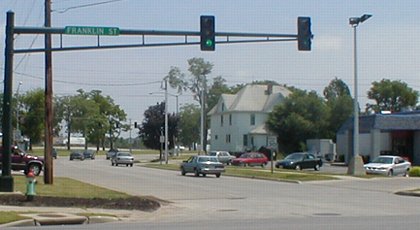 Facing northeast (6/26/02)
The building to the right is a Hardee's, the only one remaining in Black Hawk County, I believe. A block north of here is Independence Avenue, where 6th becomes Martin Luther King Drive. Today, 5th and 6th are a one-way pair, starting on the other side of the Cedar River with a strange shift in which 4th becomes 5th and 5th becomes 6th near Grant Street. The main studio for KWWL-TV (Channel 7, NBC), which was extensively renovated in 2016-17, is two blocks to the left.
WEST End (December 1, 1983-January 1, 1984; November 15, 1988-present): City limits of Waterloo, Black Hawk County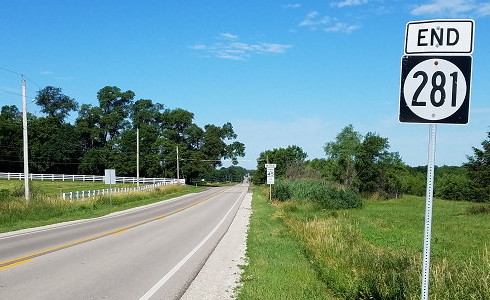 Facing west on 281 (6/23/17)
Photo by Patrick Meade
The east-west stretch of 281 west of what is now V51 is ancient US 20 (see text at top). In 1980, 281 was extended north and east to IA 150 and in 1983, the portion inside Waterloo city limits went to the city. In the early 2000s, there weren't any signs in either direction until V43. Between here and there is the building for radio station KXEL (AM 1540, 50,000 watts strong since it started on July 14, 1942), built with television broadcasts in mind - minus the little detail that KXEL had not yet been granted a permit and license for a TV station. The struggle between KXEL and KWWL to own Channel 7 is an interesting chapter in Iowa television history.
The sign issues on 281 have been rectified, likely as part of a paving project in 2011.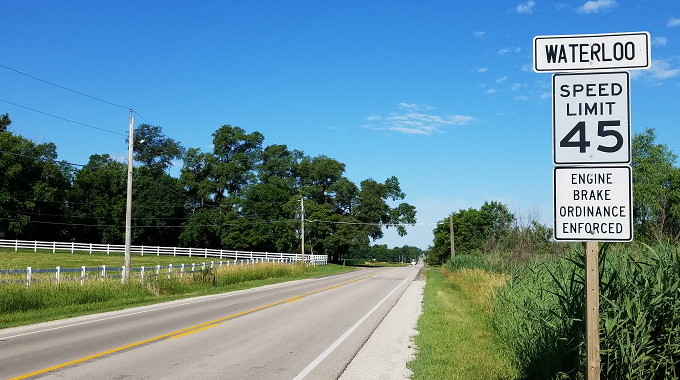 Facing west on 281 (6/23/17)
Photo by Patrick Meade
The all-caps black-on-white "Waterloo" is a throwback to a very old standard, and not what should be used today.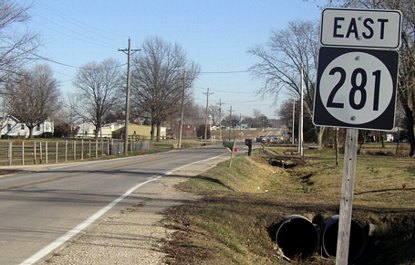 Facing east on 281 (12/14/04)
When my first pictures for 281 were taken, the intersection of V43 (Elk Run Road) west of the city limits had the first sign for 281 east.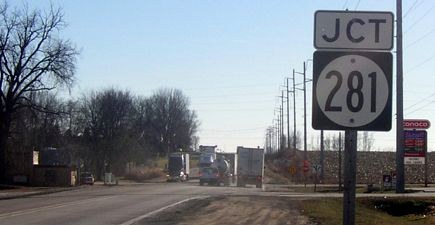 Facing south on V43 (12/14/04)
We seem to be missing something...an arrow! Any arrow! This sign is not much help.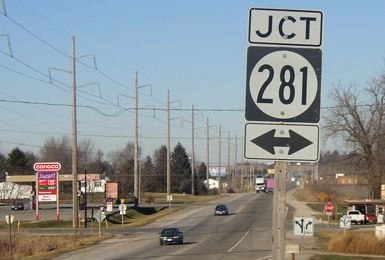 Facing north on V43 (12/14/04)
This was the only evidence in any direction in 2004 that 281 continued west of this intersection.
Surrounding area information: Junction V49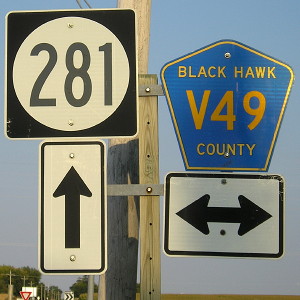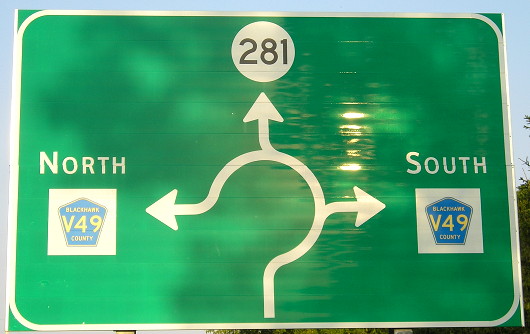 Facing east on 281 (9/12/17)
Sixteen miles away from each other — here (north of Raymond) and at V62/C57 south of Fairbank — are two rural roundabouts.
Old WEST End (January 1, 1984-November 15, 1988): Interchange, US 20, Black Hawk County
(SOUTH End?)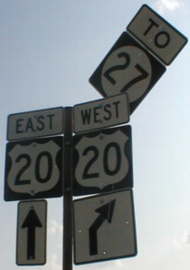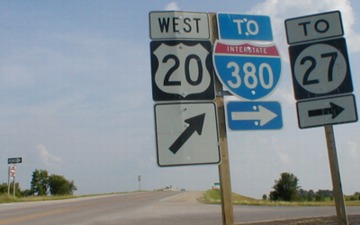 Facing south on 281, now V51 (6/25/02)
The only indication I had of this alignment change was the 1986 map, but Jason Hancock did some research and found out that for four years in the 1980s the 281 designation was removed from the Waterloo area altogether and sent straight south from Dunkerton. Now I don't know what the signs looked like on 20 when this happened, but the more interesting issue is the signage. According to Street Atlas, the east-west portion still exceeded the north-south portion, but only by about 0.2 mile, or 1000 ft. Now, with more information available, we know that "due to interstate substitution funding not obtained" this change in alignment "was declared null and void" and 281 was put back on Independence Avenue.
Facing south on V51 (8/4/17)
This is the only intersection east of I-380 that includes "To I-380" and has rare neutered interstate shields.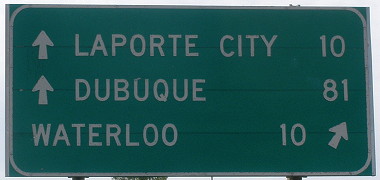 Facing south on V51 (6/3/14)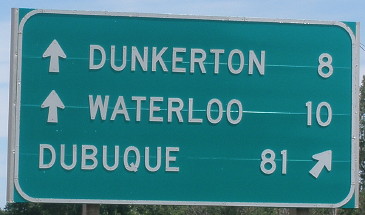 Facing north on V51 (6/3/14 and 8/4/17)
Facing north on V51 (8/4/17)
This could be the last interchange in Iowa that got new LGSs before the genericization of signage. Because it's mixed case new-style FHWA instead of all-caps or Clearview, the signs here will remain part of an all-too-brief period.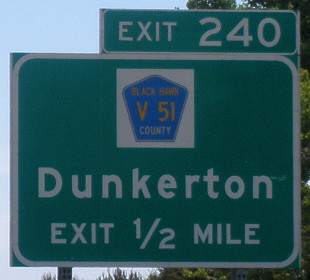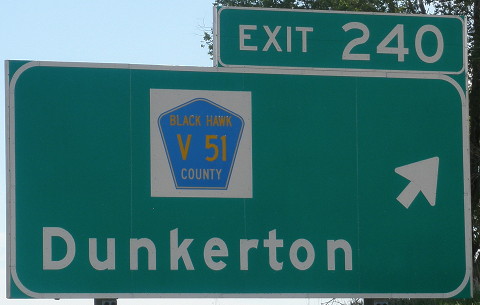 Facing east on 20 (6/3/14)
Notice the spacing between the letter and numbers, and the color differences, in the shields. The half-mile advance sign is due to the I-380 split.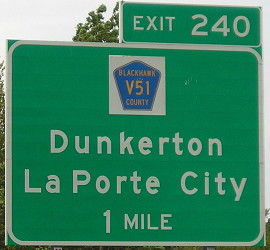 Facing west on 20 (6/14/11)
A sign error three decades old

DOT plan archives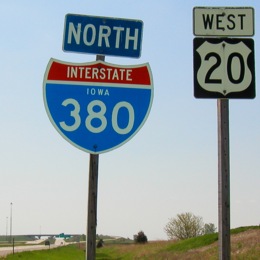 Facing west on 20 (5/20/03)
The sign letting for the new US 20 freeway between IA 150 and V51 on Aug. 31, 1982, pre-dated the completion of I-380. (The sign letting for the I-380/US 20 duplex came six months later.) In that plan, someone hand-drew-in a shield for I-380 in a place the interstate was not going to be. When I-380 opened two years later, no one seemed to notice that this marker was now east of the split, barely visible in the background. If it said "To" instead of "North", it would be fine.
Old EAST (NORTH) End (November 19, 1940-July 1, 1980): Washington Street, Dunkerton, Black Hawk County
Facing west on Main Street, but heading north on original 281 (8/4/17)
Not in the online route description, but in the microfilm Highway Commission minutes, is 281's first end in Dunkerton mentioned as Marble Street. It was moved a block west, at the far end of the business district, about 4 1/2 years later.
Incidentally, this means that between the extension in 1958 to Waterloo and the extension in 1980 to Oelwein, both ends of 281 faced west.
Facing south, but heading west, on present 281 (8/4/17)
This sign is a key giveaway to the original alignment. It's two blocks north of C66, and before 1980 would have had "Jct 281 [ahead and right]". By itself, it can't tell us today that the route originally turned, only that the highway reached this intersection. The records mentioned above and the general action to have state-maintained routes run through the business district fill in the gaps.
EAST End: Stop sign, IA 150, Fayette/Buchanan county line

Facing east on 281 (12/14/04)
Don't let that first intersection fool you: That is old IA 150, which later became IA 916. The road was rerouted a bit to the east in 1986, and 281's east end moved just a tiny bit more east. So the end for IA 190, which 281 consumed in 1980, was halfway between this T intersection and the stop sign in the distance. There is no reason the number 281 was kept and 190 discarded, other than 281 was 14 miles long at the time and 190 was 7 miles long, requiring fewer sign changes.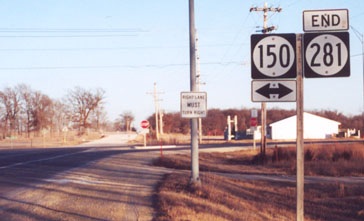 Facing east on 281 (December 2001)
Photo by Jason Hancock

Facing north on 150 (12/14/04)
The car at left is crossing the intersection of 281 and old 150.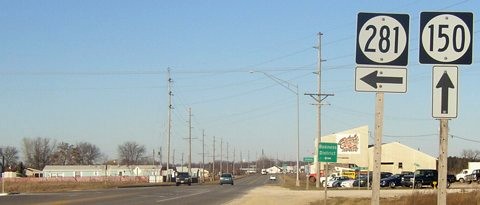 Facing north on 150 (12/14/04)

Facing south on 150 (9/2/08)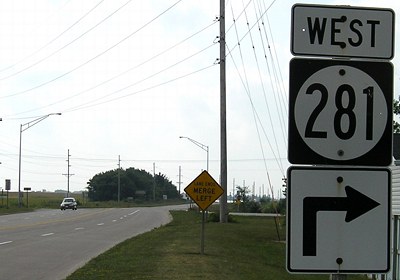 Facing south on 150 (9/2/08)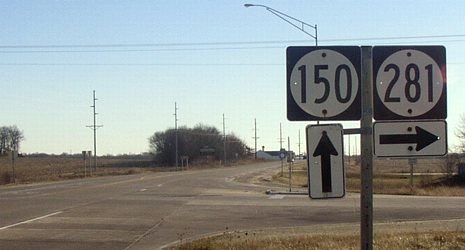 Facing south on 150 (12/14/04)
Point of interest: The survivor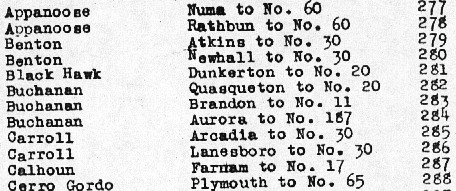 IA 281 endpoint history

FROM
TO
WEST
EAST
6/4/35
11/19/40
US 20 (D20/Independence Avenue)
Dunkerton (Main at Marble)
11/19/40
9/19/58
US 20 (D20/Independence Avenue)
Dunkerton (Main at Washington)
9/19/58
5/29/63
US 63 (Franklin at Park)
Dunkerton (Main at Washington)
5/29/63
7/1/80
US 20 (7th at Independence)
Dunkerton (Main at Washington)
7/1/80
12/1/83
US 20 (7th at Independence)
IA 150 (Frederick Avenue)
12/1/83
1/1/84
Waterloo east city limits
IA 150 (Frederick Avenue)
1/1/84
12/1/86
US 20 freeway
IA 150 (Frederick Avenue)
12/1/86
11/15/88
US 20 freeway
IA 150 (Rock Island Road)
11/15/88
Present
Waterloo east city limits
IA 150 (Rock Island Road)
Of the Highway Commission action on June 4, 1935, that included the creation of 51 — fifty-one!— new numbers, along with one recycled number and seven route extensions, only two numbers and three route extensions remain in the state system today. Most of the routes of two more were absorbed by other numbers. But with IA 316 moved entirely off its original routing, 281 today is the only one of those 51 retaining both the number and the road, the segment from D20 to Dunkerton.
Page created 3/9/02; last updated 1/9/18