Old WEST End (September 19, 1958?-1983): Stoplight, Old US 20/Franklin St., Waterloo, Black Hawk County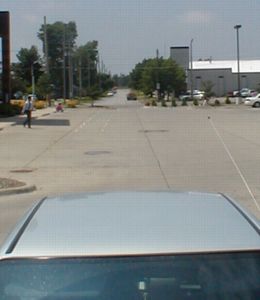 Facing southwest, but heading west, on 281 - really (6/26/02)
OK, here's the deal. Before the early '40s, US 20's route through Waterloo was very different from that it followed even in 1964. First off, west of what is now US 63, it didn't follow the Broadway alignment it did in 1986; it followed a series of other streets, some of which have their intersections blocked off today. Second, between Logan Avenue and 5th Street, IA 59/US 63 was duplexed with it on Franklin until that road went southwest on 5th. The road headed east out of town to Independence on what is now IA 281 (Independence Avenue, natch), but in order to get to that street it had to jog north one block. According to old gas station maps obtained from Parks Library, the 1934 map puts this jog on 5th; the 1937 map shifts it to 6th; it changed again later.
I found final confirmation of the last connection between Independence and Franklin in the Waterloo Courier's coverage of the opening of the new alignment for US 20 east of downtown. The article specifically mentions the new alignment is between East 7th Street and Jesup. (The road itself, between Elk Run Heights and Jesup at least, had been open for some time before, and was shown as 20 on the 1958 map, but was "unofficial" 20 and didn't change until September. When IA 281 was extended along Independence, then, it did use 7th to connect to Franklin (20) - a road that disappeared in the late 1990s.)
The question mark in the terminus line reflects new research; on October 14, 1958, the Iowa Highway Commission specified that 281 "commenc[ed] at the intersection of Franklin Street and Park Avenue," which at the time would have been US 63. This makes sense for the time, because 281 was taking over old 20 and that kept a connection to 63 intact. It is unknown at this time when the end was moved four blocks east to 7th.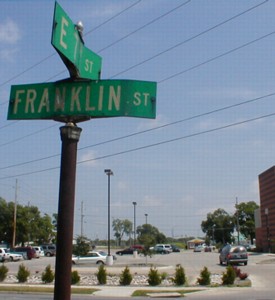 Facing northeast (6/26/02)
This is on Franklin looking north at the car whose roof the top picture looked over. The clinic was built in 1999, so it is not implausible that this was the end; maps and early 1990s aerial photos confirm 7th's previous existence here. J.D. Adams told me in an e-mail that he remembers the intersection being at 7th Street, with single stoplight poles on the corners.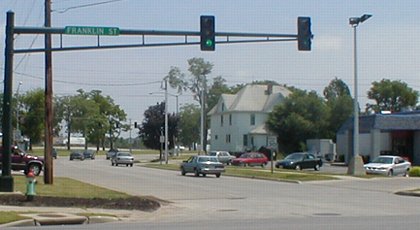 Facing northeast (6/26/02)
The building to the right is a Hardee's, the only one remaining in Black Hawk County, I believe. A block north of here is Independence Avenue, where 6th becomes Martin Luther King Dr. Today, 5th and 6th are a one-way pair, starting on the other side of the Cedar River with a strange shift in which 4th becomes 5th and 5th becomes 6th near Grant Street. This is one block west of where 281's end probably was. The main studio for KWWL-TV (Channel 7, NBC) is two blocks to the left.
WEST End (1983-84, 1988-present): City limits of Waterloo, Black Hawk County
Or is it?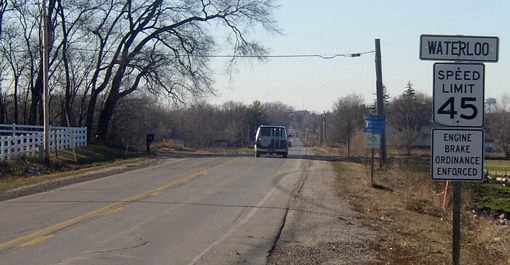 Facing west on what is supposed to be 281; van is on Independence Avenue (12/14/04)
The east-west stretch of 281 west of what is now V22 is ancient US 20 (see text at top). In 1980, 281 was extended north and west to IA 150 and in 1983, the portion inside Waterloo city limits went to the city. So this should be the west end of 281. Except there's no sign here. In fact, there aren't any signs in either direction until V43. Between here and there is the building for radio station KXEL (AM 1540, 50,000 watts strong since it started on July 14, 1942), built with television broadcasts in mind - minus the little detail that KXEL had not yet been granted a permit and license for a TV station. The struggle between KXEL and KWWL to own Channel 7 is an interesting chapter in Iowa television history.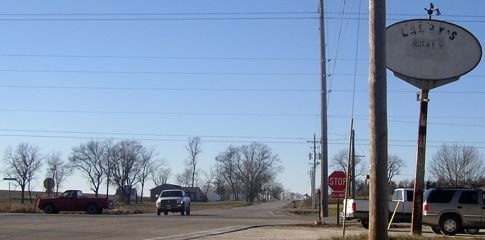 Facing west on 281 (12/14/04)
Theoretically, the pickup is supposed to be on 281. However, there is no "West 281" sign after this intersection.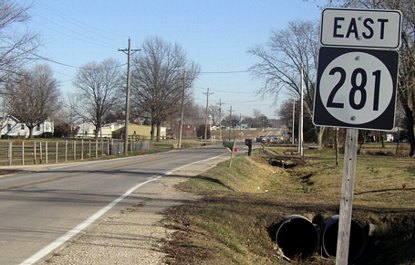 Facing east on 281 (12/14/04)
But there is one eastbound. This is directly across from the above picture. This is the first sign for 281 east.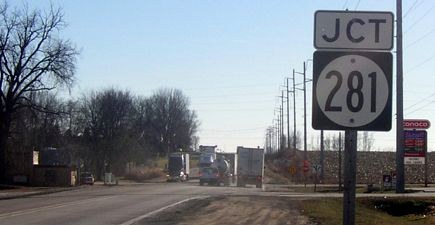 Facing south on V43 (12/14/04)
We seem to be missing something...an arrow! Any arrow! This sign is not much help.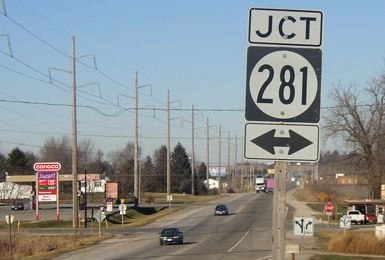 Facing north on V43 (12/14/04)
This is the only evidence in any direction that 281 continues west of this intersection.
Old WEST End (1984-88): Interchange, US 20, Black Hawk County
(SOUTH End?)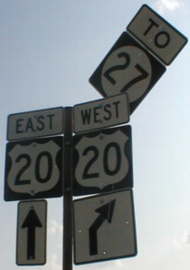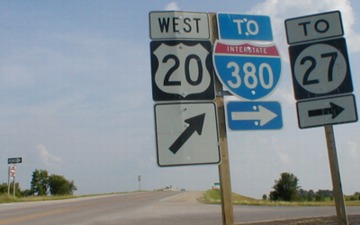 Facing south on 281, now V51 (6/25/02)
The only indication I had of this alignment change was the 1986 map, but Jason Hancock did some research and found out that for four years in the 1980s the 281 designation was removed from the Waterloo area altogether and sent straight south from Dunkerton. Now I don't know what the signs looked like on 20 when this happened, but the more interesting issue is the signage. According to Street Atlas, the east-west portion still exceeded the north-south portion, but only by about 0.2 mile, or 1000 ft. Regardless of that, I doubt that the signage changed for those four years. Notice the difference in size between the two right arrows.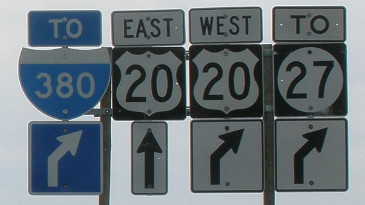 Facing south on V51 (6/3/14)
This is the only intersection east of I-380 that includes "To I-380" and has rare neutered interstate shields.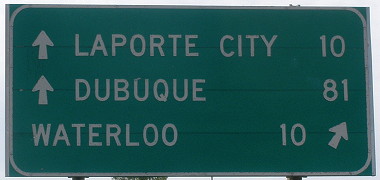 Facing south on V51 (6/3/14)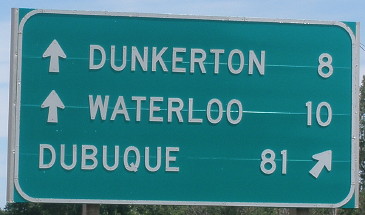 Facing north on V51 (6/3/14)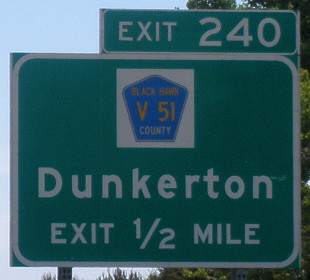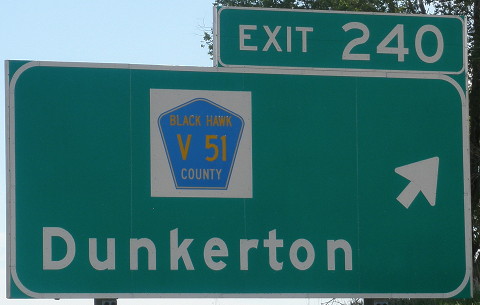 Facing east on 20 (6/3/14)
Notice the spacing between the letter and numbers, and the color differences, in the shields. The half-mile advance sign is due to the I-380 split.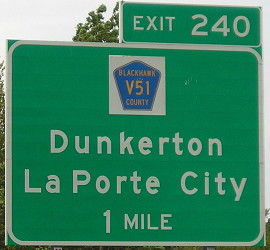 Facing west on 20 (6/14/11)
A sign error three decades old

DOT plan archives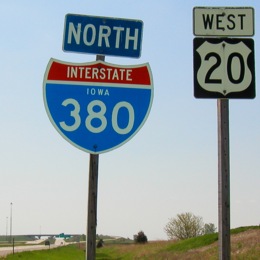 Facing west on 20 (5/20/03)
The sign letting for the new US 20 freeway between IA 150 and V51 on Aug. 31, 1982, pre-dated the completion of I-380. (The sign letting for the I-380/US 20 duplex came six months later.) In that plan, someone hand-drew-in a shield for I-380 in a place the interstate was not going to be. When I-380 opened two years later, no one seemed to notice that this marker was now east of the split, barely visible in the background. If it said "To" instead of "North", it would be fine.
EAST End: Stop sign, IA 150, Fayette/Buchanan county line

Facing east on 281 (12/14/04)
Don't let that first intersection fool you: That is old IA 150, which later became IA 916. The road was rerouted a bit to the east in 1986, and 281's east end moved just a tiny bit more east. So the end for IA 190, which 281 consumed in 1980, was halfway between this T intersection and the stop sign in the distance.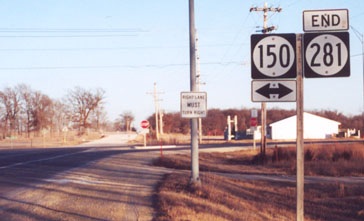 Facing east on 281 (December 2001)
Photo by Jason Hancock

Facing north on 150 (12/14/04)
The car at left is crossing the intersection of 281 and old 150.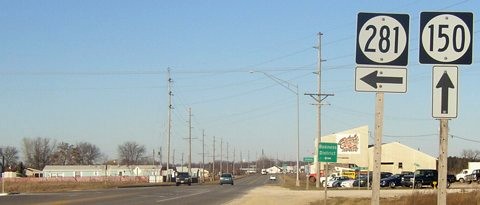 Facing north on 150 (12/14/04)

Facing south on 150 (9/2/08)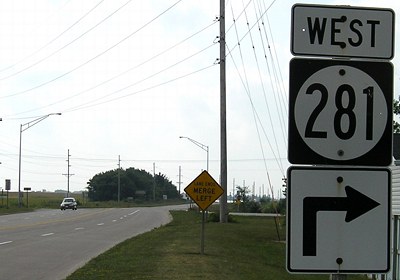 Facing south on 150 (9/2/08)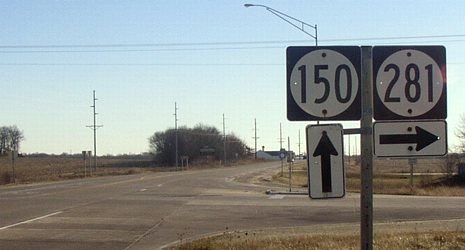 Facing south on 150 (12/14/04)
Page created 3/9/02; last updated 1/14/15