(June 4, 1935-July 1, 2003)
NORTH End: Lanesboro, Carroll County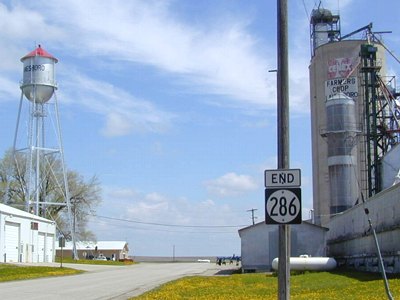 Facing northeast, but heading north, on 286 (5/7/03)
At the end of its life, 286 did not make it to N47 on the east side of Lanesboro. Rather, it curved northeast in town, following a street that once paralleled the railroad, and then ended abruptly by the elevator (right) and fire station (left), a few hundred yards short of the intersection with N47. As an added note, N47 goes both ways from the intersection, and changes to E19 when the paved road turns east. According to the final road transfer list, 286 clocks in at the tiniest shade under 10 miles, 9.93 to be exact - approximately 1¼ football fields short.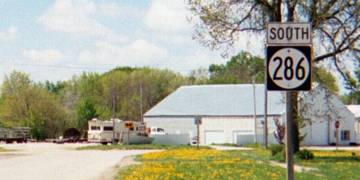 Facing southwest, but heading south, on 286 (5/7/03)
Just past its beginning, 286 went a little more westerly, but would curve more before leaving (see below).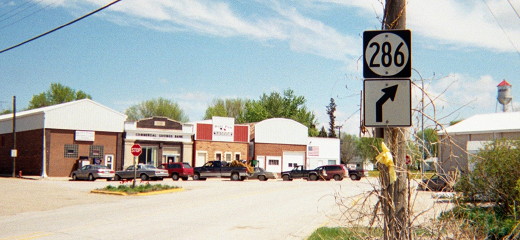 Facing northeast, but heading north, on 286 (5/7/03)
Coming into downtown, 286 angled slightly more and then turned northeast again. Notice the water tower on the right, much more visible at the north end. The leaving-town LGS, unlike most spurs, lists a town, Glidden, instead of a highway.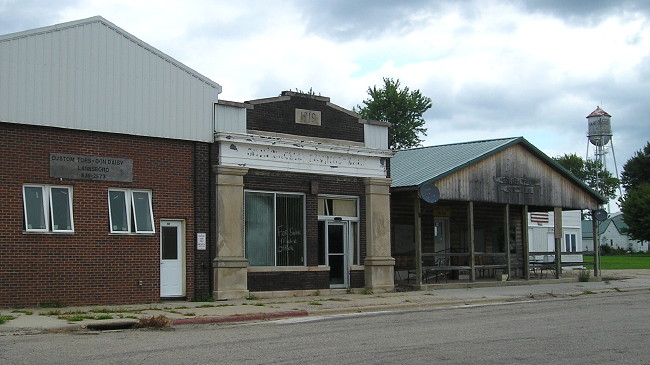 While the 2003 picture showed what appeared to be bustling activity, the view was markedly different more than a decade later - a tone augmented by the overcast sky. The bank in the middle is closed, "For Sale" scribbled on the window, and the building to its left replaced. To the west/left, across the street, that building has been torn down too. (8/8/16)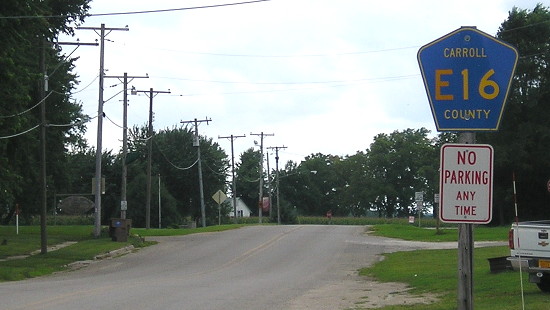 Facing southwest, but heading south, on 286 (8/8/16)
This is basically turned around from the photo above. I've lightened the photo somewhat.
Junction N41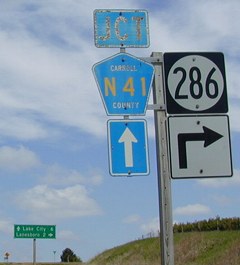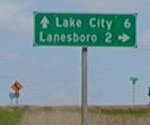 Facing north on 286 / Closeup (5/7/03)
Two miles west of Lanesboro, 286 heads east from the rest of its route. Only westbound (southbound) 286 has a stop sign at this standard T intersection. The east-west part of 286 is now E16 as N41 continues north.
SOUTH End: Stop sign, US 30 and N44, Glidden, Carroll County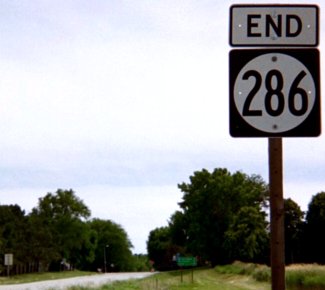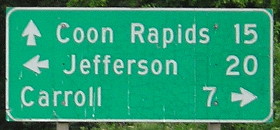 Facing south on 286 (6/29/03 and 6/22/13)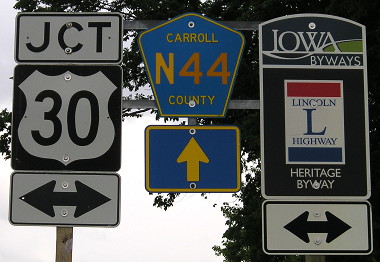 Facing south on 286 (6/22/13)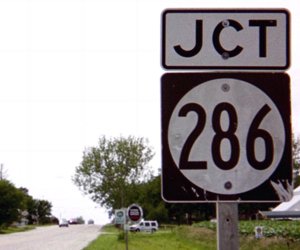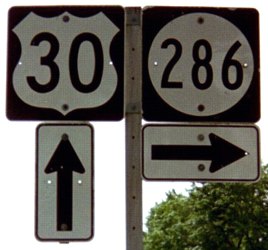 Facing west on 30 (6/29/03)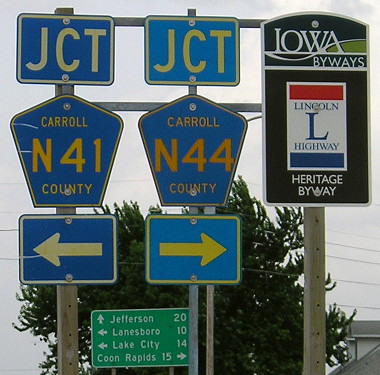 Facing east on 30 (6/22/13)

Facing east on 30 (12/31/01)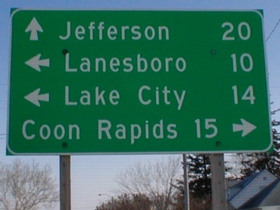 LGS on 30, a few feet behind the above picture (12/31/01)
A rare sight in Iowa: Four destinations on one LGS. Coon Rapids is reached via N44, which creates the very rare situation of two different county roads coming to the same intersection.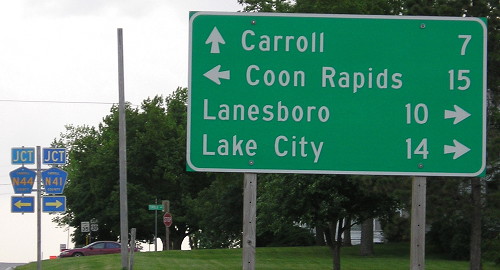 Facing west on 30 (6/22/13)
Last seen: 2003
Page created 3/4/02; last updated 1/23/17