WEST End: South Dakota state line, 2 miles west of Westfield, Plymouth County IA/Union County SD

Facing west (7/20/12)
A new bridge across the Big Sioux opened May 24, 2010, replacing one built in 1957 and visible in Neil's photos below.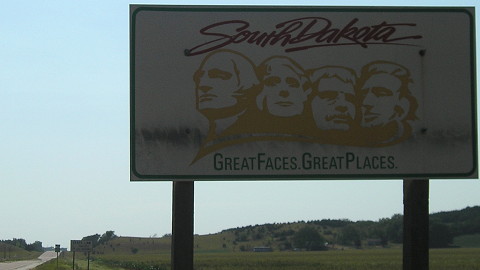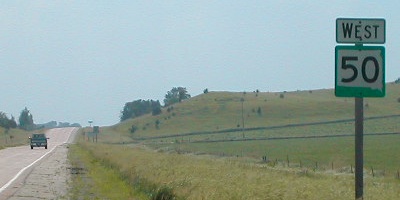 Facing west on SD 50 (7/20/12 and 6/18/02)
Right photo by Neil Bratney
This, obviously, is on the South Dakota side of the Big Sioux River. Highway 3 ends at the bridge (see below) and joins IA 12 just over a mile to the east. South Dakota actually has somewhat of a system for its major highways: East-west roads start with SD 10 in the north and work down to SD 50 in the southeasternmost part of the state, west of Plymouth County. North-south roads start with odd numbers below 20 (11, 13, 15) on the east side and work over to SD 79 and 89 in the northwest and southwest parts, respectively. (In South Dakota's numbering scheme, US 12 and 85 are in the right places there too!) Notice the Butt-Ugly Kansas-Style signage, which is spreading through Iowa like the plague.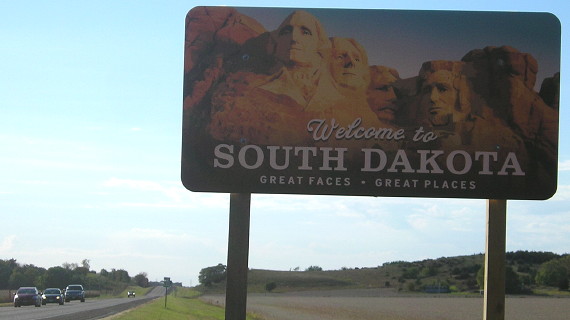 Facing west on SD 50 (9/30/15)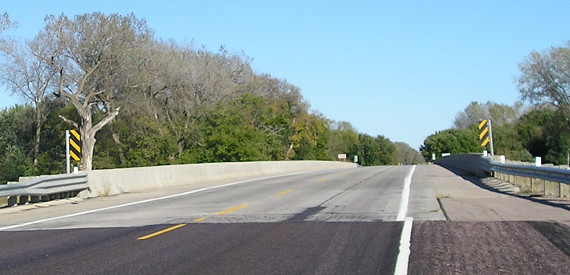 Facing east on SD 50 (9/30/15)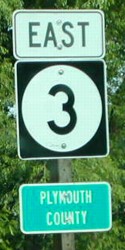 Facing east on 3 (6/18/02)
Photos by Neil Bratney
Entering Iowa, the speed limit goes from 65 to 55 (whether anyone pays attention is a different story). The fun technical tidbit here is that the "Speed Zone Ahead" doesn't appear until you've entered Iowa, so in that short distance to the "Speed Limit 55" you can make the argument that the speed limit is 65, at least eastbound.
Surrounding area information: South junction IA 12, just north of Westfield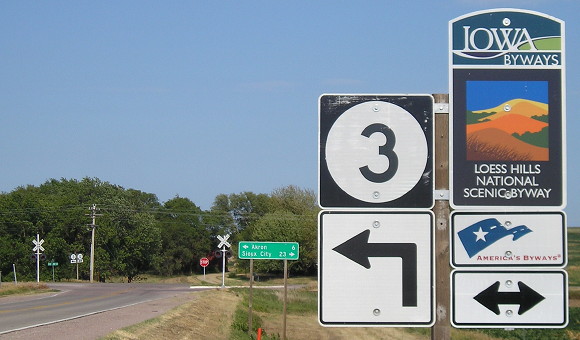 Facing east on 3 (7/20/12)
This is the westernmost intersection of state highways in Iowa. It's roughly on line with 84th Street in Lincoln, Nebraska.

Facing north on 12 (6/14/04)
This intersection is about 1¼ miles east of 3's entrance into Iowa.
On the Iowa side, it would appear more logical for 3 to leave Akron and cross into South Dakota there, instead of a 5-mile duplex with IA 12. (It also helps make IA 3 the longest state highway.) Looking at the South Dakota side, though, it makes a bit more sense because SD 50 is four lanes west of I-29, and goes to Vermillion and Yankton. From this intersection, Vermillion is 5 miles closer than Sioux City. That also means the Akron-Westfield football team would be much closer to home playing in the Dakota Dome (less than 20 miles from here) instead of the UNI-Dome.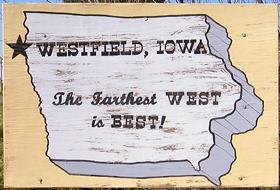 Facing north on 12, south of the intersection with 3 (6/14/04)
Westfield, pop. 189, is so far west the star here looks like it's off the map. It is the westernmost town in Iowa; in comparison northwest Sioux City is 6 miles east of this location.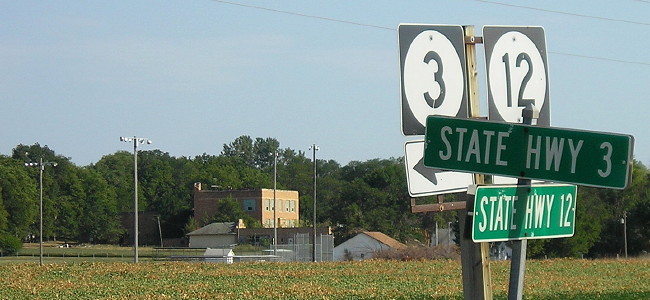 The lights are off and no one's home at the abandoned Westfield school, visible from the intersection. (7/20/12)
Surrounding area information: North junction IA 12, just south of Akron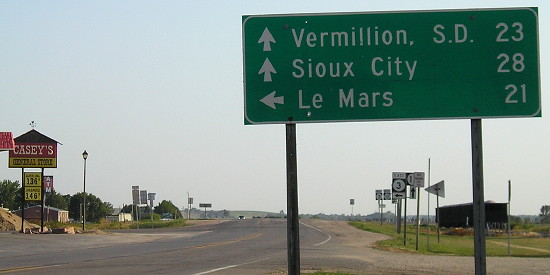 Facing south on 12 (7/20/12)
That "East 3 <-" with no indication of westbound 3 continuing ahead used to be a correct left-and-ahead arrow set. Also pictured(ish): the westernmost Casey's in Iowa.
In approximately 1948, the approach of the east-west road to Akron was changed to its present status. Before then, the route (first as IA 5, then as IA 5 and 3) entered Akron from the southeast and went through town to end at IA 12 on Reed Street, where there used to be a bridge into South Dakota. IA 12, which at creation ended in Akron, remained gravel until the 1950s.
A proposal to have IA 3 bypass Akron entirely, and instead end at IA 12 due west from its current east-west segment nearby, was scrapped in the late 2000s.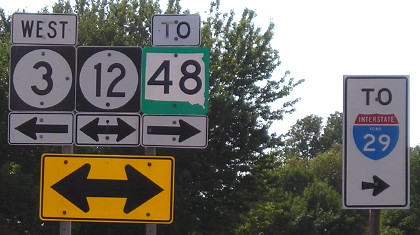 Facing west on 3 (7/20/12)
I-29 is 13½ miles from here via SD 48 - but in South Dakota, not Iowa, despite what the small text says.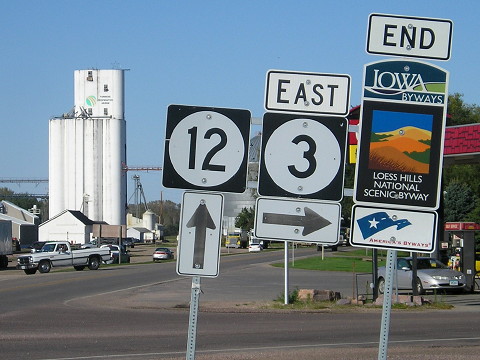 Facing north on 12, but heading east on 3 (9/30/15)
Future EAST End: City limits of Dubuque, Dubuque County
The Southwest Arterial has been a long-desired connector in Dubuque, running from US 20 to US 61 in some manner, but money and topography have been its enemies. In 2013, Dubuque made a significant offer to the DOT: Complete the arterial and the city would take over IA 32 and also the surface one-ways of US 52/IA 3 north of downtown. The DOT agreed. When the plan is executed, which at this point is years in the future, IA 3 east of Luxemburg will become a really long spur. Its east end will be in the vicinity of the present IA 32 intersection. US 52, meanwhile, will be routed over IA 136, US 20, and the Southwest Arterial onto a wrong-way north-south multiplex with US 61/151.
Old EAST End (June 22, 1945-August 21, 1982): Stoplight, old US 61/151/20th St., Dubuque, Dubuque County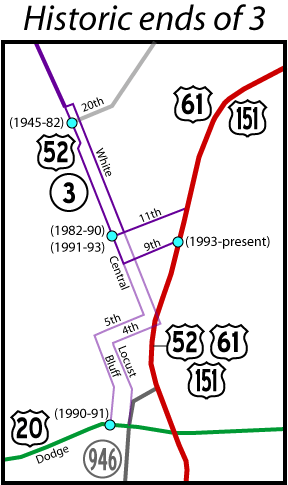 There have been various ends for IA 3 in the past 25 years, but they have to be reconstructed in reverse as you trace the construction history in Dubuque. This series of maps details the history of highways in Dubuque. The points below work southeast.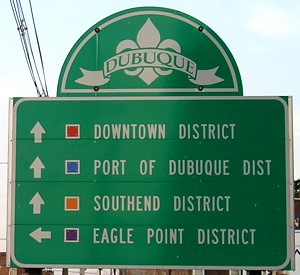 Facing southeast, but heading east, on 3 (8/7/10)
According to route logs through 1981, the east end of 3 didn't change when 61/151 were taken off the Eagle Point Bridge and rerouted along US 20 into Illinois, possibly because the bridge itself remained open. The beginning, however, moved one block east to White Street at 20th whenever Dubuque switched to a whole bunch of streets to one-ways. (As if I needed another reason to dislike one-way streets, they make reading route logs much harder.)
EAST End (August 21, 1982-1990; January 28, 1991-August 19, 1993): Stoplight, US 61/151/11th Street, Dubuque, Dubuque County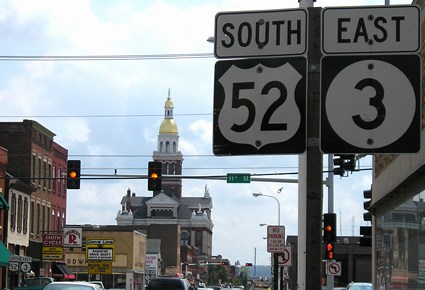 Facing southeast, but heading east, on 3 (all pictures in this section (8/9/07)
In 1982, the new 61/151 bridge to Wisconsin opened, and IA 3 once again ended at the junction with those highways. Ahead would have been southbound 52/61/151.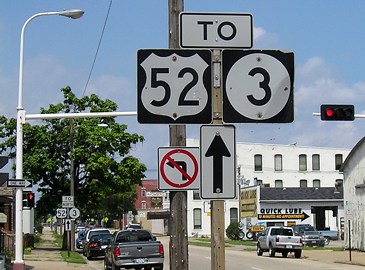 Facing northwest on White at 9th (8/9/07)
Route logs appear to indicate, via a line labeled "Jct NB US 61/151 to Jct SB US 61/151", that IA 3's west beginning was considered to be White at 9th, where northbound 61/151 took a right turn.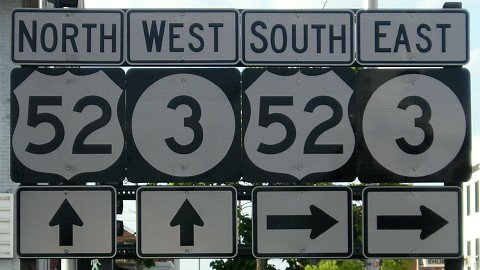 Facing northwest on White at 9th (9/16/15)
The direction situation was clarified greatly years after the above picture was taken.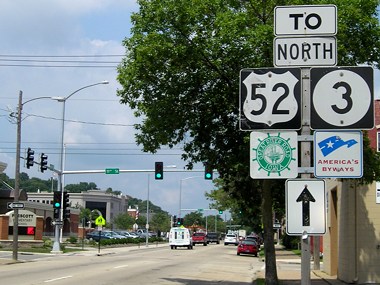 Facing northwest on White at 11th (8/9/07)
The "To" signs are on top because now 52/3 does not get on White until after 11th.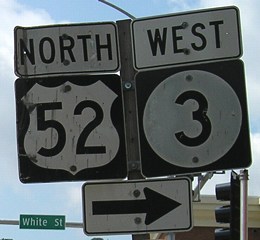 Facing southwest on 11th at White (8/9/07)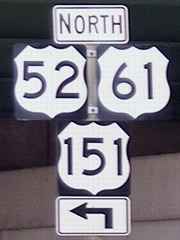 Facing northeast on 4th (8/9/07)
If you continued down Central between early 1991 and mid-1993, you would have joined the new expressway at its 4th Street beginning. Today, this sign is visible on eastbound 4th - notable because it has Series D numbers like Wisconsin, and a squat arrow like Wisconsin. But based on route logs, this point was never an end of 3.
Current EAST End: Interchange, US 61 and 151, Dubuque, Dubuque County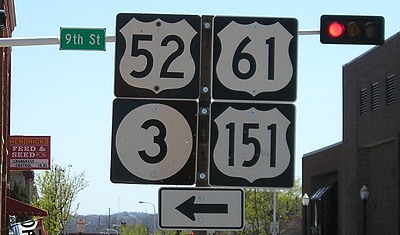 Facing southeast on 52/3 (4/18/06)
Why yes, that IS a feed store in the middle of Dubuque, Iowa, and that IS a horizontal stoplight. This is a one-way to one-way turn, and I feel sorry for the semis that have to make it. There should be a "To" on the right side.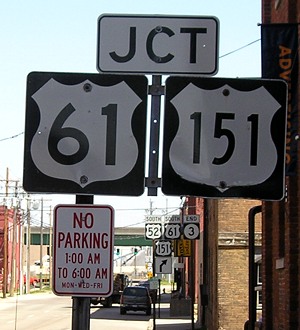 Facing northeast on 52/3 (4/18/06)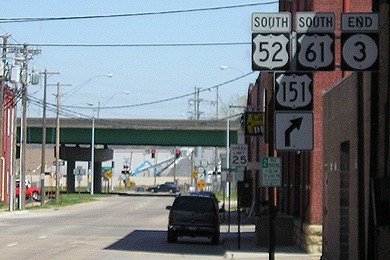 Facing northeast on 52/3 (4/18/06)
This picture is just before 52 joins the 61/151 freeway, north of their intersection with US 20. In August 2014, 9th and 11th streets were converted from one-ways to two-ways but 52/3 remain unchanged.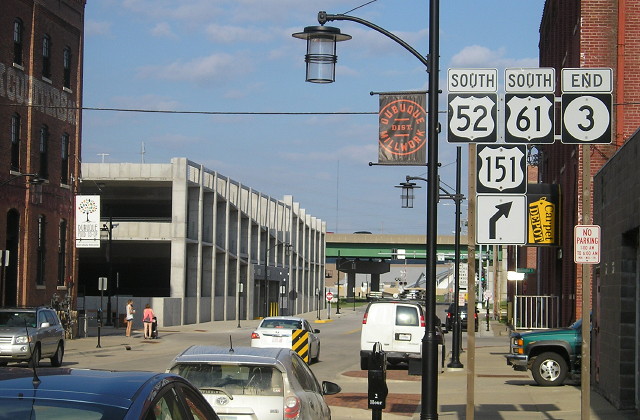 Facing northeast on 52/3 (9/16/15)
Parking meters? Old manufacturing buildings stripped to the bricks and turned into housing? Fancy lighting in a "district"? This area of Dubuque has been invaded by hipsters! (On the plus side, new parking garage.)

Facing northeast on 9th Street (5/26/02)
Photo by Jason Hancock
The orientation of Dubuque's streets is a slight southwest-northeast layout, so this picture is actually a bit northeast of the above picture. This is right at the onramp. The black car is at (or very near) the official end of 3.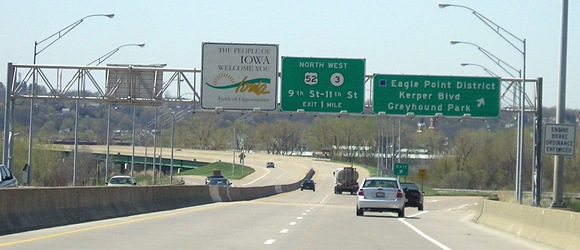 Facing west, but heading south, on 61/151 (4/18/06)
The first exit in Iowa from Wisconsin is on an island. When coming in on the bridge, Illinois is only about 3000 feet to the south, though to get there you would've had to take the previous exit (WI 35). The offramp in the picture above meets Kerper Boulevard only after becoming 16th Street and crossing the Mississippi on the west side of City Island. The sign for northbound traffic is for the rest area in Wisconsin (see below).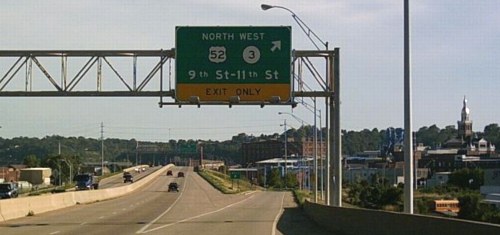 Facing south on 61/151 (7/31/05)
Photo by Jason Hancock
That's the Dubuque County Courthouse at right.
Facing north on 61/151 (5/26/02)
Photo by Jason Hancock
Like IA 94, the end and beginning of 3 are not on the same street. Eastbound, 3 ends on 9th St., but westbound 3 begins on 11th. The mile marker is US 52's since it is the lowest-numbered route between this point and its split on the south side of Dubuque, though I think US 61 would have been better for continuity purposes. (The exits aren't numbered, so it doesn't matter as much.)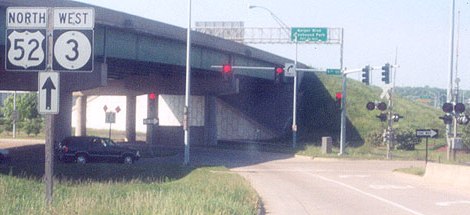 Photo by Jason Hancock (5/26/02)
Jason says this is where the off-ramp intersects 9th Street, the one-way running northeastward.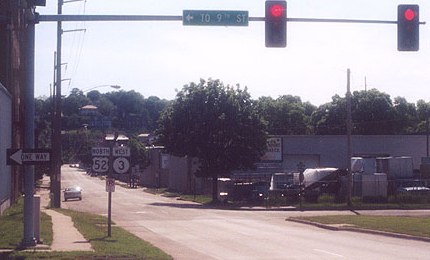 Facing (south)west on 11th Street (5/26/02)
Photo by Jason Hancock
Three blocks from here, 52 and 3 turn onto White Street.
Old EAST End (1990-January 28, 1991): Stop sign (or stoplight), US 20, Dubuque, Dubuque County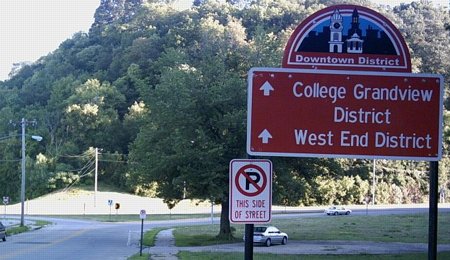 Facing south on Bluff Street (7/31/05)
Photo by Jason Hancock
The route log dated Jan. 1, 1991, doubles 3's length inside Dubuque and adds a mess of one-way streets, but its length is reduced again the next year, indicating that 3 only ended at 20 for a few months. Jason writes, "After US 20 was reconstructed west of downtown Dubuque in 1996, this intersection was changed so that Bluff Street merges into eastbound US 20. This is a 'wayfinding' sign on Bluff just before the merge."
Because of the layout of Dubuque's streets, this old east end is farther west than its current east end, but during that time it was not the easternmost point of IA 3 - that point, geographically, would have been the intersection of 4th and White, about 1000 feet farther east than this intersection.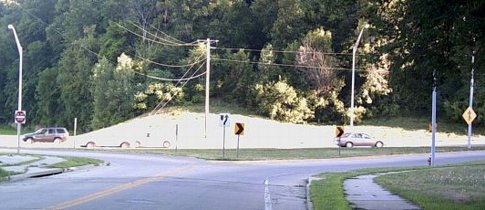 Facing south on Bluff Street (7/31/05)
Photo by Jason Hancock
If southbound Bluff merges into US 20, where does that northbound lane come from? Behind the camera, if you take the last left turn, that road will loop around, paralleling Locust and 20 before coming back here.

Facing east on 20 (1/31/03)
This is the signage at Locust Street, which is an at-grade intersection used to connect 52/61/151 to 20. The mainline 52/61/151 does not have a direct connection. A left turn would put you on Locust and the beginning of IA 3.

Facing north on 946/Locust (8/10/07)
The beginning of IA 3 would have been straight ahead from here, just east of Bluff.
I'm assuming that 3 was re-truncated to Central and 11th on Jan. 28, 1991, when a new segment of expressway opened south of 4th. Eleven months later, a new southbound-only segment opened north of 11th, and the northbound joined it in August 1992. The final section opened August 19, 1993, moving 3's end to its current spot.
Points of interest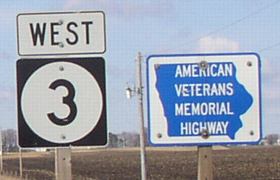 After junction with US 71, Buena Vista County (3/21/03)
Iowa 3 is known as the "American Veterans Memorial Highway", a designation it received in the mid-1990s. Signs are posted sporadically across the state.
Strange but true: Although IA 3 between Cherokee and Pocahontas is a part of one of the straightest stretches of road in Iowa - the official "longest straight" stretch begins just east of the Cherokee/Pocahontas line and goes to US 69 east of Clarion, I believe - as late as the late 1930s there wasn't a road connecting the two county seats! A new highway, 221, was finally built between the two and then in 1945 the present IA 3 was commissioned across the state.
IMHO, there is no real reason for 3 to continue past Luxemburg, other than to make it a full "cross-state" route. In Luxemburg, 52 changes from a southerly direction to an easterly one, and although it's in 3's direction, there's really no reason for 3 to come along. Past that intersection with US 52 and IA 136, 3 never gets its own route again.
However, it WAS the primary route along that road for just under four years, between December 1963 and October 1967, when the road's condition was so bad US 52 was routed through Dyersville on IA 136 and US 20. The businesses in northern Dubuque were peeved (to put it mildly), demanding and getting an Alternate 52 designation until the original route was restored.
The preceding two paragraphs will be rendered irrelevant should the Southwest Arterial be completed, and IA 3 becomes the only route heading west out of Sageville.
Page created 12/16/01; last updated 2/28/17