(June 4, 1935-April 2003)
Within a month of taking these pictures, the signs came down. Pocahontas County orginally accepted the road Dec. 17, 2002.
WEST End: Stop sign, IA 4 and C56, Pocahontas County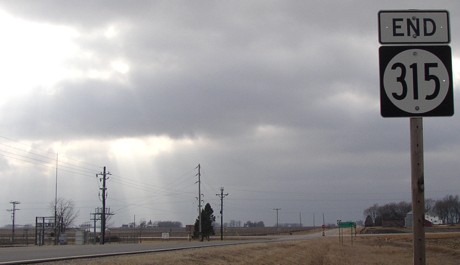 Facing west on 315
Unfortunately for historical purposes, the record of this highway is under overcast skies. The sun did peek out on this picture, though.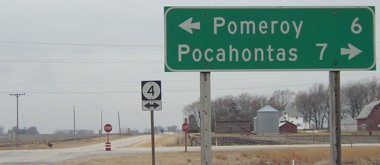 Facing west on 315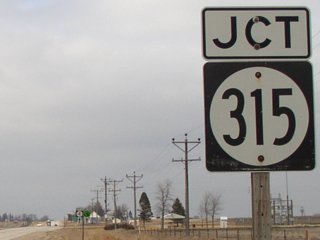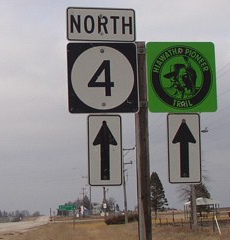 Facing north on 4

Facing north on 4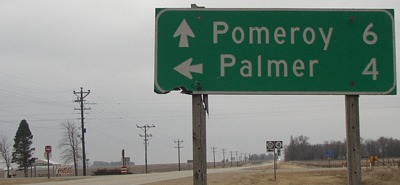 Facing south on 4
The sign in this direction displays both schools of the Pomeroy-Palmer school district. Pomeroy is at about the halfway point of the duplex of highways 4 and 7.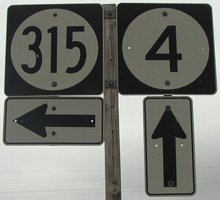 Facing south on 4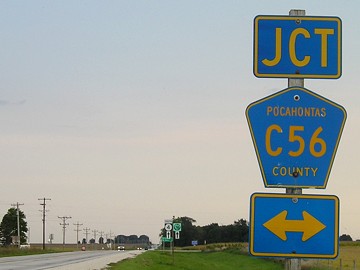 Facing south on 4, post-decommissioning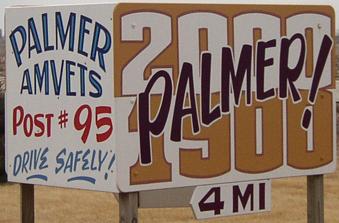 There's a little roadside park with a shelter at the southeast corner of the intersection.
EAST End: Stop sign, N57/Henrietta St., Palmer, Pocahontas County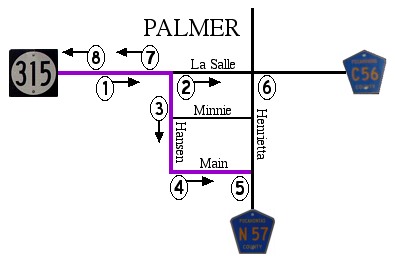 Like IA 359, 315 dips south to go through the business district. The numbers correspond to the pictures below.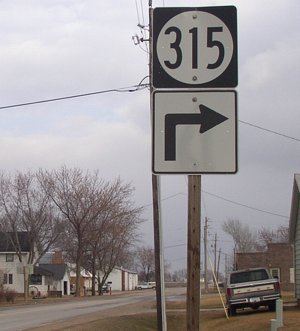 1) Facing east on 315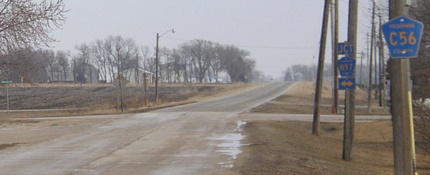 Facing east just past the turn
2) The road is (was) first marked as C56 right before the intersection with N57.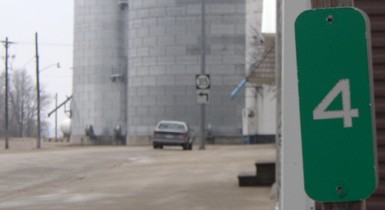 Facing south, but heading east, on 315
3) The last mile marker is on a stop sign. Had 315 continued due east, it would have been exactly four miles long.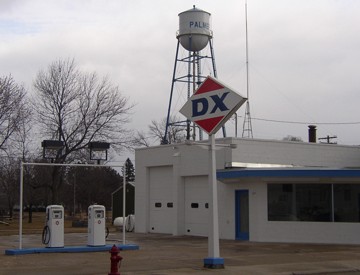 Facing southeast-ish
3a) This restored DX station is across the street from the mile marker. There wasn't anything in it, though.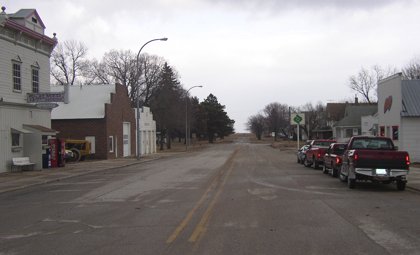 Facing east on 315
4) The Palmer House, the white building on the left, was built in 1900. There are no 315 shields coming this direction on this street.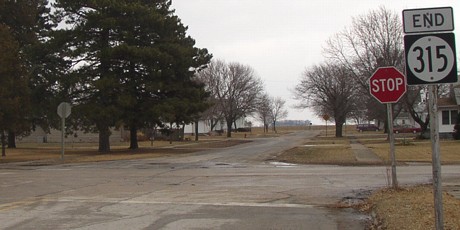 Facing east on 315
5) After stopping at N57, the street itself goes for one more block before ending. Looking left (north) you see the Stop Ahead sign for N57 at C56 (which, incidentally, has a double arrow for its junction). There were no signs for 315 on N57.

6) This was placed on the southeast corner of the C56/N57 intersection, two blocks north of the above picture. Behind me in this picture is a map of Pocahontas County sites, placed for the Iowa Sesquicentennial in 1996. A large image of the sign with readable text can be seen here.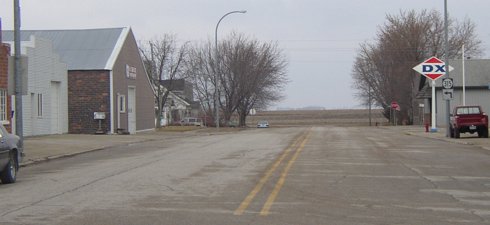 Facing north in nearly the same place as picture 4
On the sign at left is the 315 with up-and-left arrow. In both directions there is not a follow-up arrow. At right near the DX sign is the first westbound 315 sign; there was not one right away on Main Street.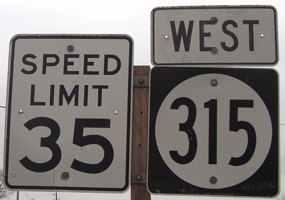 7) This is the second sign westbound, but the first sign westbound that a) is on an east-west road and b) has a direction attached.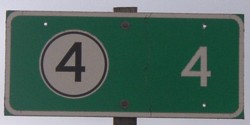 8) Facing west on 315
A nice symmetry here, don't you think?
Last seen: 2003

All pictures by me: All except eighth, 3/20/03; eighth, 9/8/06; graphic, 4/26/03
Page created 4/26/03; last updated 12/11/06