(1956-July 1, 2003)
(text is in present tense)
NORTH End: 225th St., Lewis and Clark State Park, Monona County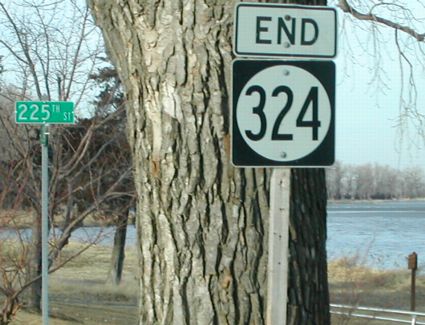 Facing north on 324
Photo by Neil Bratney
Neil says, "The first 0.5 miles of this road have the state park on the east side, and private homes on the west side. At this point, where IA 324 ends, the road enters entirely into the state park."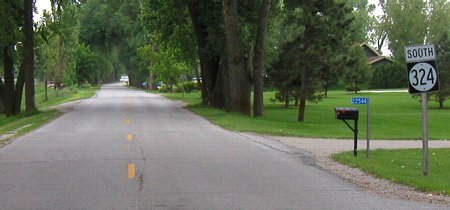 Facing south on 324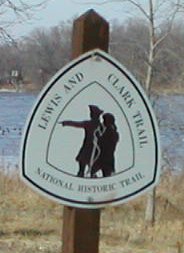 Photo by Neil Bratney
Even though 324 does not leave the park, it is marked as the Lewis and Clark Trail, because Lewis and Clark stopped here on their "journey of discovery". But the park is not only entirely within Iowa, it's over 2 miles away from the Missouri River! This excerpt from a state site about the park tells a little more:
Lewis and Clark State Park lies on the shores of Blue Lake, an "oxbow" formed by the meanderings of the picturesque Missouri River many years ago. The park is named for Meriwether Lewis, secretary to President Thomas Jefferson, and Captain William Clark, United States Army, who were commissioned by President Jefferson in 1804 to head an expedition into the northwest to explore the vast territory purchased from France. With 26 men and supplies, Lewis and Clark led their expedition up the Missouri River from St. Louis by keelboat.

On August 10, 1804, the expedition arrived at the site where Lewis and Clark State Park now lies. They spent some time there exploring the region and making observations on the geographical conditions, plants and animals in the area. Today, thousands of people visit the park every year for outdoor recreation and to learn a little bit more about the Lewis and Clark expedition. The park has been designated as part of the Lewis and Clark National Historic Trail by the National Park Service.
Indeed, the oxbow lake that surrounds the park is, at its closest point to the river (1.9 miles south of the park), "only" 3/4 of a mile from the current course of the Missouri. Also, since the park is under Iowa jurisdiction, we can assume that the river changed course and the oxbow was formed between 1804 and 1838, when the Iowa Territory was created.
SOUTH End: Stop sign/T intersection, IA 175, Monona County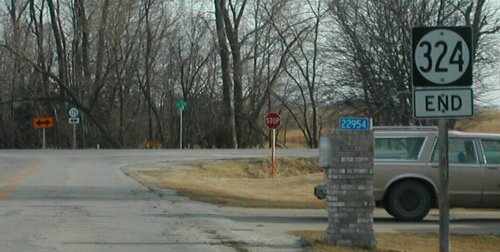 Facing south on 324
Photo by Neil Bratney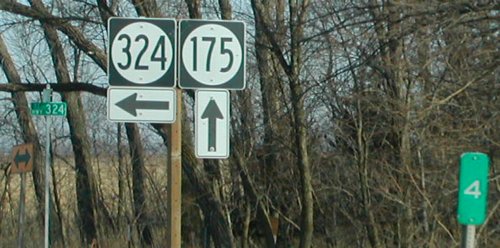 Facing east on 175
Photo by Neil Bratney
As stated above, this park is a substantial distance from the current Missouri River. Going straight east from the border, you can see it's four miles from the river. Highway 324 is the only highway in Iowa east of the Missouri River and west of I-29 that does not end at I-29. This is the first (or last, depending on your view) state highway terminus on 175; the farthest east is 214 in Grundy County.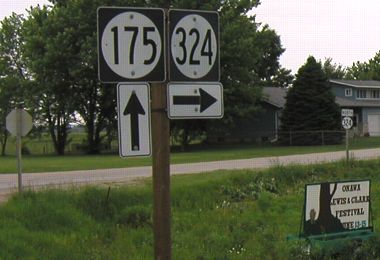 Facing northwest (first sign at right)

Facing north on 324
Photo by Neil Bratney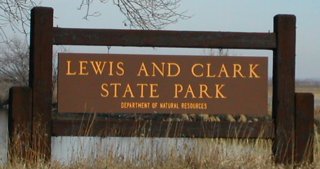 Facing north on 324
Photo by Neil Bratney
Although this is the park entrance, 324 continues along the east side (as said above) and ends when the road goes wholly within the park.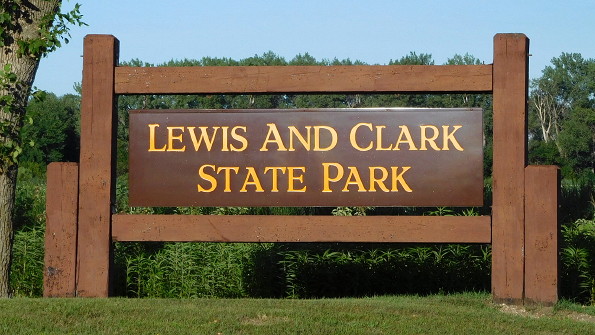 Facing north on 324 - replacement sign
Last seen: 2003
Pictures by Neil Bratney: First, third-fifth, seventh, and eighth, 2/23/02
Pictures by me: Second and sixth, 6/1/03; ninth, 8/7/16
Page created 4/12/02; last updated 4/27/04 1/16/17