(August 4, 1936-September 30, 2000)
NORTH End: Stop sign, IA 9, Lyon County
Facing north on 339 (6/25/06)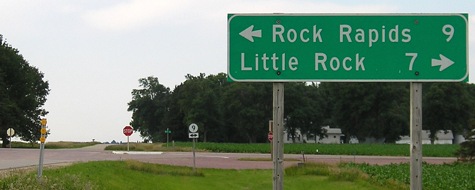 Facing north on 339 (6/25/06)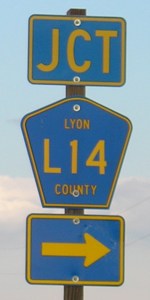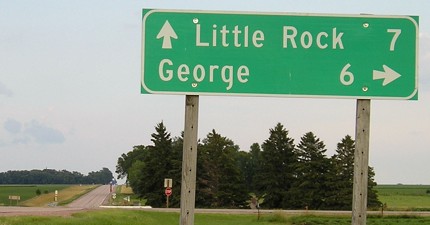 Facing east on 9 (6/25/06)
County Road L14 has gotten a lot longer in Lyon County in the past decade. In addition to being extended up old 339, it is also the designation for old IA 91 a mile to the west despite K64 being the pre-1980 designation of that road. (L14's implied duplex with 9 is not marked.)
SOUTH End (August 31, 1990-2000): Michigan Avenue, George, Lyon County
A map from the mid-1990s showed IA 339 going south at least one block past the A34 junction and then at least one block west, maybe two. The "Begin to 18-ft section .07 miles" line first appeared in 1991, indicating a change in the endpoint later confirmed in DOT records. The last total distance of the route was 6.17 miles, or .17 miles past the junction photographed below.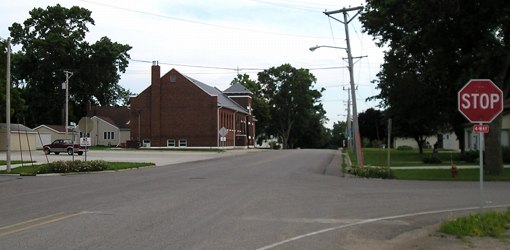 Facing south on 339 (6/25/06)
In the distance you can see the signs below.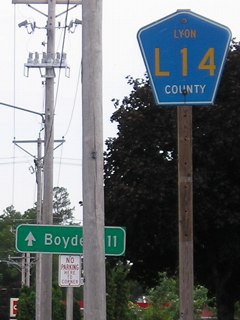 This set of signs looks suspicious. The pole with the L14 shield had other things on it in the past. The mileage sign in the background is strange because it's past and not at an intersection, and also points ahead - but it could have been used for guiding travelers who had reached the end of 339 and were looking for L14. (6/25/06)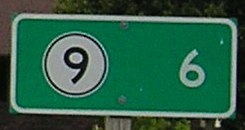 Facing north on 339, north of the intersection (6/25/06)
At the time of decommissioning, George was one of a handful of towns over 1000 not within a mile of a state highway. A couple more were added to the list in 2003.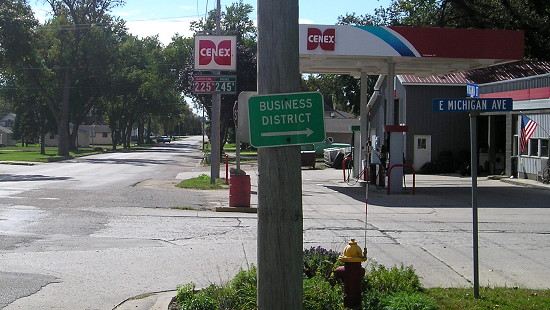 Facing south (9/30/15)
This is Virginia Street at Michigan Avenue, two blocks south of the four-way stop, and 339's endpoint in the 1990s.
SOUTH End (1936-1990): Main St., George, Lyon County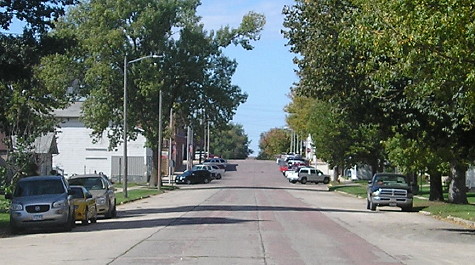 Facing west on Michigan Avenue (9/30/15)
Here's that "18-ft. section" in the paving records. You can see the oldest pavement in the middle of the street. This end was Michigan Avenue at Main Street, but not continuing along Main Street.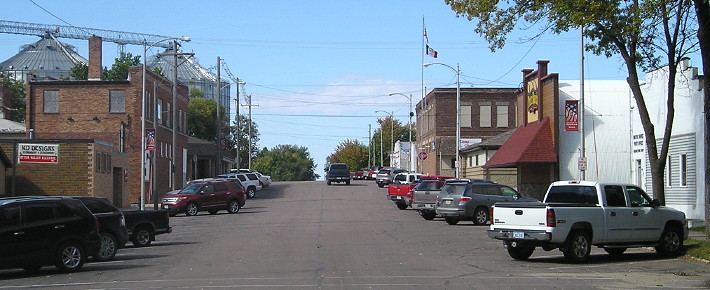 Facing west on Michigan Avenue (9/30/15)
This is a block down Michigan (see the white pickup in both pictures). The black pickup is stopped at what would have been 339's downtown south end.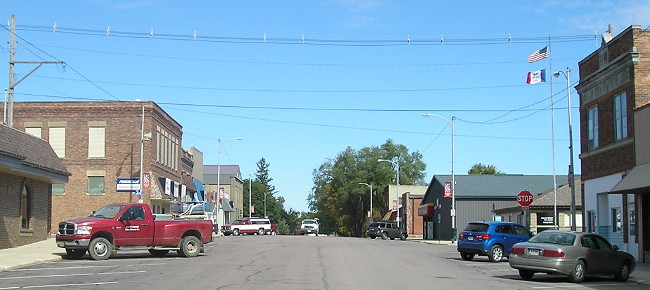 Facing north on Main Street (9/30/15)
The beginning of 339 would have been to the right (from the blue car).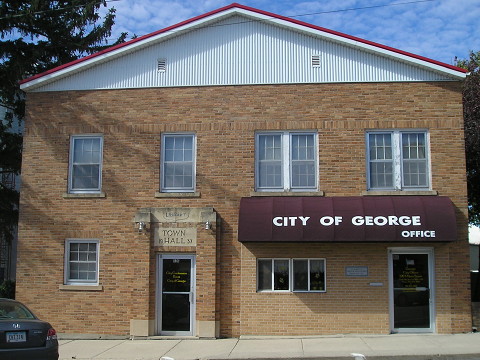 George's city hall is on Main between Michigan and the (removed) railroad tracks. The stone over the door says 1937, one year after 339 was created. I spent 15 minutes inside with city staff trying to pinpoint the original south end (this was a few months before the legal descriptions were put online). They were very patient with me. A city map on the wall by the door on the right clearly marked Virginia at Michigan as the south end of 339, so that cleared up questions about that location. (9/30/15)
Last seen: 2000 (2000 map)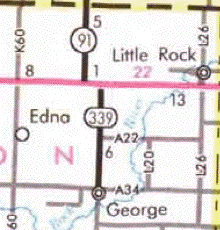 Page created 10/25/06; last updated 9/9/16