(April 27, 1938-April 6, 1981)
WEST End: 1st St., Packwood, Jefferson County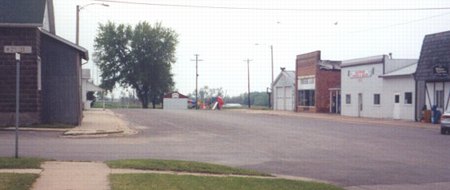 Facing south, but heading west, on 356 (3/16/03)
Photo by Jason Hancock
Jason writes, "This is at the intersection of 2nd and Main streets in Packwood. Mile markers 4, 5, and 6 are still up, as is the post for 2. This is two blocks south and two blocks west of the junction of County Roads H17 and V63; 356 entered town via 4th Street but the pavement narrowed just after the turn onto Main. Since I had a little ways to go based on the mileage from the remaining mile markers, I turned onto Main and 'mile 0' happened to be at 2nd." This is also in the area of Packwood's businesses. Primary road sufficiency logs indicate that the road into downtown went one more block into the background.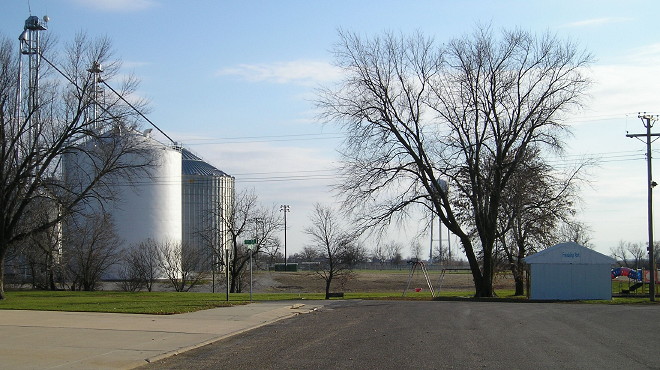 Here's a picture a block south, at the very end. (5/10/05)
Packwood is also home to a strangely named school district, or perhaps I should say "home", since the school itself is 6 miles away. It is not simply a hyphenated Pekin-Packwood School District (Pekin is to the northwest). It is the Pekin School District of Packwood or, as commonly written, "Pekin (Packwood)" similar to how, say, "West Marshall (State Center)" would be the shorthand of that district. The only answer I have for this oddity: Do not ask why. It just is.
Temporary WEST End: City limits of Packwood, Jefferson County
Packwood and the DOT had a transfer of jurisdiction agreement that gave the last eight-tenths of a mile to the city on October 6, 1980, six months before Jefferson County took the rest of the road. That's why 356 was on the 1981 map, but the sign status that winter is unknown.
There's nothing at the city limits except for a town welcome sign.
EAST End: Stop sign, IA 1, Jefferson County

Facing east on 356 with DOT-style "No Passing Zone" sign (3/16/03)
Photo by Jason Hancock
LGS (DOT-style) in above picture (3/16/03)
Photo by Jason Hancock

Closeup of LGS, plus a decade (11/15/13)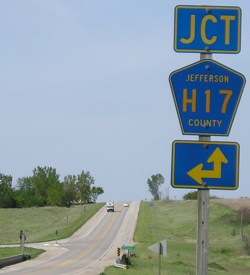 Facing north on 1 (5/10/05)

Facing north on 1 (3/16/03)
Photo by Jason Hancock
Last seen: 1981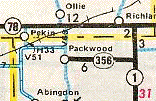 The eight-block unincorporated village of Linby on the now-paved H33 has been added to the state map in the time since.
Page created 9/6/03; last updated 3/28/17