(1946-1981)
NORTH End: Marathon, Buena Vista County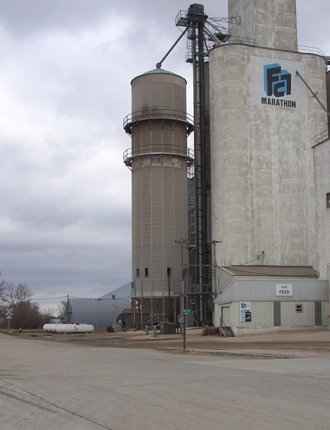 Facing north on 390
I thought 390 probably ended here, at the railroad tracks after going through the business district. After further examination, I'm not sure. The topographic maps do not help this time, and the route log seems to point to a block behind here. So if it's not the end, here's a nice picture of a typical elevator in Iowa.
Surrounding area information: Jim's Junk Shop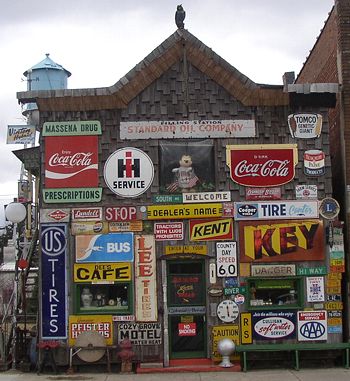 This building, on the south side of the business district, immediately brought to my mind the George Preston Station in Belle Plaine, about 200 miles away. Notice the column of Iowa license plates at far right.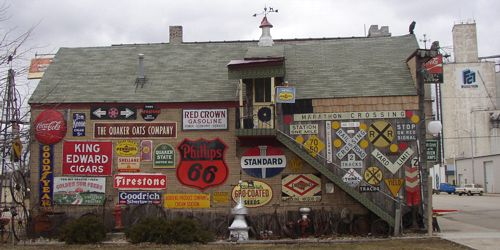 This side view is very visible thanks to the empty lot here. On the windmill is a turn sign with the arrow embossed (the metal is raised). UPDATE: All the signs have been stripped from this building and the front windows boarded up. It may only be a matter of time before it joins half of the rest of Marathon's downtown as a vacant lot. UPDATE TO THE UPDATE: The building was torn down before mid-2012.
SOUTH End: Stop sign/T intersection, IA 10, Buena Vista County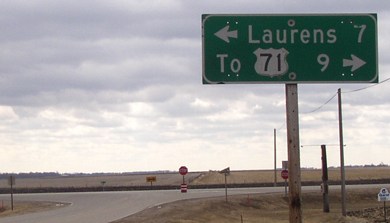 Facing south on 390
This could be a DOT sign, given the condition. The "1" in the 71 shield is about faded away now.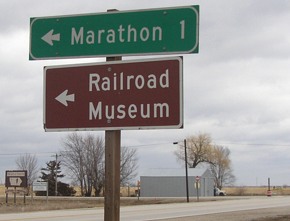 Facing east on 10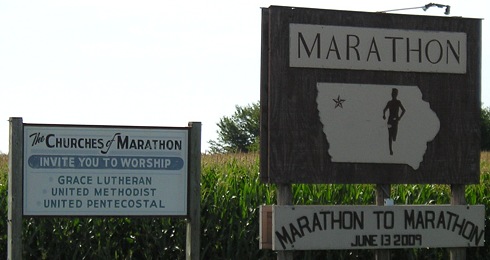 At lower left is a sign noting the town is home of the "Marathon to Marathon." The other end is in Storm Lake.

As with IA 352, the number was dead 20 years and then resurrected in the rural numbering system. UPDATE: Replaced in the mid-2000s with a conforming name. (Booo!)
Surrounding area information: Railroad Museum

This railroad museum was near the south end of 390, but I could not find an entrance (and being a Friday in March, it was probably closed anyway).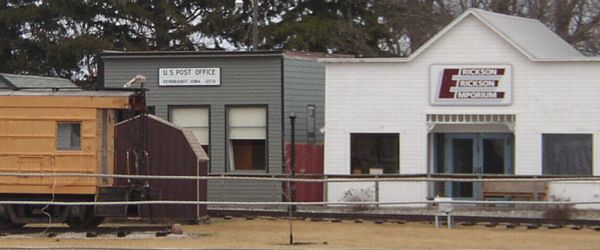 The buildings along the "street" include a post office with the name of Rembrandt, 10 miles away. Why not Marathon, I wonder?
Last seen: 1981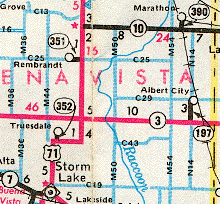 All pictures by me: All but sixth, 3/21/03; sixth, 7/23/09
Page created 4/1/04; last updated 4/14/14