(1948-1990)
WEST End: Tallman St., Paton, Greene County

Facing north, but heading east, on 397 (5/7/03)
Instead of facing the end as usual, I thought I'd take a different tack and look back at the business district I presume 397 went through based on placement of stop signs (see below). The white diamond was a DX station.
The 2003 pictures are all from a disposable camera I thankfully happened to have with me because the batteries in the digital camera died and the nearest place to buy them along my trip route, unfortunately, was in Churdan, about 14 miles west.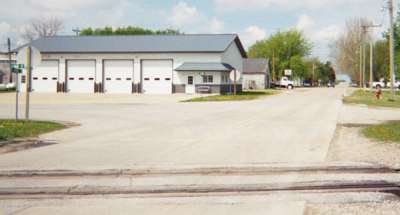 Facing west on 397 (5/7/03)
Turn left and you are at the other end of the block in the above picture. Because there is a stop sign for eastbound traffic, and not northbound or westbound, you can tell 397 turned here because a) similar situations have been encounted at other intersections and b) the spur usually ran into the business district.
EAST End: Stop sign, IA 144 and E18, Greene County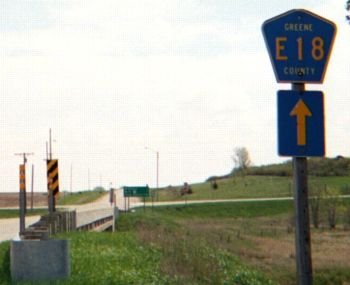 Facing east on 397 (5/7/03)
There is a hill in the middle of 397's route, and from there you can see the east end (at least the turn above) in your rearview mirror and the east end in front of you.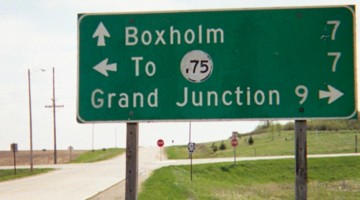 Facing east on 397 (5/7/03)
This LGS definitely is a leftover, complete with peeling shield for IA 175. It's gone now.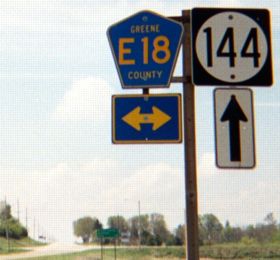 Facing south on 144 (5/7/03)
The larger digits on this E18 shield are more common in Marshall County. The paved, continuous stretch of E18 that goes from P29 east of Churdan to IA 14 south of Conrad now incorporates five old spurs: 397 (after 1990), 329 (after 1980), 317 (after 1954), 221 (after 2003), and 311 (after 1989).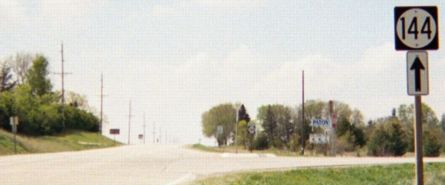 Facing south on 144 (5/7/03)
Ah...a leftover sign. A state highway used to be here.

Facing south on 144 (6/4/14)
That leftover 144 sign is now gone.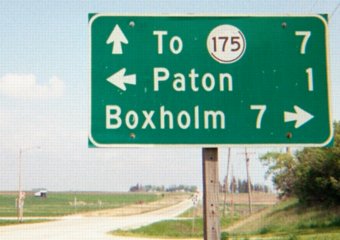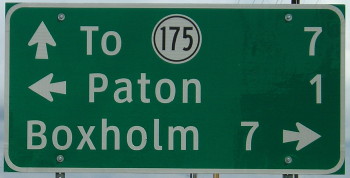 Facing north on 144 (5/7/03 and 6/4/14))
The first sign also dates back to before 1990. The north destination is IA 175 because 144 ends there and there aren't any towns left on the route. On the 2003 map, the mileage on 144 was still split at this intersection as if 397 were still an active highway or Paton was on the route. While you can look to the left and see Paton, it's not on 144.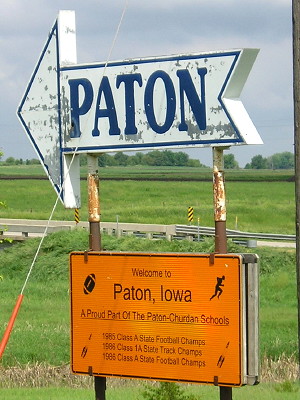 Facing north (6/4/14)
Last seen: 1990 (1986 map)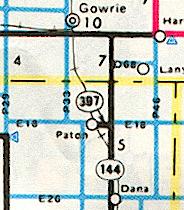 This map shows the 4-mile piece of P29 temporarily swapped in jurisdiction with IA 144 in Webster County - a mileage situation not completely rectified until the 2004 map.
Page created 12/12/03; last updated 1/17/15