WEST End: IA 10, Alton, Sioux County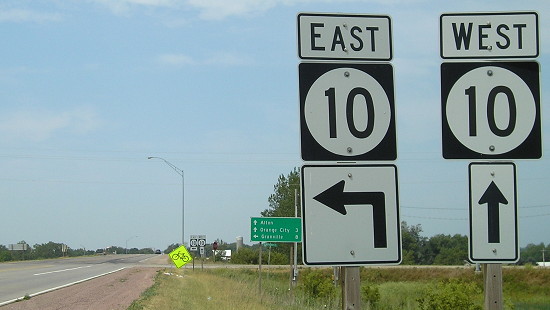 Facing west on 450 (7/21/12)
IA 450 is the highway no one knows about. Its existence was first discovered in "Numbering State Trunk Highways: A Survey of Methods Used by State DOTs", from the Wisconsin Department of Transportation, in a table sent from the Iowa DOT listing all highways active in 2008.
"Assigned to the .28 mi of existing 450th Street in Sioux County as unsigned route number for portion being transferred to the State. (Notified that transfer to the State finalized as of 1/31/05)" The length is so short a label won't fit in the city map of Alton.
The number 450 has no significance except that it is 450th Street in a rural system that covers Lyon, Osceola, Sioux, and O'Brien counties.

Facing east on 10 (6/15/04)
This is how the intersection looked during construction of the IA 60 four-lane. The white vehicle at far left is following southbound 60 as it joins westbound 10; the road behind it now dead-ends. Eastbound 10 goes to the right, and then under the four-lane.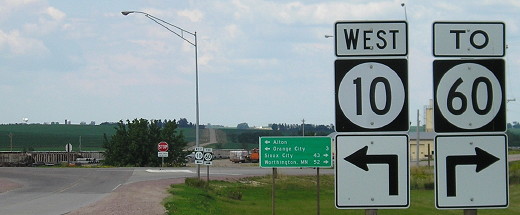 Facing north, but heading west, on 10 (6/25/06)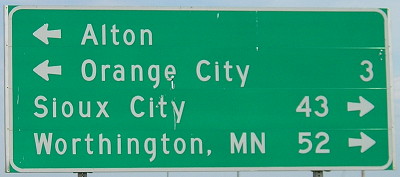 Facing north, but heading west, on 10 (6/25/06)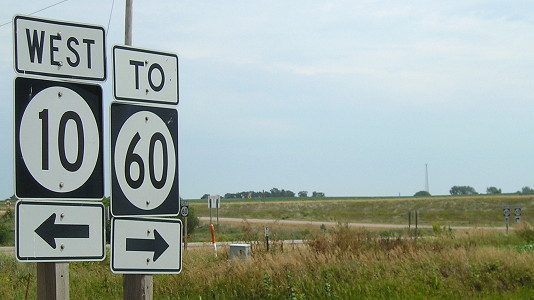 Facing northeast (7/21/12)
This is still on the shoulder of IA 10, but you can see the southbound offramp at center and the sign for the southbound onramp at far right.
EAST End: Interchange, IA 60, Alton, Sioux County

Facing east on 450 (6/25/06)
Note the two-letter state abbreviation used. The good news is, these were put up before the genericization of Iowa interchange signage and should be around for a long time.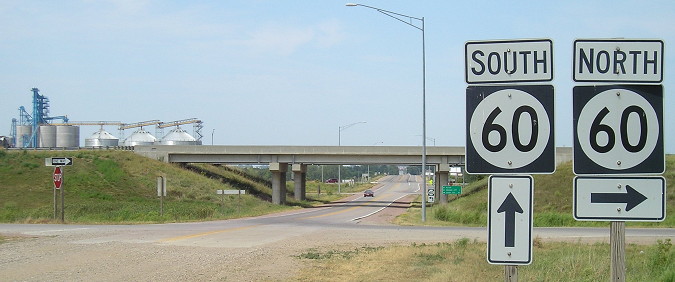 Facing west on 450 (7/21/12)
In this picture you can see the entirety of IA 450, from its beginning at the pavement start to IA 10 in the deep background.

Facing west on 450 (7/21/12)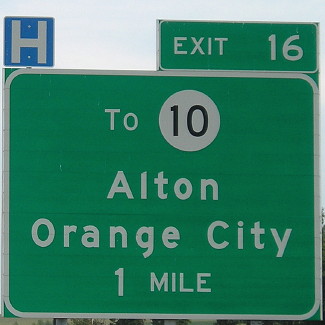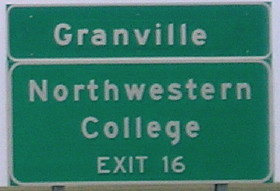 Facing north on 60 (7/21/12)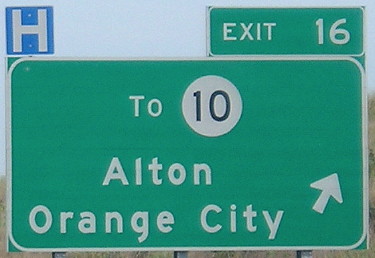 Facing north on 10 (7/21/12)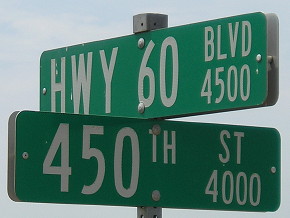 Here's the "sign" for IA 450 - the rural street sign. (7/21/12)
Page created 6/12/16