NORTH End: Stop sign, US 6, Cass County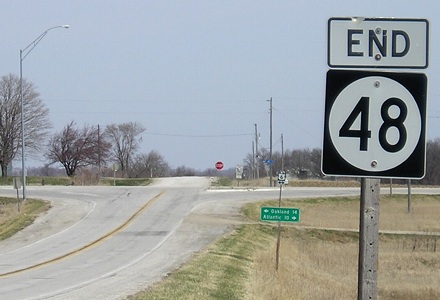 Facing north on 48
Photo by Neil Bratney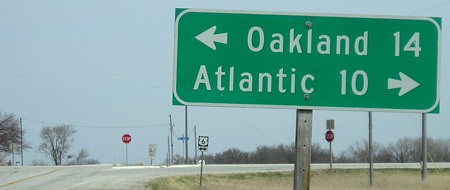 Facing north on 48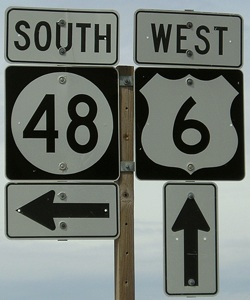 Facing west on 6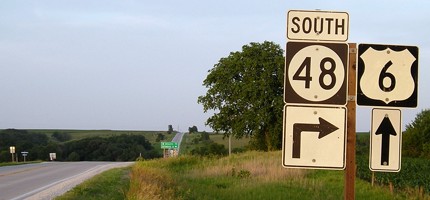 Facing east on 6
This is possibly the only US 6 shield in Series C font in Iowa, because the one at I-35/80 I saw in 2004 is gone.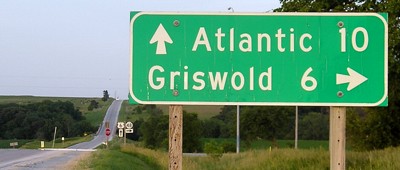 Facing east on 6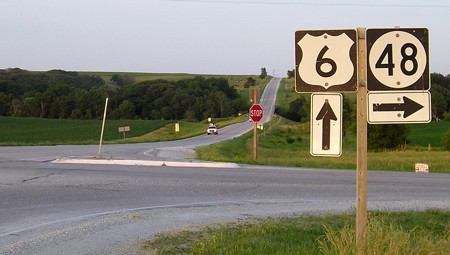 Facing east on 6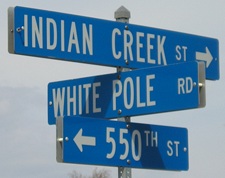 Rural sign at intersection
Way, way, way back when, before US 6 was US 32 or even IA 2, the White Pole Road connected Council Bluffs and Des Moines. While 6 is marked as White Pole in Cass County west of Atlantic, the north-south road changed to Indian Creek here because the creek begins to parallel the gravel road north of 48.
"Take Your Choice to Omaha"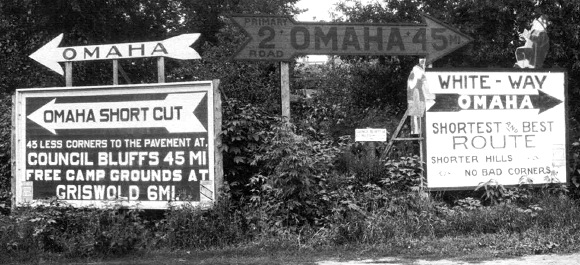 Facing southwest
Iowa DOT archive photo
Competition for traffic was fierce in the 1920s. Here, the White Way competes with a route using modern IA 48 and probably modern IA 92. At the time, none of the "shortcut" used a state-numbered road. That may have not made a difference, though, since the White Way/IA 2 was dirt; at least one map classifies it as "not built". This corner of the intersection is now a farm field.
SOUTH End: Stop sign, US 59/Fremont St., Fremont/Page county line

Facing west, but heading south, on 48
Photo by Neil Bratney
IA 48's end has moved farther north from its original route through Shenandoah, meeting 59 on the north edge of town. In the deep background - not the road the blue car is on - is old IA 2, but it met 59 to the south (left) of this picture, at Sheridan Avenue, which east of 59 was old 48.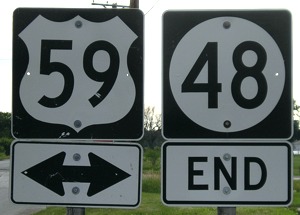 Closeup of signs in above picture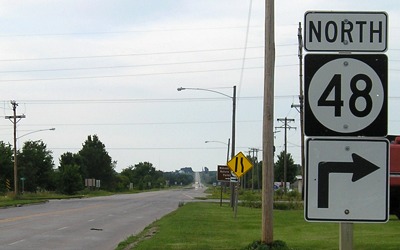 Facing north on 59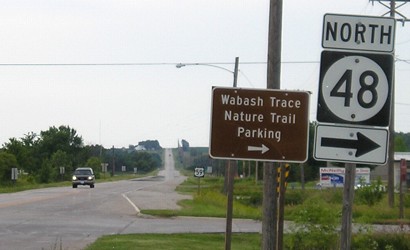 Facing north on 59
For an intersection with a state highway near a town, this intersection and US 59 at IA 2 are both surprisingly lacking in development.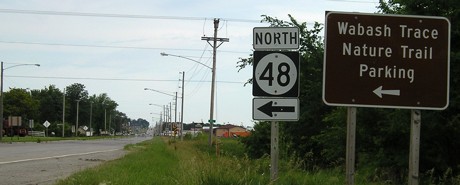 Facing south on 59
Photo by Neil Bratney
Neil says the Wabasha Trace trail goes sixty miles from Council Bluffs to Blanchard on an old railroad grade.
Ninth picture from Iowa DOT/Highway Commission archives, early 1920s
Tenth picture by Neil Bratney: 4/20/02
Pictures by me: First-fourth and eight, 4/15/09; fifth-seventh and eleventh-fourteenth, 6/12/06
Page created 5/12/02; last updated 7/30/09