Old WEST End: Stop sign, US 63, Montezuma, Poweshiek County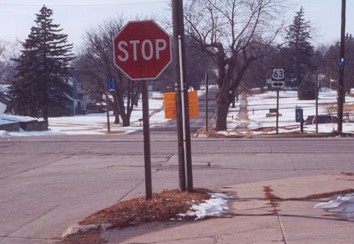 Facing west on 85 (Winter 2002)
Photo by Jason Hancock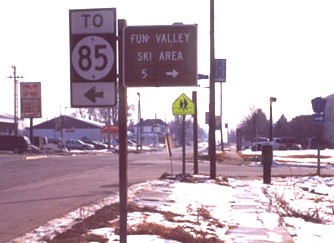 Facing south on 63 (Winter 2002)
Photo by Jason Hancock
The "To 85" sign is all one piece here, but in the other direction it's a normal assembly. Highway 85 has not ended at 63 since 1994, which kind of makes it a weird case because it's not a spur yet does not have both ends at a non-county highway.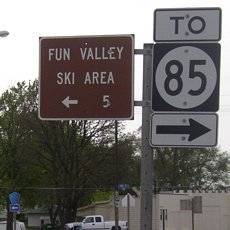 Facing north on 63 (5/13/03)
In the deep background are the F57 shield (lower left), 63 with double arrow seen in the top photo (lower center), and the back of the southbound signage (lower right).
Unfortunately, Fun Valley isn't so fun anymore, because the ski area has been discontinued.
WEST End: City limits of Montezuma, Poweshiek County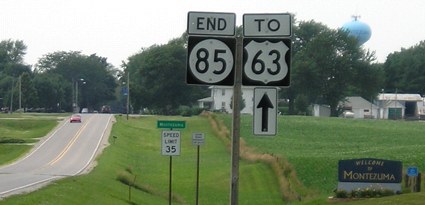 Facing west on 85 (7/8/05)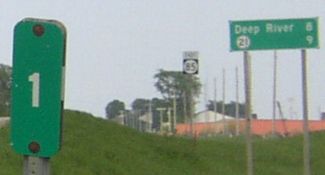 Facing east on 85, right across from the above picture (5/13/03)
Along the Route: Deep River

Facing south, but heading east, on 85 (7/8/05)

Closeup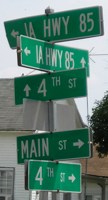 Facing south (7/8/05)
As late as the early 1960s, this location was near IA 21 (below). Now, 85 comes in town from the northwest and leaves to the east, turning at this intersection.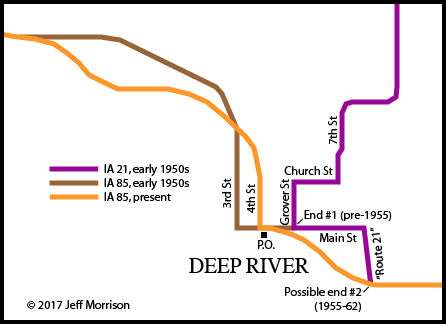 The last major project in Iowa that involved paving a route combined with a substantial realignment was IA 21 between Deep River and present US 6. The above lines in town are based on a 1957 county map with help from the Iowa GIS server. Multiple sources (or at least the one source that everyone is using) tag a road on the east side of Deep River with the name "Route 21". If you think about it, that's a bit odd because A) this route stopped being 21 decades before modern maps and B) "route" is usually not used in this sense this far north in Iowa.
Additional records put online in the mid-2010s show that the entire route of IA 85 was paved in 1955. The project included the segment from Deep River to present-day IA 21 (the intersection below), but at the time, the road running east from "Route 21" to that intersection was part of IA 21. The paving included a change in alignment in Deep River and construction of a curve. In 1954, the official description of 85 was changed to include running "southeasterly on an unnamed street." This meant the end moved from Main Street at Grover Street (the portion running west was changed slightly with construction) to the marked intersection southeast of town. It was there for less than a decade until the IA 21 straightening project moved 85's east end to its current location.
EAST End: Stop sign, IA 21 and F52, Poweshiek County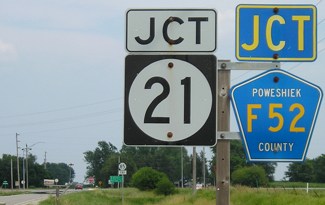 Facing east on 85 (7/8/05)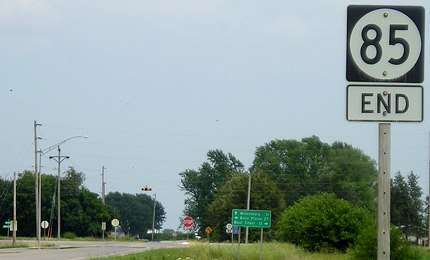 Facing east on 85 (7/8/05)
Okay, so upside-down signage isn't relegated to western Iowa.

Facing east on 85 (7/8/05)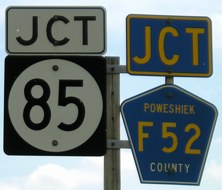 Facing south on 21 (7/8/05)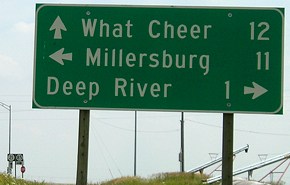 Facing south on 21 (7/8/05)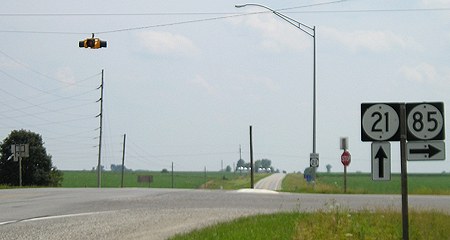 Facing south on 21 (7/8/05)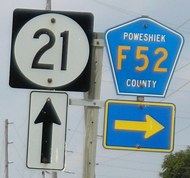 Facing north on 21 (7/8/05)

Facing north on 21 (7/8/05)
Page created 4/25/02; last updated 5/14/17