and

BUSINESS
(1974-2003)
Note: ALL Business 34, US 275, and IA 385 signs have been removed since these pictures were taken. I traveled in this area on June 15-16 and July 6, and in the interim the DOT came through and picked the poles clean as part of the Second Great Decommissioning. While 949 (Business 34 off 275) and 978 (another part of old 34) were accepted by Mills County in late 2002, US 275 did not transfer until July 1, so all the signs were removed at the same time. Why the Business 34 signs were removed when it could still be a business route under local jurisdiction is unknown. Substitute past tense for present tense if you prefer reading it as it is today.
WEST End of Business 34: Interchange, US 34 and 275, Mills County
Four maps detailing evolution of highways in the Glenwood area can be seen here.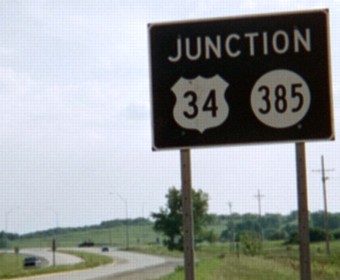 Facing south on 275/unsigned Business 34 (6/16/03)
Notice that this sign is black instead of green.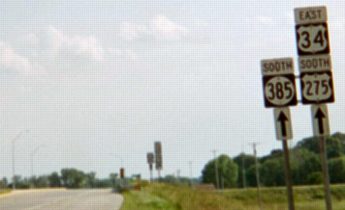 Facing south on 275 (6/16/03)
The 34 and 275 shields here are still up because this part did not change. (This 275 shield is probably the only prominent one on this page still up.) However, signs for northbound 275 going west with 34 were not up as of July 6. In fact, 275 simply vanished west and north of this point until the I-29/IA 92 interchange.

Facing south on 275/L35 (4/6/08)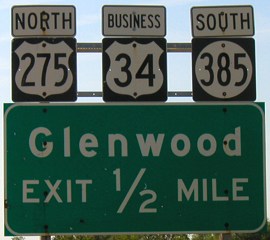 Facing east on 34 (6/15/03)
This is a Miracle Picture, one of those taken before my camera completely quit on me. I call them that because given my troubles it's a miracle they turned out at all.

Facing east on 34 (1/19/03)
Photo by Ben Prusia
Neither direction has a full-fledged BGS (see below). Identical situations happen farther east on 34 at US 59 and US 71, neither of which are at-grade intersections and place the shield above a green sign listing two towns.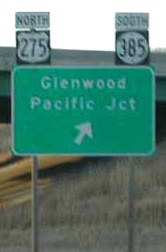 Facing west on 34 (3/13/02)
Photo by Neil Bratney
Notice that westbound 34 does not include the business route. In addition, no signs for Business 34 appear on 275 itself.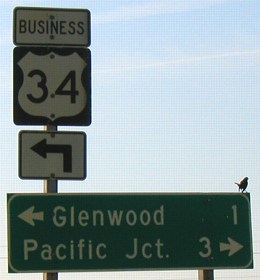 Facing east on the offramp from 34 westbound (the interchange is a folded diamond) (6/15 and 16/03)
Interesting font and arrow on the Business 34 set. Might they be from 1974? The entire assembly at right is now gone.

Facing north on 385 (6/12/06; same before 2003)

Facing north on 385 (1/27/11)
The all-caps mileage sign is likely a county sign put up after the north-south road became the county's responsibility.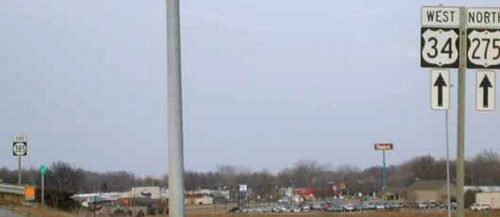 Facing north on 385 (3/13/02)
Photo by Neil Bratney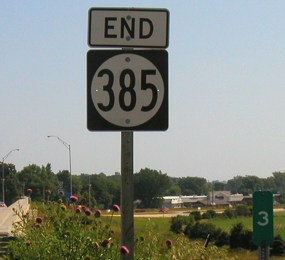 Facing north, but heading east, on 385 (6/15/03)
After you cross this bridge, you are heading north on 275 and Business 34. Notice the extended 385 is exactly three miles long.
WEST End of 949: Stoplight, US 275, Glenwood, Mills County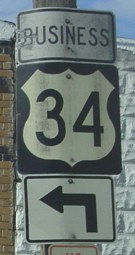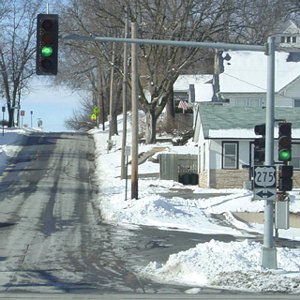 Facing west on 949/Business 34 (1/19/03)
Photos by Ben Prusia
The sign at left is the last Business 34 shield on the route. I would not be surprised if the entire arrangement is from the original designation of the business route in 1974 (which may mean the shield itself is even older). The street ahead is narrow and has never been part of 34.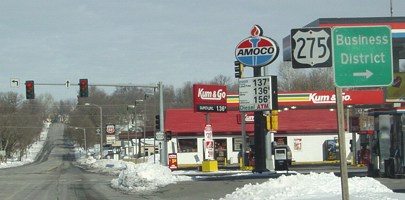 Facing north on 275 (1/19/03)
Photo by Ben Prusia
This is where Business 34 leaves 275 and begins its independent route, which is also 949. Notice there are no signs at all for Business 34 in this direction, which is theoretically part of the Business 34 route, only a green "Business District" sign. As of June 2003 the canopy over the pumps had been BP-ified, but the sign had not changed yet. (The gas station's change is opposite of nearly everywhere else, where the BP sign was put up first but the Amoco canopy remained for a while.)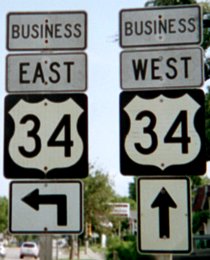 Facing south on 275 (6/16/03)
The absence of these signs when I came back through Glenwood July 6 confirmed the decommissioning of the business route. Again, I'm not quite sure why this happened seeing as though most other business routes are under local jurisdiction as well.

Facing east on 949/Business 34 (1/19/03)
Photo by Ben Prusia
The "Business" seems like it was tacked on without changing anything else, again possibly meaning the shield dates back to when the route was 34.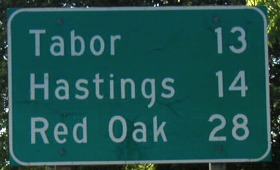 Facing east on 949/Business 34 (6/15/03)
While the route is only signed as Business 34, a town on US 275 (Tabor) is still listed, a throwback to when 275 and 34 came in on this route.
EAST End: Stop sign, US 34/275, Mills County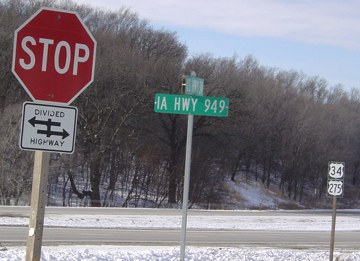 Facing south, but heading east, on 949/Business 34 (1/19/03)
Photo by Ben Prusia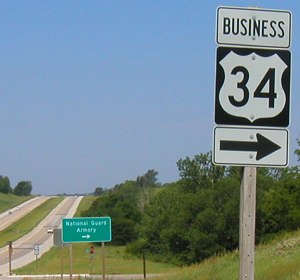 Facing west on 34/275 (6/15/03)
Last seen: 2003 (2002 Mills County map)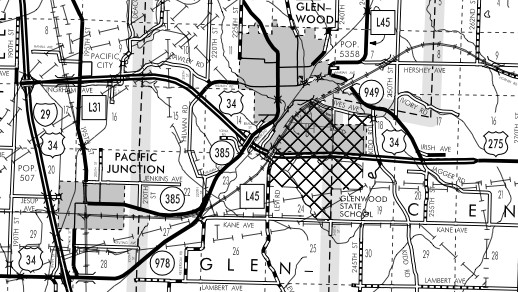 Page created 5/4/03; last updated 2/16/14