(November 1961-July 1, 2003)
WEST End: Stoplight, US 59/Second St., Cherokee, Cherokee County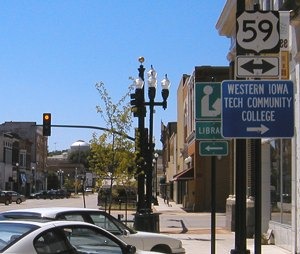 Facing west on 977 (6/14/04)
The bypass of Cherokee between US 59 and the current IA 3 east of Cherokee wasn't built until the early 1960s despite the road west of 59 meeting 59 at an angle since the 1930s. From here, which is right in Cherokee's downtown, 3 went north (right) and then rejoined its current alignment.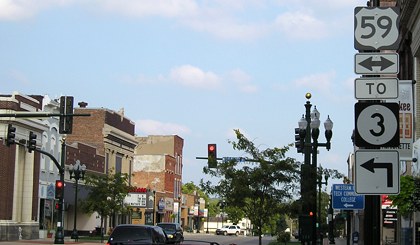 Facing east on Main Street (8/31/08)
Since IA 977 went straight ahead, directing to the left for IA 3 is kind of a misnomer. "To West 3", maybe, with "To East 3" straight ahead.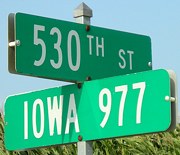 The eastern half of 977 is outside of city limits and got this sign at the one intersection there. (8/31/08)
EAST End: Direct merge into IA 3, near Cherokee, Cherokee County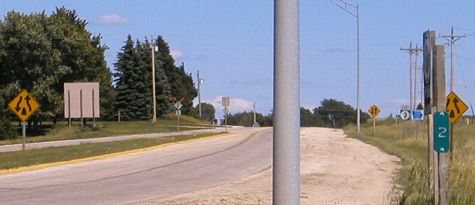 Facing east on 977 (6/14/04)
Cherokee County has put C63 shields on the route outside the city limits, which is nice, even though the C63 intersection with 59 isn't signed in town.
Instead of 977 traffic stopping, eastbound 3 comes to a stop. The mile marker is on a rural-style <-> sign. The oblique sign to the marker's upper left is "3 <-". "East 3" and the American Veterans Memorial Highway sign are in the background. See also the background of the below picture.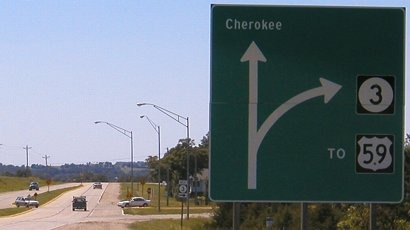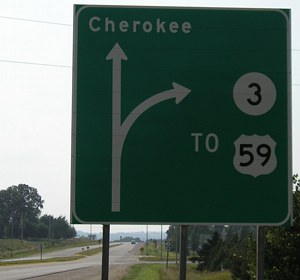 Facing west on 3 (6/14/04 and 8/31/08)
This big little green sign had "Cherokee" in the normal size for LGSs despite the sign's larger size. This diagram is used instead of, say, overhead signs. The white car is on eastbound 3, stopped at a stop sign. The vehicle at lower left is turning from 977 to westbound 3. The pickup is going straight from 3 to 977. The right picture shows a metal-backed replacement.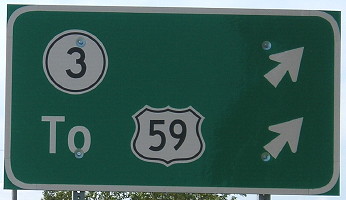 Facing west on 3 (10/3/16)
Now, though, the big sign is gone and this regulation-size LGS has replaced it. (The crop doesn't show the scale though.)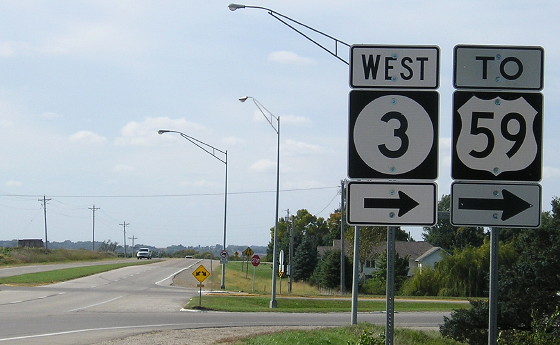 Facing west on 3 (10/3/16)
Surrounding area information: Junction IA 3/US 59

Facing northwest, but heading west, on 3 (6/14/04)
Button copy overhead signs are up in all four directions. It's a four-way stop, with four lanes in each direction, but there are also short ramps for right turns. All of these were replaced between 2004 and 2008.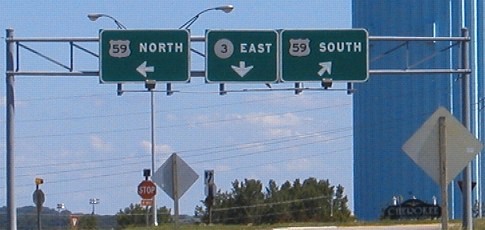 Facing southeast, but heading east, on 3 (6/14/04)
The font and style used in these signs for the shields also show up in other intersections or special signs that are not on or approaching other four-lanes. This intersection and the ones below all received their signs in 1968 and 1969:
The west intersection of US 34 and US 65 at Lucas (button copy replaced with Clearview as of October 2008)
The west intersection of US 34 and US 63 (now IA 149) in Ottumwa
The intersection of US 63 and IA 58 at Hudson (58's south end) (now gone)
The former intersection of US 75 and IA 60 in Le Mars (60's south end) (now gone)
The intersection of US 218 and then-IA 101 in Vinton (now IA 150's south end) (now gone)
The intersection of IA 3 and IA 150 north of Oelwein
Page created 8/23/04; last updated 1/10/18