WEST End: Interchange, US 77, Dakota County NE
Photos are 6/12/05 unless noted.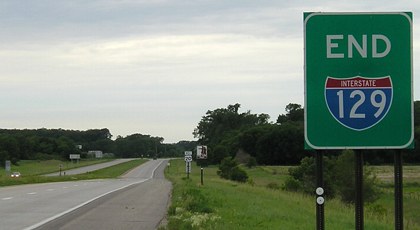 Facing west on 129
This marker for I-129 is just west of its interchange with US 77. In the background is the first US 20 marker, and in the deep background is the first at-grade intersection. US 20 shares the entire route with I-129. This nice sign was dropped for a more pedestrian one sometime between June 2005 and May 2007: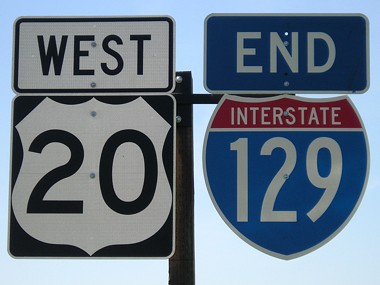 Facing west on 129 (5/13/07)
US 20 will not encounter another interstate for nearly 500 miles.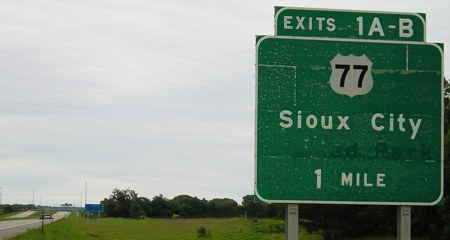 Facing east on 129
This is the first BGS eastbound, just east of the at-grade intersection, near 20's MM 428 and 129's MM 0. Since it's in the first mile of 129, I think this should be Exit 0. As it is, since neither Nebraska nor Iowa do so, and with US 75's quirk, the exit numbers proceeding west and north from this point are 1-2-1-1-2-3-4-97-99.
This BGS, which is likely original, had "Atokad Park" underneath, a name made clear if you read it sdrawkcab. This sign was replaced by 2007.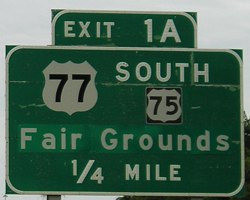 Facing east on 129
On this BGS, "Fair Grounds" is on a sheet pasted on the sign. The difference between the 75 and 77 shields is interesting and appears again. This sign has also been replaced.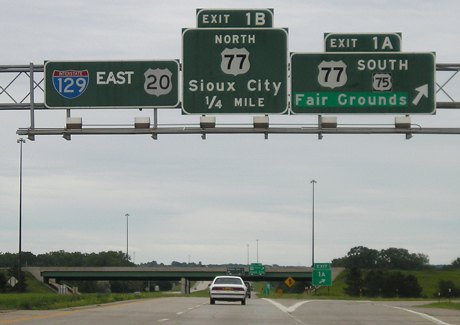 Facing east on 129
This is the first appearance of 129 eastbound. The "Fair Grounds" overlay shows how dark green these signs are. This is also 77's first intersection of a regular route heading south from its north end.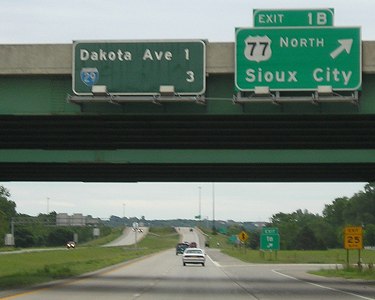 Facing east on 129
First exit and we already have the distance to the east end.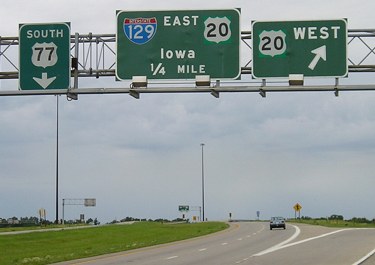 Facing south on 77
Three different shades of green here: the 77 sign, the 20 signs, and a lighter green surrounding the newer 20 shields pasted on the signs. "Iowa" is the only destination ever given for eastbound 129.

Facing north on 75/77 (5/13/07)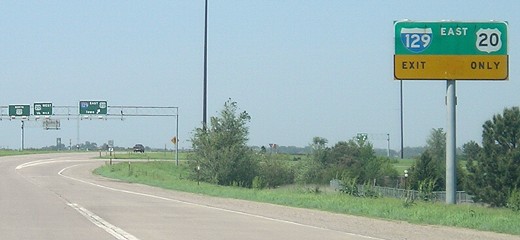 Facing north on 75/77 (5/13/07)
Because these signs have never been replaced, US 75 is relegated to its own ground-mounted shield at the exit.

Facing north on 75/77 (5/13/07)
EAST End: I-29 exit 144, Sioux City, Woodbury County
End 129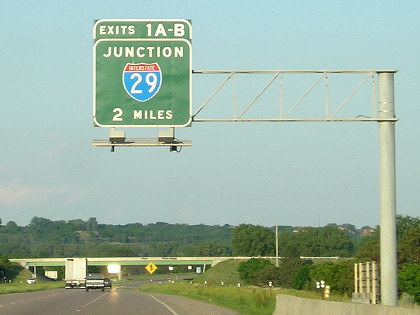 Facing east on 129 (6/4/14)
Just after the signs for Exit 2 (Dakota Avenue), it's back down to Exit 1.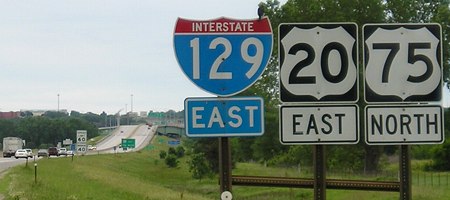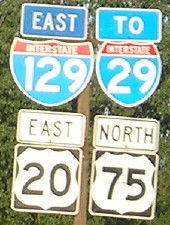 Facing east on 129 (6/12/05 and 6/4/14)
This is the second of two shield assemblies on eastbound 129, this one with the directions underneath. None of the Nebraska shields had the state name (a pity, since so many I-29 shields there have Iowa labels). The east end is in the background. By 2007, this setup had become the four-plex seen on the right.

Facing east on 129 (9/20/02)
Photo by Neil Bratney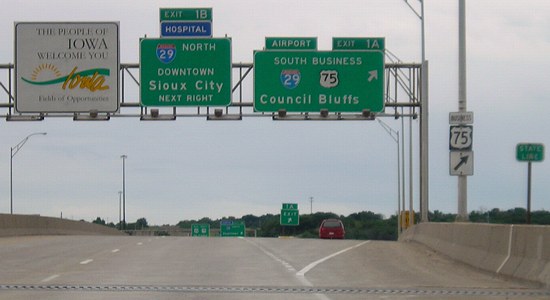 Facing east on 129
The expansion joint at the bottom of the picture is about where the border between Iowa and Nebraska is, in the middle of the Missouri River. Business 75, formerly northbound 75, is also shown.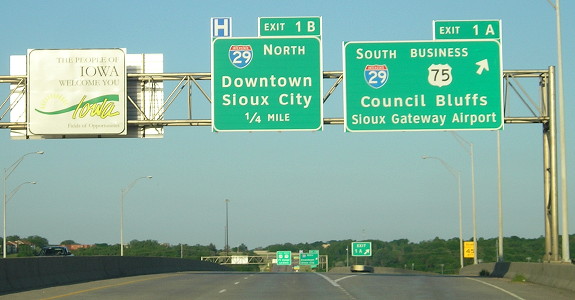 Facing east on 129/20/75 (6/4/14)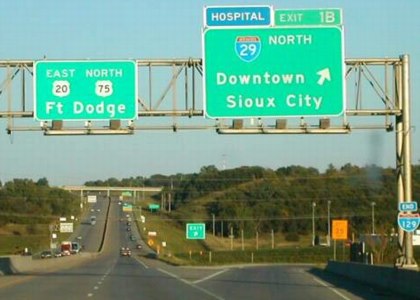 Facing east on 129 (9/20/02)
Photo by Neil Bratney
The sign at left is in its second version, the previous one holding a full-size 20 shield and "East" beside it. The third version is shown below. Also in the period between pictures, 20 was re-asphalted and turned into three lanes between this exit (Exit 1) and the next exit (also Exit 1).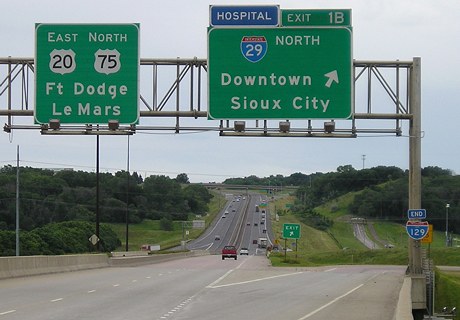 Facing east on 129
At right is the only I-129 shield in Iowa not on a BGS. A closeup of this shield can be found at AARoads' I-129 page (linked at bottom).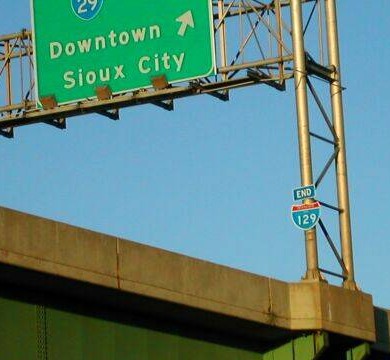 View from I-29 (9/20/02)
Photo by Neil Bratney
In Neil's words, he "oughtta win a friggin Pulitzer for this... driving 45, pointing the camera 30° behind my shoulder, out an open window."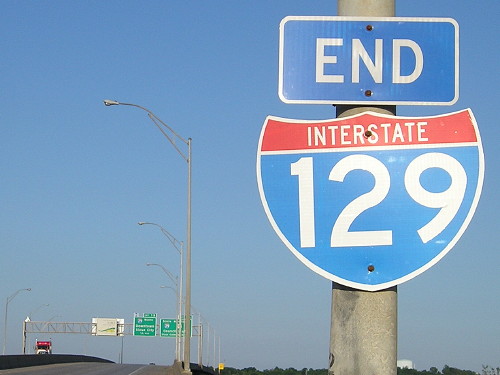 Facing east on 129 (6/4/14)
This is a Nebraska-style shield, on the Nebraska side of the bridge. Prior to sometime between 2008 and 2012, this pole had "Business 75 [ahead and angle right]." There are now no free-standing I-129 shields in Iowa.
Southbound I-29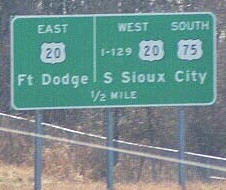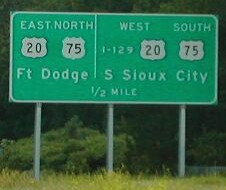 Facing south on 29 (November 1999 and 9/20/02)
Photo by Eric Peterson / Photo by Neil Bratney
Until recently, all of the shields for I-129 on I-29 were actually "I-129" written out. The reason for this is unknown.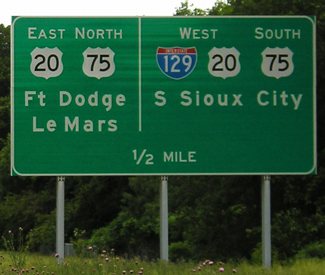 Facing south on 29
The replacement adds Le Mars, an I-129 shield, and larger initial letters.
As for the right side of the sign, there really isn't a second city to add. Dakota City could be an option because it is the next county seat (via US 75), but after that, the distances get farther and farther. Plainview, pop. 1353, 82 miles away, is both the next county seat on US 20 and the next town above 1000. By DOT standards for signs like these, either Dakota City or Plainview would occupy the second line. (Dakota City wouldn't be a bad option, as long as it's not confused with Dakota City IA.)
If the I-129 interchange was far enough away from the state border that it could have its own distance sign, it would be really interesting. I-129 doesn't have any control cities proper, so let's treat US 20 as the main route and take the sign leaving Onawa on IA 175 as an example. South Sioux City would be on top, as the closest. For the middle entry, as an inter-state highway, Plainview would be listed (first above 1000). But the last? The next community to the west with a population over 5000 is Chadron (5634), west of the Sand Hills, 370 miles away. But the requirement for an inter-state route is 15,000, and for that we have to go to...Casper, pop. 49,644. Imagine a mileage sign that read "S. Sioux City 3; Plainview 82; Casper, Wyo. 553"! (Actually, that would be pretty cool.)
Throughout the entirety of Nebraska, there are only NINE towns above 1000, South Sioux City included. The total population of every town along 20 in Nebraska except SSC is equaled by Fort Dodge plus Rockwell City. So for all the complaints about Iowa having nothing, Nebraska has lots and lots more of nothing. In fact, between the west end in Oregon and the Mississippi River, the only city larger than Sioux City on 20 is Boise.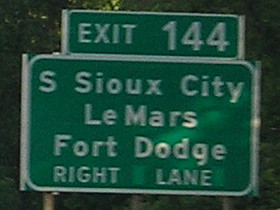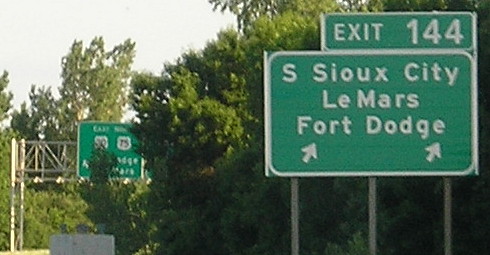 Facing south on 29
Presumably for construction reasons, these signs have replaced those above and below.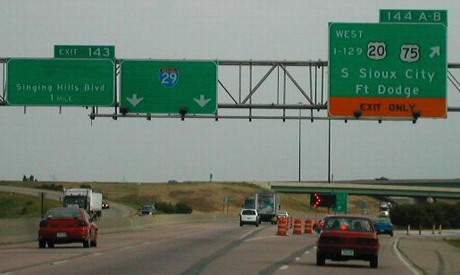 Facing south on 29 (9/20/02)
Photo by Neil Bratney
This picture, taken after the 75 bypass opened, shows how one exit from 29 serves BOTH directions. (Why is the 144A-B tab missing the word "EXIT"?) There used to be a "South" above 75. Business 75 is the next exit, but not shown at left.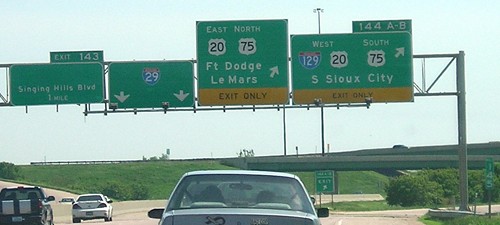 Facing south on 29 (5/13/07)
Photo by David Morrison
This new assembly more clearly puts EB 20 traffic in the left exit lane and WB 20 traffic in the right - but still omits "Exit" from 144. The interchange is not a standard cloverleaf; there are only two loops while SB and WB traffic take one exit and then split. Neil says this is a "beautifully designed intersection" - which gave Sioux City both that and "Iowa's most stupid intersection" at US 77's north end. Go figure.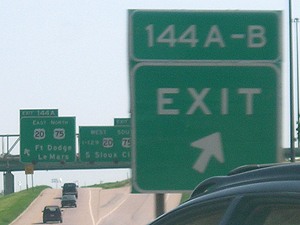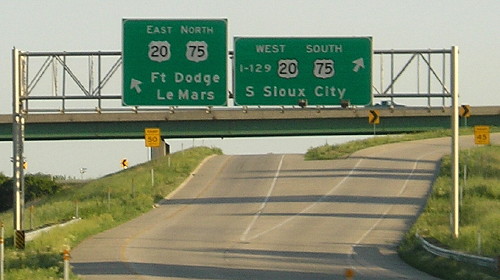 Facing south on 29 (5/13/07 and 6/4/14)
"I-129" is still in text on the last exit sign.
Westbound US 20/Southbound US 75

Facing west on 20/75
Like southbound 29, there is one exit to I-29 (and formerly NB 75), which then splits into the ramps below.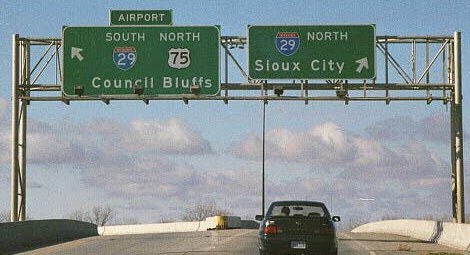 Facing west on ramp (November 1999)
Photo by Eric Peterson
Now a left turn no longer includes NB 75, but Business 75.

Facing west on 129/20/75
I know neither what sign might have been here before nor why I-129 isn't included here. The back of the "End 129" shield is at far left.

Facing west on 129/20/75
This sign is technically in Iowa (see the first picture from this interchange) - just like the one on 77.
Northbound I-29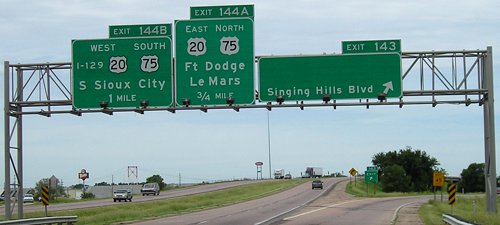 Facing north on 29
The sign at left is one of the oldest on 29 for this interchange. The sign at right used to hold "75 North", but was peeled off completely instead of replaced with "75 Business".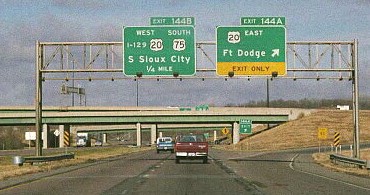 Facing north on 29 (November 1999)
Photo by Eric Peterson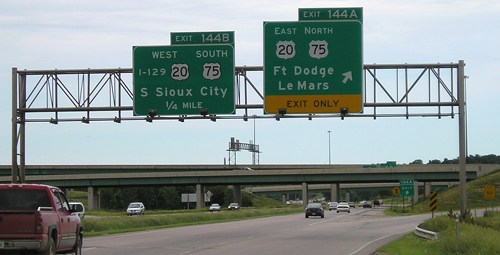 Facing north on 29
Still the text "I-129" on all the northbound signs, even though others were replaced in 2001.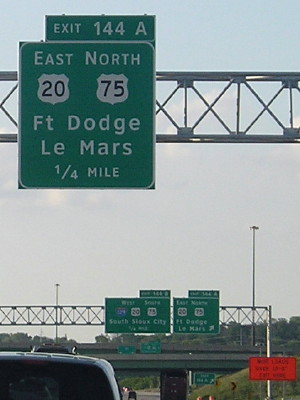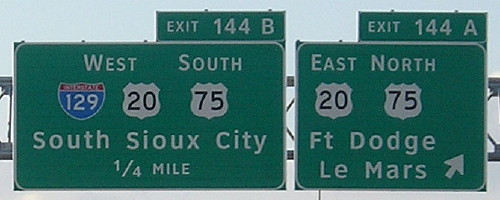 Facing north on 29 (6/4/14)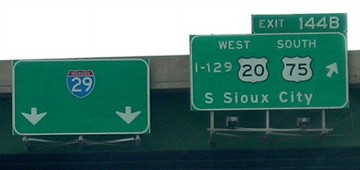 Facing north on 29
This bridge-mounted sign pair is higher than others because of construction of the interchange; the east-west bridge flies not only over I-29 but also the ramps branching out from westbound 20 and southbound 29 that must then cross each other. This text "I-129" was still there in 2014.
AARoads Interstate Guide: I-129
Page created 6/30/05; last updated 1/17/14