"D.M. to Davenport in Less Than 3 Hours — by 1965"
—Des Moines Tribune, November 6, 1959
WEST Iowa line: Missouri River, Council Bluffs IA/Omaha NE, Pottawattamie County IA/Douglas County NE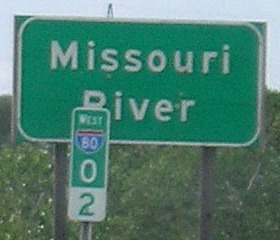 Facing west on 80 (6/12/06)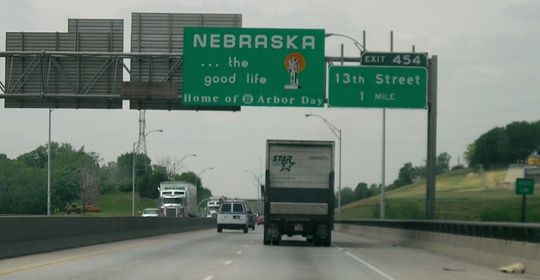 Facing west on 80 (6/12/06)
That's a lot of Nebraska ahead of us - about 1½ times the length of I-80 in Iowa.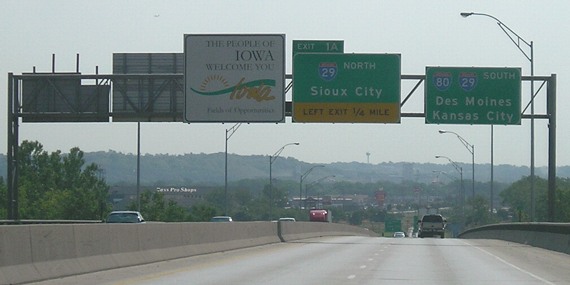 Facing east on 80 (6/27/06)
Immediately after entering Iowa, I-80 meets I-29, its first odd-numbered two-digit interstate since I-25 in Cheyenne, almost 500 miles away. After that, I-35 is only 123 miles from here.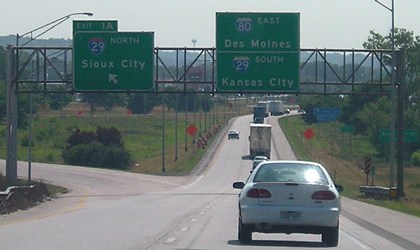 Facing east on 80 (6/27/06)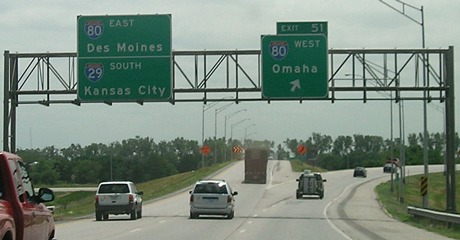 Facing south on 29 (6/12/06)
This is the first and only I-80 sign in Iowa with Omaha on it that does not also include Council Bluffs.
It's 106 235 miles to Chicago...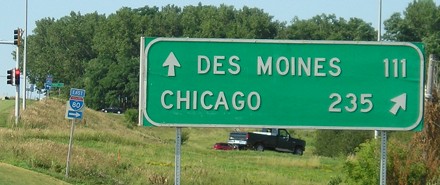 Facing north on 1st Avenue in Coralville (7/15/06)
After a couple of signs on eastbound 80 at the west mixmaster in West Des Moines, this is the first mention of Chicago with I-80, and definitely the first mileage sign to do so. This sign is gone now as part of the genericization of Iowa interchange signage.
EAST Iowa line: Mississippi River, Le Claire, Scott County IA/Rock Island County IL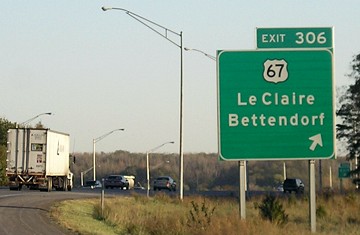 Facing east on 80 (10/13/06)
Just west of this point is the halfway point (as measured by Iowa mileage signs) between Des Moines and Chicago. On 67, Des Moines is marked as being 175 miles away while Chicago is 172. (Note 347 miles here instead of 346 as indicated on the Coralville sign.)

Facing east on 80 (10/13/06)

Facing east on 80 (7/6/08)
Sometime between Labor Day 2005 and mid-October 2006, Illinois replaced every BGS on I-80 in the Quad Cities area with Clearview signs. This is not necessarily a good thing. I-88 is four miles ahead, the second even-numbered east-west interstate that I-80 meets in a 15-mile span (the other being I-74).
There are 932 more miles before this famous transcontinental route of the late 20th century ends just short of New York City. (And yes, I've been there. Curiously enough, I've also been on the 934 miles of I-80 in the other way from Iowa, from the Nebraska line to I-15 in Salt Lake City.)

Facing west on 80 (video capture, August 1999; same gantry as above)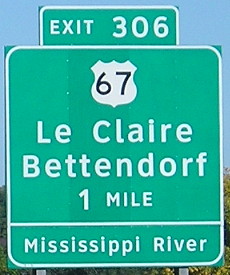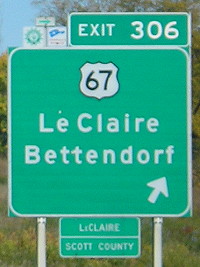 Facing east on 80 (10/7/13)
The advance BGS is an Illinois-standard sign on the Illinois side. The right BGS looks like it uses the extra-wide font for the "6" numeral on the exit tab.
Points of interest:
From the east I-29 split in Council Bluffs to a point northeast of Colfax, I-80 (barely) covers more north-south distance in Iowa than I-95 does in Connecticut, although 95 is signed north-south in the state.
On the afternoon of March 1, 2007, a blizzard caused the shutdown of westbound I-80 from Iowa City to the Nebraska line and eastbound I-80 west of West Des Moines. Combined with the shutdown of all of I-29 and I-35 north of Ames, it was the largest interstate closure in Iowa history. (2007 can be called "the year we got twice the winter in half the time.")
On the afternoon of June 12, 2008, flooding at the Cedar River caused the closure of I-80 between exits 265 and 267 - and created the longest official detour in state history. Through traffic was told to use I-35, US 20, and US 61 between Des Moines and Davenport; travel between Des Moines and Iowa City, and between IA 38 and Davenport, was still allowed. An original plan for a much smaller detour using I-380, US 30, and IA 38 fell through when water started lapping at those roads; I-380 was closed between exits 4 and 10 about 24 hours later. At that point, every state-maintained road between Eldora and Iowa City over the Iowa River except for US 30 was closed; going through Waterloo and Dubuque was the only option to get across the state. (Personal note: I drove across the Cedar mere hours before the interstate closed on the way to the national roadgeek meeting in Chicago.)
Page created 12/31/06; last updated 8/5/08