NORTH End: Stop sign, US 61, Dubuque County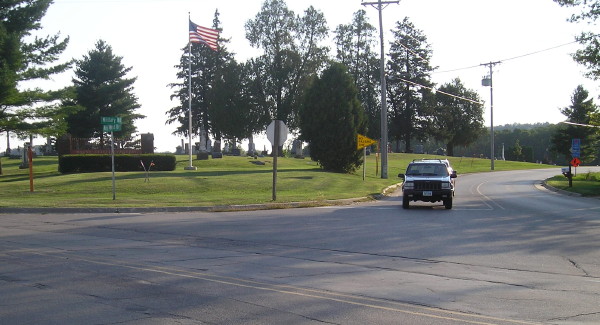 Facing southwest (9/16/15)
Just south of Dubuque, US 61 and 151 leave behind some old roads for a newer four-lane alignment. Old 151 met 61 a few miles north of its present interchange, and this would have been where US 161 ended. (I have seen no evidence that 161 continued any farther north.) The "No Passing Zone" sign marks the beginning of 161; the road in the foreground is old 61.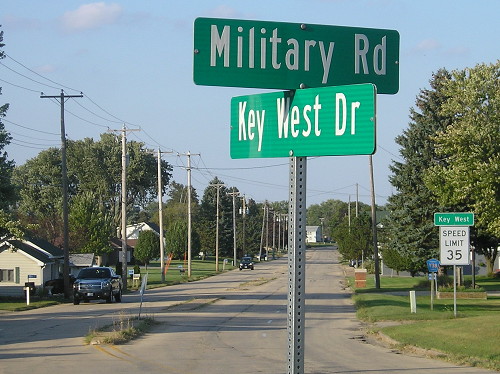 Facing north on 61 (9/16/15)
This sign can be seen in the top photo. US 161 begins to the left.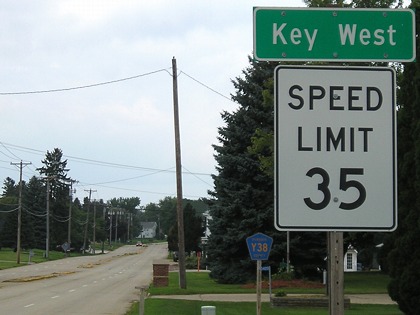 Facing north on old 61 (8/9/07)
Prior to July 1, 2003, old 151/161 and the part of old 61 north of the intersection, seen here, carried the IA 963 designation. Notice the four lanes and narrow median, probably constructed in 1957 but bypassed in 1967. Key West is not incorporated but is right on the south edge of Dubuque.
SOUTH End (October 16, 1926-January 21, 1936): Intersection, US 61, Lee County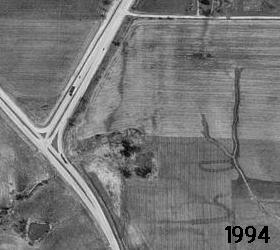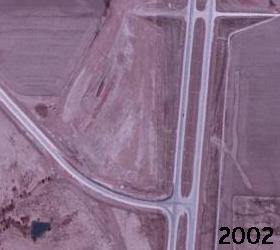 (USDA/NRCS aerial photos)
The left picture shows, more or less, the alignment of US 61 coming to meet US 161 (218) prior to the four-laning of 61 in the late 1990s. (The intersection layout itself would date to 1960; it was a split-T intersection before that with a triangle of ground in the middle. You can kind of make out the upper curve beside the semi in the 1994 photo.)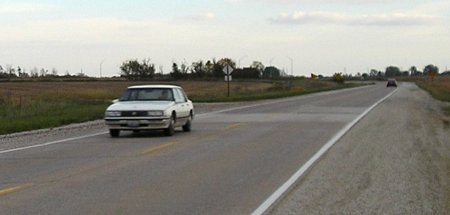 Facing southeast, but heading south, on 161 (10/21/05)
Right about here is the physical location of the old intersection. (Exciting, huh?) The white car would be right at the beginning of US 161. Southbound 161-to-61 traffic would not have stopped. Traffic for northbound US 61 would have turned left, into the gravel area right behind the car. The new intersection for 218 and 61 is in the background.
Facing northeast (7/11/17)
US 61 would have been visible in front of the camera in 161's time.
Facing northwest, but heading north, on 161/218 (7/11/17)
This is the point where 161 would have started going north.
Facing southeast, but heading south, on 218 (7/11/17)
Facing southeast, but heading south, on 218 (7/11/17)
This intersection is the functional equivalent of 161's south end, and it would make a good future endpoint for US 218 as well if the segment in Keokuk got turned over.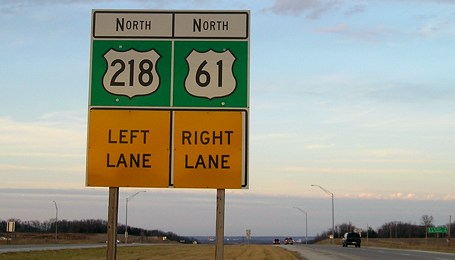 Facing north on 61/218 (12/18/06)
Slightly southeast of the above spot is this modern intersection. This sign looks like it had something else on the bottom panels before, which may mean it dates to 1993 when the four-lane ended here. (Then again, those middle-aligned "North" markers look very weird.)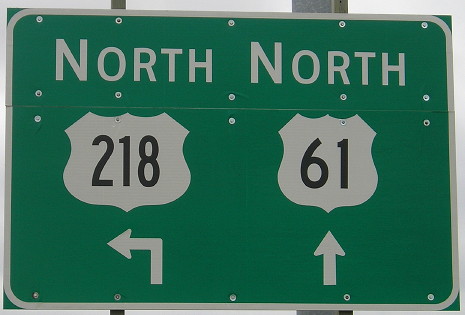 Facing north on 61/218, replacement for above (10/4/15)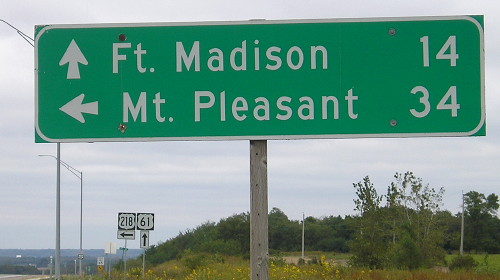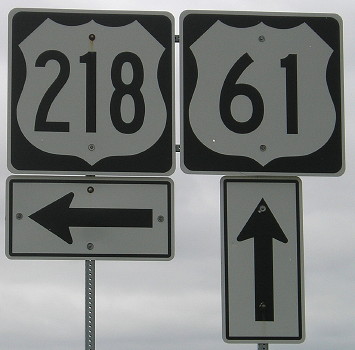 Facing north on 61/218 (10/4/15)
Facing south on 61 (7/11/17)
Facing south on 61 (7/11/17)
SOUTH End (January 21, 1936-January 1, 1938): Des Moines River, near Keokuk, Lee County
Finding out a second south end for US 161 came in bits and pieces. First, I found this in a big map book in the DOT's library:

"Missouri State Line"? That was unexpected. The accompanying map for US 218, which actually cut and pasted the south half of the US 161 map in a new section with "161" erased, showed the same thing - a route abruptly stopping at the state line. Since US 136 did not exist in this era, there wasn't any new highway for 161 to end AT south of Montrose. A few months later, I found a passage in the microfilm archives that helped explain everything:
Commissioner McKinnon stated that there is considerable complaint from the city of Keokuk to the effect that people from Missouri desiring to go north on US Road Number 161 become confused and lose their way at the intersection of Roads 61 and 161 north of Keokuk. It was moved, seconded and carried that the markings on US 161 be continued on south from the junction of US 61 and 161 into and through the city of Keokuk to the bridge over the Des Moines River southwest of Keokuk.
--Iowa Highway Commission minutes, January 21, 1936
Given that 61 did not bypass Keokuk at the time, and it would have been a simple intersection north of town, I'm confused at how drivers could be confused. Regardless, that was apparently the situation when it was decided to have 218 replace 161 south of Cedar Rapids - and it, too, would end at the river until the early 1950s.
The US 161 designation was eliminated because it was entirely within one state, and the route was split between 151 and 218. In my research, I never saw consideration of what I think would have been a more logical option: Extend 151 from Wisconsin along 161 into Cedar Rapids, but have 161 replace US 218 into Minnesota, removing one of the original "polarity problems" of an even north-south number in the US highway system.
Page created 4/15/07; last updated 3/5/17