WEST End: Grand Ave. at US 65/US 69/E. 14th St., Des Moines, Polk County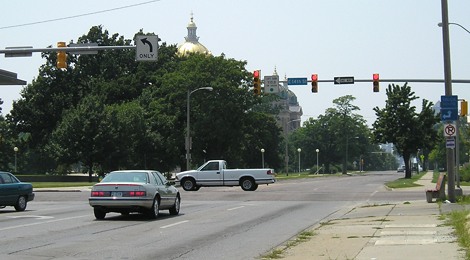 Facing west, but heading north, on 163 (Grand)
US Highway 163 had a very short life, signed as such for less than 36 months. It was assigned to the part of US 63 between Des Moines and Oskaloosa after US 63 was rerouted to go through Waterloo to Wisconsin, and was a casualty of AASHO's directive to eliminate federal routes entirely within one state. (This wasn't entirely successful; single-state routes persist to this day.)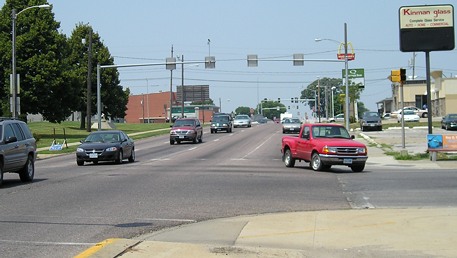 Facing north on East 14th Street
Looking north - a perspective from which you would not be on any highway at the time - there are three options. To the left is southbound US 65/69, northbound IA 60, and westbound City US 6. Straight ahead is northbound US 65/69 - which, obviously, can't be done today. To the right is eastbound 163, plus southbound 60 and eastbound City 6; 163 and 60 will split about four blocks to the east at the Hubbell/Grand intersection. From there, 163 will go northeast on Hubbell, then east on University Avenue, skirting the north side of the state fairgrounds.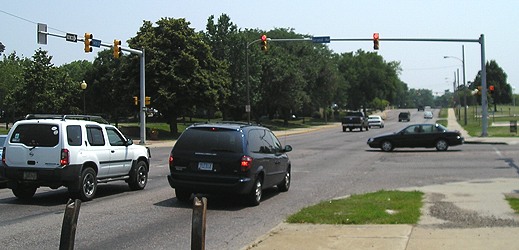 Facing south on 65 (East 14th)
By the end of 1937, US 65/69 would be placed on 14th south of this intersection (instead of turning right), but by that time, US 163 had been demoted to IA 163, a number that the Des Moines-Oskaloosa route carries to this day and has been nearly entirely converted to a four-lane expressway. (So it still must be an important road. Funny, that.)
It lives!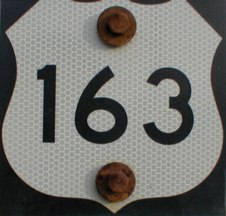 In the late 1990s, mini-shields were put up on IA 163 between I-235 and US 65, probably because 65 was moved onto 163 while the Des Moines beltway was being construction. While the markers remained 163's, they got a little US highway shield on top instead of the correct state shield. But this is kind of how a US 163 marker would look, although it would have been in the blocky font originally used for shields. US 163, of course, is today's IA 163.
EAST End: A Avenue at Market St./US 63, Oskaloosa, Mahaska County
For a more detailed description of the intersection in question, see 1935 in this set of maps. Naturally, pictures exist for every direction but the one US 163 was in.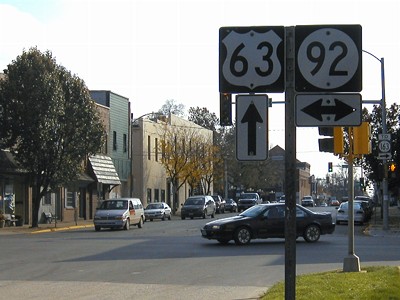 Facing south on 63
Prior to 1997 (and thus, in US 163's time), US 63 took a left here. IA 2 was the cross street. US 63 had moved to this east-west street only a few months before it was rerouted northward; it had originally run a block south. Notice the "To 163" marker here today, and in the below pictures.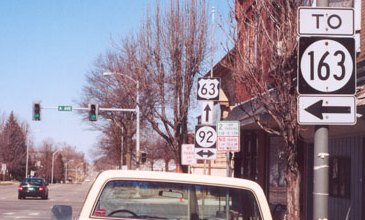 Facing north on 137, now 63
Photo by Jason Hancock
In the mid-1930s, 63 would be ahead and to the right; 163 would be to the left.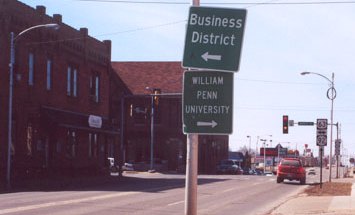 Facing west on 92
Photo by Jason Hancock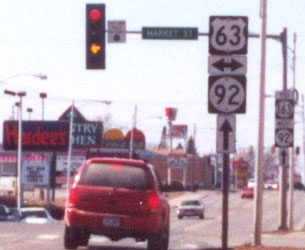 Closeup of above signage
Photo by Jason Hancock
Pictures by Jason Hancock: Fifth-seventh, 3/10/02
Pictures by me: First-third, 7/10/05; fourth, 12/21/01; fifth, 10/29/04
Page created 12/12/06