NORTH Iowa line: Missouri River (New South Omaha Veterans Memorial Bridge) (with IA/NE 92), Council Bluffs IA/Omaha NE, Pottawattamie County IA/Douglas County NE
Old NORTH Iowa line (1941-2009): Missouri River (Veterans Memorial/South Omaha Bridge) (with IA/NE 92), Council Bluffs IA/Omaha NE, Pottawattamie County IA/Douglas County NE

Looking north from Nebraska (1/22/02)
Photo by Neil Bratney
Although this bridge, the South Omaha Bridge, was built in 1935, the bridge did not carry US 275 until 1941 and IA 92 until 1960. Neil says, "On the west side of the bridge, NE 92/US 275 enter ethnic South Omaha on Missouri Ave. You can turn north immediately on 13th Street to get to I-80 (about 1.5 miles). NE 92 continues westward through Omaha and on to Wahoo."
Nebraska and Iowa built a new bridge just to the north and brought this one down on February 23 (Nebraska side) and March 14, 2010 (Iowa) (links to video). The new bridge opened May 28, 2010. Four-laning of 92/275 on the Iowa side was done in conjunction with the project. See the NDOR page here and construction pictures below. The title on that page, "South Omaha Veterans Memorial Bridge", is what I presume to be an official name, hence the slight difference in the terminus listings above.
Iowa into Nebraska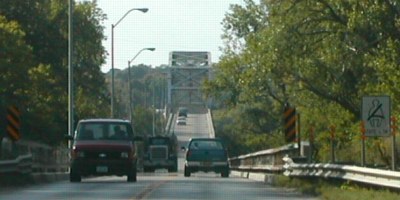 Facing west on 92/275, with a Nebraska seat belt sign (summer 2002)
Photo by Neil Bratney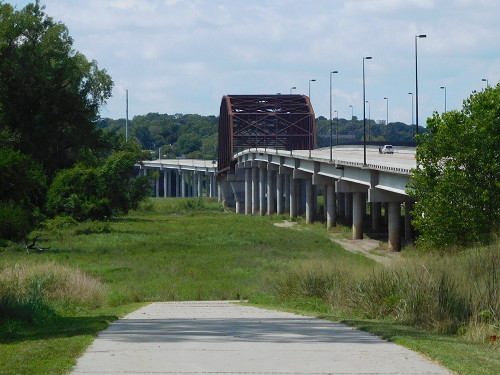 Facing west (8/2/16)
This is a picture of the new bridge from where the old bridge used to be.
Nebraska into Iowa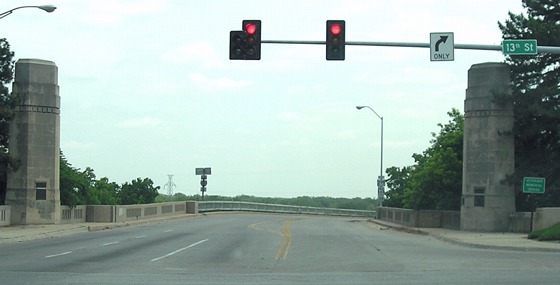 Facing east on 92/275 (6/12/06)
The road we're on is Missouri Avenue; the intersecting road is 13th Street. The South Omaha Bridge was named the Veterans Memorial Bridge in 1985, though the name is used less often on the Iowa side.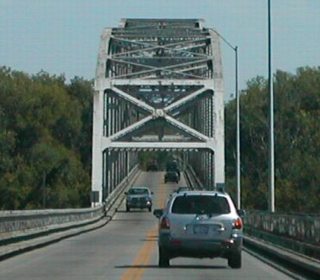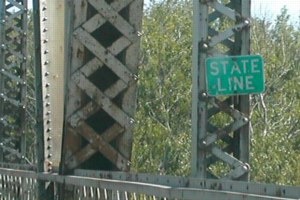 Facing east (Summer 2002)
Photos by Neil Bratney
For more pictures, see the IA 92 page.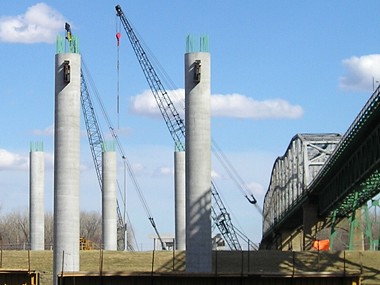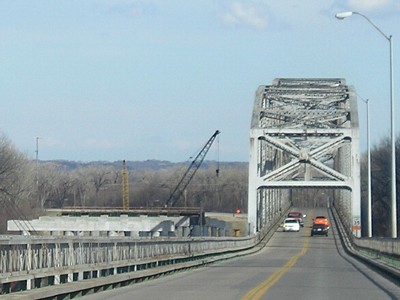 Facing east on the Nebraska side (4/6/08)
The Rodney Dangerfield of highways in Iowa?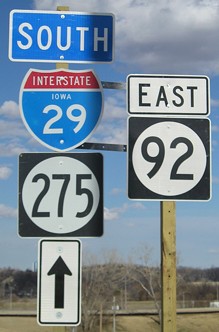 Sure, US 77 and 136 and four interstates each make much less of a dent into the state. But none of them has had the repeated indignity of getting state shields plastered on its route. Just when we thought they had all disappeared from Council Bluffs, this one popped up. (I have no idea what's up with the oversized "South".) (4/6/08)
Old NORTH Iowa line (1939-41): Missouri River (Ak-Sar-Ben Bridge) (with US 6, US 30A, US 75, and IA/NE 92), Council Bluffs IA/Omaha NE, Pottawattamie County IA/Douglas County NE
Highways on the Ak-Sar-Ben (Douglas Street) and I-480 bridges
1926-late 1931
1931-34
1934-39
1939-41
1941-60
1960-66
I-480 bridge opened Oct 21, 1966; Ak-Sar-Ben Bridge torn down 1968
1966-69
1969-84
1984-present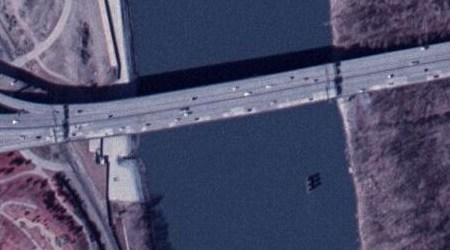 Aerial photo from ortho.gis.iastate.edu
The Ak-Sar-Ben/Douglas Street Bridge, originally built in 1888, was located very near the present I-480 bridge; a pier of the old bridge is still sitting in the river today (lower right).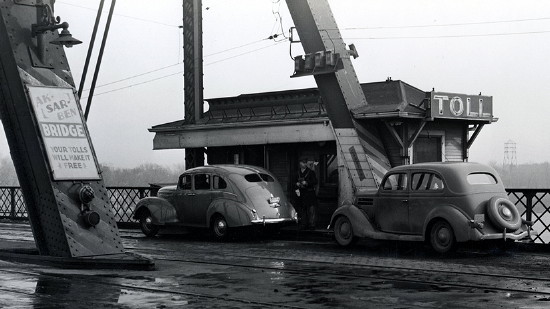 Library of Congress photo (1938)
This photo is from the approximate era that US 275 crossed into Iowa here. Tolls were removed from both the Ak-Sar-Ben and South Omaha bridges on September 25, 1947.
Old NORTH End (November 1931-1939): Main or Pearl Street at Broadway (US 6/US 30A/US 75), Council Bluffs, Pottawattamie County
See Dale Sanderson's page for a map of Council Bluffs and some photos from downtown. While that map (ca. 1932) shows 275 using Main, other maps and the Highway Commission minutes of February 5, 1936, indicate that 275 used Pearl Street instead of Main. Pearl is a weird street; it doesn't match the grid, and is only half a block west from Main.
Approximately a month after US 275 was signed in Iowa, US 32 was replaced by US 6, so the two numbers were barely contemporaries.
SOUTH Iowa line: 2 miles SE of Hamburg, Fremont County IA/Atchison County MO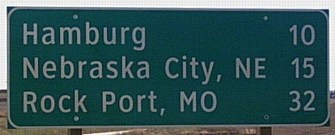 Facing south on 275, but heading west on IA 2 (4/1/07)
Photo by Jason Hancock
This new Clearview sign was put up along the Sidney bypass. It's one of only two non-interstate signs in Iowa to reference destinations in three states. Notice the use of two-letter postal abbreviations instead of "Neb." and "Mo."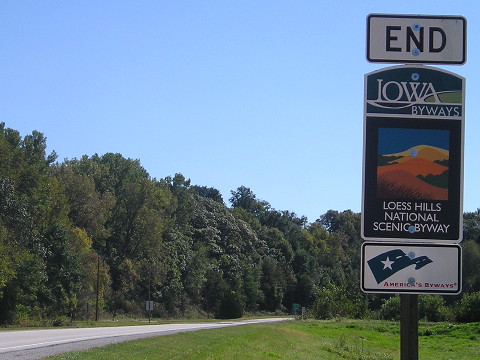 Facing south on 275 (10/2/15)
There's an "End" sign for something here now.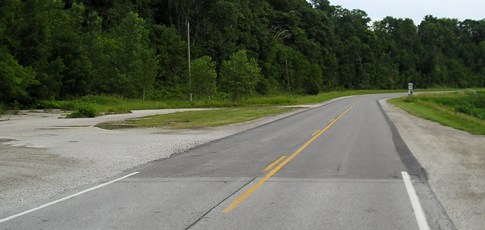 Facing south on 275 (6/12/06)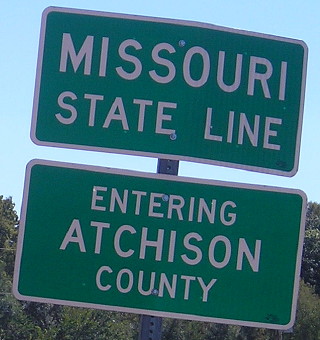 Facing south on 275 (10/2/15)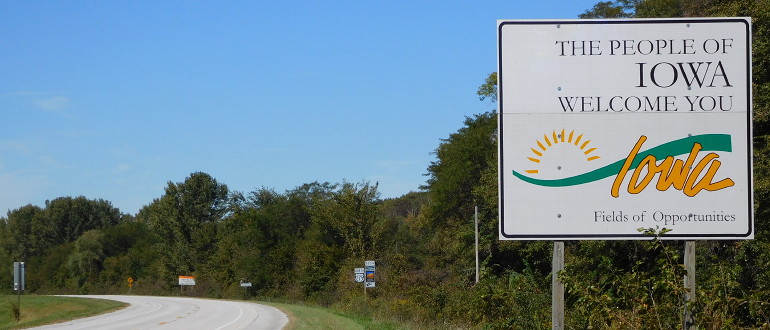 Facing north on 275 (10/2/15)
About a mile to the north, 275 meets the 1980-2003 route of IA 333, and goes a mile west into Hamburg. If Missouri ever wanted to drop the 275 designation since it parallels I-29, 275 could easily replace 333 and end in Iowa.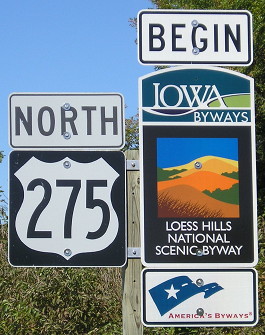 Facing north on 275 (10/2/15)
In 1980, the DOT proposed rerouting all of 275 north of IA 2 onto I-29. Part of this happened in 2003 when the part of 275 close to I-29 north of Glenwood was put onto the interstate. Another point for the Rodney Dangerfield argument above.
The south end of the route is 16 miles away, near Rock Port. I have pictures of that end and its north end in Nebraska here.
Page created 12/11/06; last updated 12/18/16