"The traveler may shed tears as he drives down the shady vista of the Lincoln Highway, or dream dreams as he speeds over a sunlit path on the Jefferson Highway, or see noble visions as he speeds across an unfolding ribbon that bears the name of Woodrow Wilson. But how in the world can a man get a kick out of 46 or 55 or 33 or 21?"
-Lexington (KY) Herald, reprinted in the New York Times June 18, 1927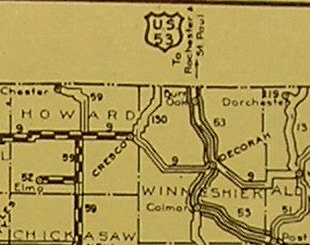 Iowa State Highway Commission Service Bulletin, October-November-December 1925
There it is - the US highway that never existed in Iowa. Sometime between the fall of 1925 and the fall of 1926, the idea of extending US 53 down what today is mostly MN 44 from La Crosse through the southeastern corner of Minnesota and into Iowa was dropped in favor of US 55, a route that would connect the Twin Cities with Dubuque. For pictures of US 53's current end in La Crosse, click here.
The original* plan would have an effect that lasted into the 21st century: Because of US 53, IA 53 was renumbered to IA 147, which at that time went both north and east from Rockford. That number remained as a spur east from Rockford to IA 14 until 2003.
With that original plan in mind, here's an idea: What about extending US 53 into Iowa for real, 80 years later? It could come over into Minnesota from La Crosse on I-94 and then follow MN 16 (old US 16), MN 44, MN 76, IA 76, IA 9, and IA 51 to Postville and meet up with US 18 and US 52 (a 52/53 intersection, though far from where it would be expected). That could be US 53's endpoint, or it could be extended further southward along US 18, IA 150, and US 218 OR along US 18/52 and IA 13 down to US 30. Though this extension would put 53 west of US 61, that didn't seem to be a problem in the original plan, nor was the subsequent substitution of US 55. The net gain isn't really much - two county seats placed on US highways (three if 53 goes through Elkader) - but it makes more sense than some of the changes to the federal-route system in the past decade and a half.
*There may have been an even earlier plan. The 1926 Rand McNally Road Atlas, based on very preliminary discussions from 1924-25, includes US route numbers along with the then-current state route numbers - for example, putting IA 6 and US 30 on the Lincoln Highway. (This is the semi-infamous atlas that has US 66 marked as US 60.) In this atlas, US 53 follows what today is IA 76 south from Minnesota and ends at US 18 in McGregor. This plan also appears in the Highway Commission minutes of October 26, 1925, a year before the routes were finalized and signed, in a map explained as "System as approved to March 1, 1924" - under jurisdiction of the Department of Agriculture rather than Commerce, and way before there was a U.S. Department of Transportation.
NORTH Iowa line: 16 miles N of Decorah, Winneshiek County IA/Fillmore County MN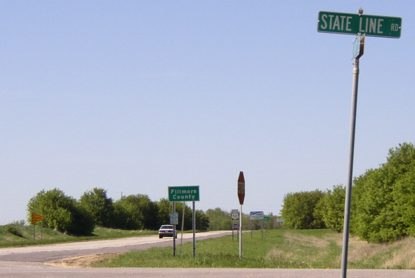 Facing north on 55
It is reasonably safe to say that US 55's entrance point was the same as US 52's is today.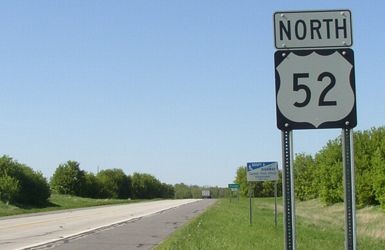 Facing north on 55
The last-minute change to the US highway system meant that the numbers 52, 53, and 55 would all at varying points be marked on paper as coming into Iowa.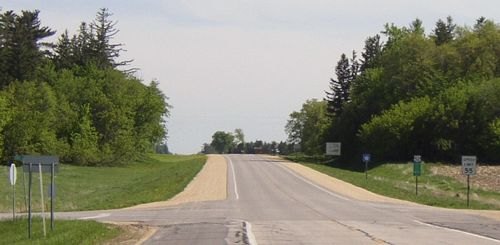 Facing south on 55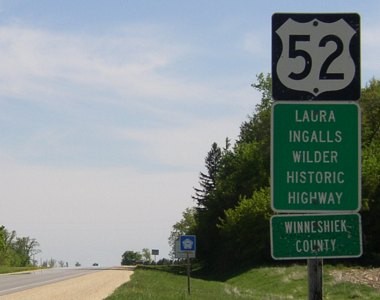 Facing south on 55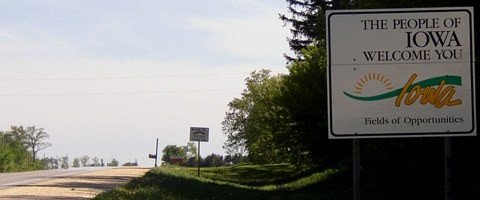 Facing south on 55
Surrounding area information: Jct. MN 44

Facing south, one mile north of the border
"Decorah Ia 17" is the sign on the far right.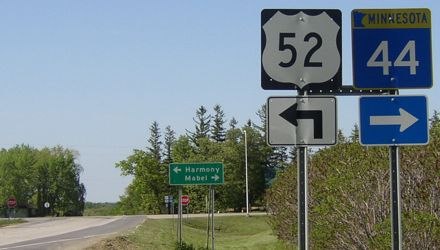 Facing north on 55
Had US 53's extension been put into service, it would have turned right at this intersection. Later, US 55 would turn left, just like 52.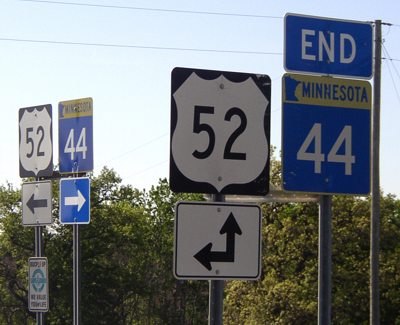 Signage on north side of intersection
Possible SOUTH End (Oct. 16, 1926-1931): Jackson St. at US 61/20th St., Dubuque, Dubuque County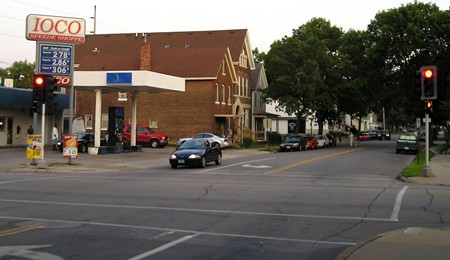 Facing southeast, but heading south, on 55
The intersection of Jackson, which carried 55 in both directions, and 20th, which took US 61 northeast to the Eagle Point Bridge, is one logical location for the south end of both US 53 and US 55 to be. Today, US 52 is two blocks west on Central, but 55 used Jackson south of 32nd Street until September 13, 1932. Alternately:
Possible SOUTH End: Loras Blvd. (14th St.) at US 20/Locust St., Dubuque, Dubuque County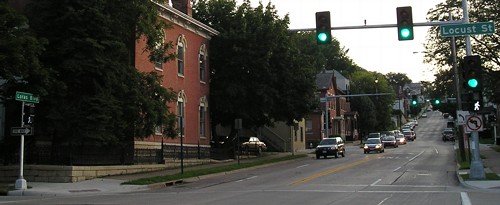 Facing west, but heading south, on 55/61
It's not out of the question that 55 could have continued south and west with 61 to the north junction of the oldest alignment of US 20 in Dubuque. From here, westbound 20 curved northwest and then southwest on its way out of the city, while eastbound 20 went down Locust with 61 until those routes split at 4th Street. Notice the one-way sign at far left; though 20 and 61 would be to the left here, you can't go that way anymore.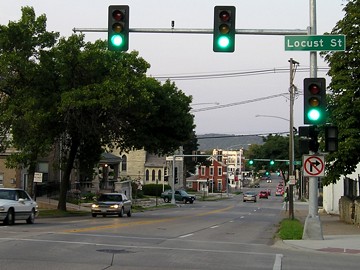 Facing east on 20
SOUTH End (1931-Dec. 1, 1934): 4th St. at US 6/Perry St., Davenport, Scott County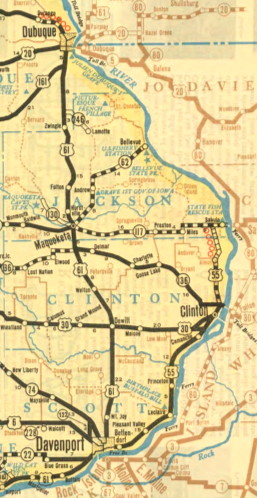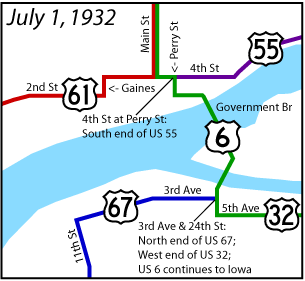 LEFT: June 1932 official state map
Usually, US highways are extended along existing roads. In the case of US 55, it appears that the steps were reversed. The Iowa Highway Commission received word in early June 1931 that its proposal to extend US 55 from Dubuque to Davenport was approved, but that was not made public for two months. "The Scenic highway known as Iowa primary 99 is now a part of federal road No. 55, the state highway commission announced last week," said the Bellevue Herald on August 11. A map in the same newspaper a week earlier showed an IA 99 marker south of Dubuque, but the official state map a year later (above left) shows a significant lack of road along the Mississippi River. By September 1, there was a continuous 55 from Dubuque to Davenport.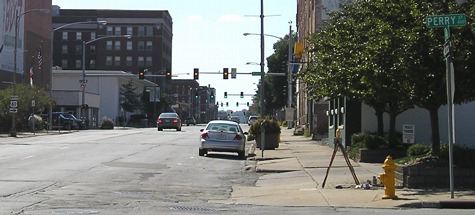 Facing west, but heading south, on 55
Alternately, like its other south end in Dubuque, there could have been a slight extension of US 55 to another highway, in this case two blocks along 4th Street with US 6 to end at Main Street (second stoplight) and the intersection of US 61. The yellow light is Brady Street/current northbound 61.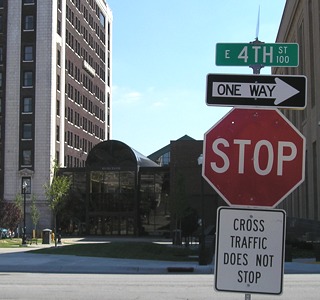 Facing south on Perry
Today, Perry between 4th and 2nd is no longer a street. Straight ahead would have been eastbound 6 to Illinois; right would have been westbound 6 to 61; and left would have been the beginning of US 55.
All pictures by me: First-eighth, 5/19/04; ninth-eleventh, 8/10/07; twelfth and thirteenth, 8/31/07
Map clips from the DOT's archives
Page created 7/24/06; last updated 7/14/10