NORTH Iowa line: Near Chester, Howard County IA/Fillmore County MN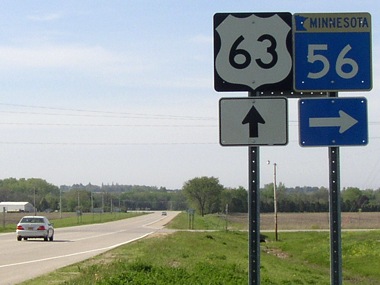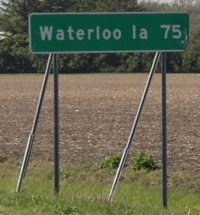 Facing south on 63
The end of MN 56 is less than a mile from the state line. From here you can see the curve in the road where 63 crosses into Iowa.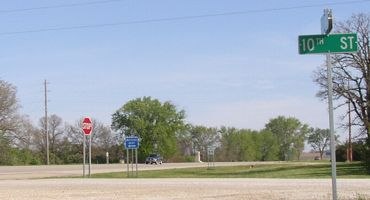 Facing north on 63
The rural sign is Howard County's on the state line.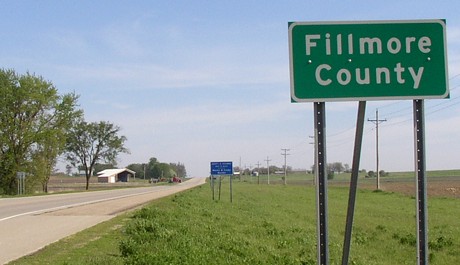 Facing north on 63

Facing south on 63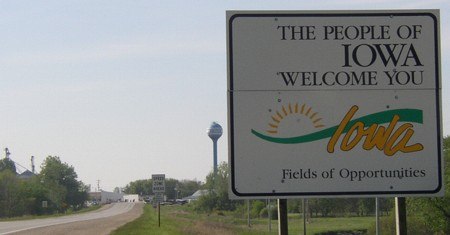 Facing south on 63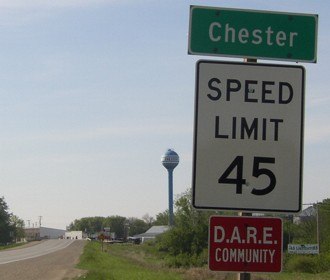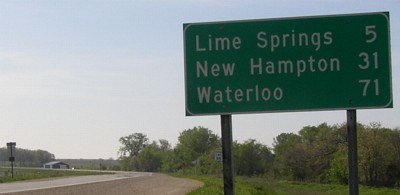 Facing south on 63
The sign at left/top is the approach to Chester; at right, the first leaving-town LGS on 63.
Old NORTH End: Grand Ave. at US 32 (US 6)/US 65/E. 14th St., Des Moines, Polk County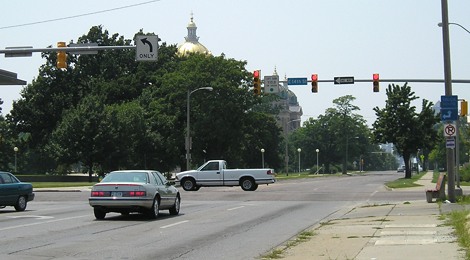 Facing west, but heading north, on 63 (Grand Avenue)
Jason Hancock's research has pinpointed this location as the one and only end that US 63 had in Des Moines for the eight years it was in the city. The car is stopped at 63's end.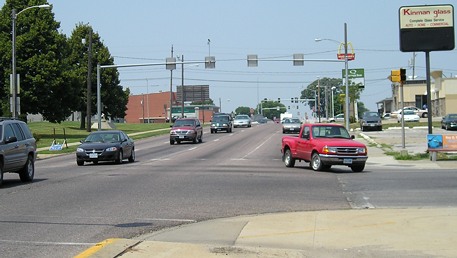 Facing north on East 14th Street
Looking north, there are three options: To the left is westbound US 32/southbound US 65. Straight ahead is northbound US 65. To the right is eastbound US 32/southbound US 63/southbound IA 6; 32 and 63 will split about four blocks to the east at the Hubbell/Grand intersection. From there, 63 will continue east on Grand, then north on East 30th Street (6 goes south), then east on University Avenue, skirting the west and north sides of the state fairgrounds.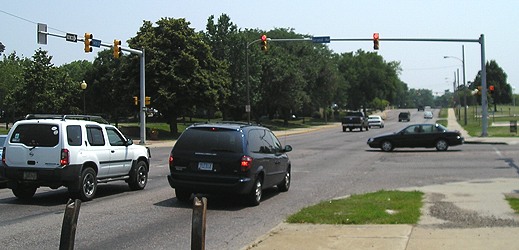 Facing south on 65 (East 14th)
In 1931, the numbers in Des Moines were shaken up. This perspective would still be looking south on 65, but now the cross street would be US 6 and IA 60, with a left turn being at the beginning of US 63. In December 1934, 63 would be rerouted to run north of Oskaloosa and US 163 would take its place.
SOUTH Iowa line: 5 miles N of Lancaster MO, Davis County IA/Schuyler County MO

Facing south on 63

Facing south on 63
In comparing to the above and below pictures, the Texaco has become a Shell and the non-"star" number for the highway patrol has been removed...and gas prices more than doubled.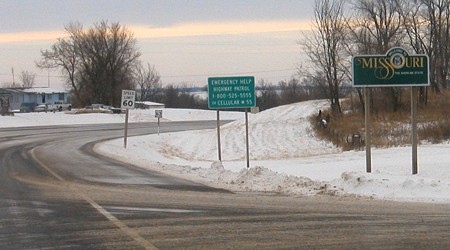 Facing south on 63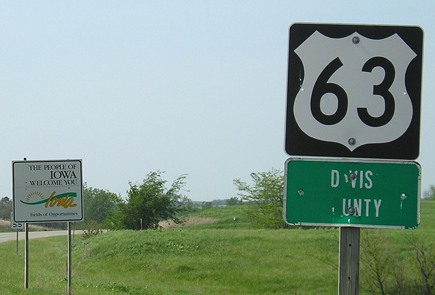 Facing north on 63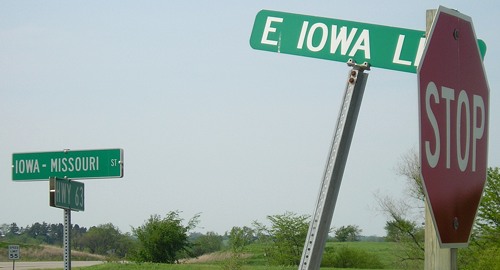 Facing north on 63
Surrounding area information: Rebels invade Iowa!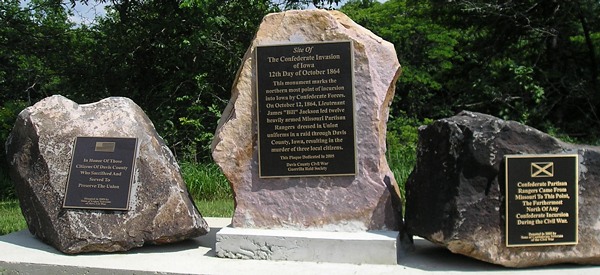 Approximately halfway between the Missouri state line and Bloomfield on County Road V20 is this monument.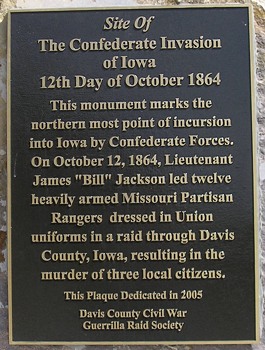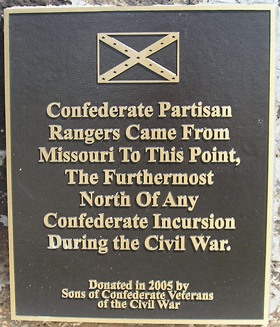 Closeups of two plaques
All pictures by me: First-eighth, 5/19/04; ninth-eleventh, 7/10/05; 12th and 14th, 1/31/04; 13th, 15th, and 16th, 5/14/07; 17th-19th, 6/11/07
Page created 7/3/06; last updated 1/19/08