BUSINESS
WEST End: Direct merge into US 34, Henry County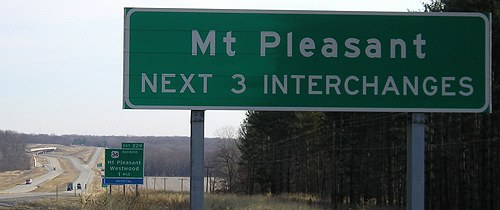 Facing east on 34
The pictures and signs at this end are a mix of pre-Clearview (2005) and post-Clearview (2006) signage.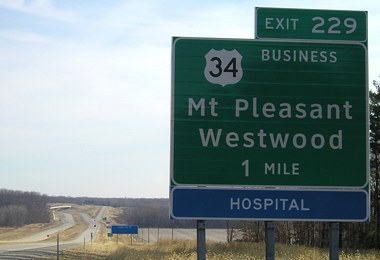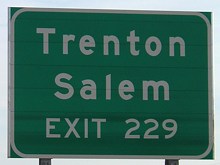 Facing east on 34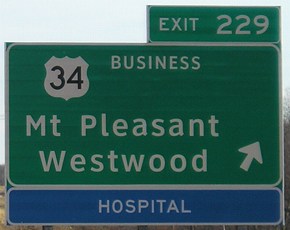 Facing east on 34
Compare this sign to the one in the below picture and closeup.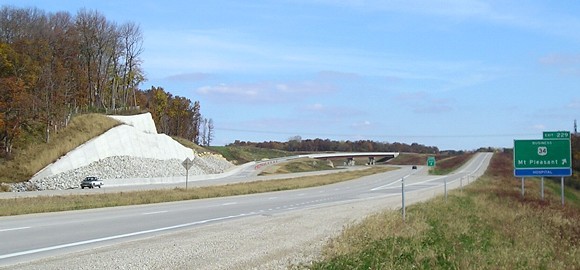 Facing east on 34
Notice the massive construction project on the hill. The hill was chopped down in two pieces, and those pieces were shored up with cement. Crushed rock lines the bottom.
Three years and three days after this picture was taken, within feet of where this picture was taken, the family van ... interacted ... with a 10-point buck. Neither survived.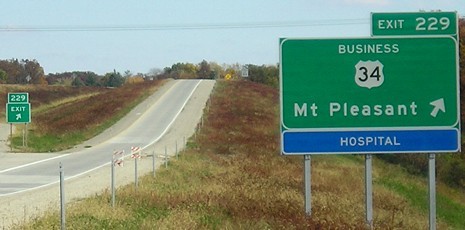 Closeup of sign at right
The sign at the top of the hill drops the speed limit as old 34 is approached. The town of Westwood is practically on the other side of the hill, but the first signs here didn't mention it. However, the new ones did (above). The bypass heads northwest, crossing the original (first paved) US 34, and staying far enough away from Mount Pleasant that part of it is a trip through the woods.
At this point on 34's route, and especially farther east, it's anyone's guess as to how accurate the exit numbers are.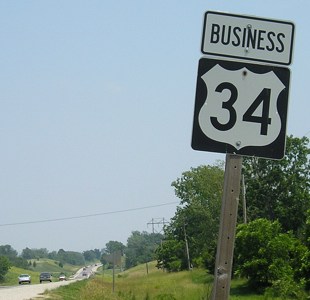 Facing east on Business 34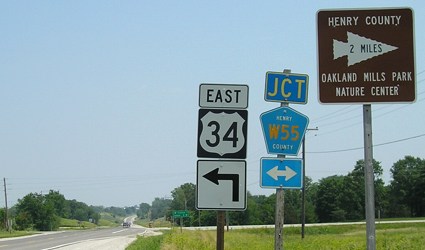 Facing east on Business 34
The west end of the Mount Pleasant bypass is split into two half-interchanges, the merge with 34 for eastbound exit/westbound entrance and W55 for westbound exit and eastbound entrance.
Whoops!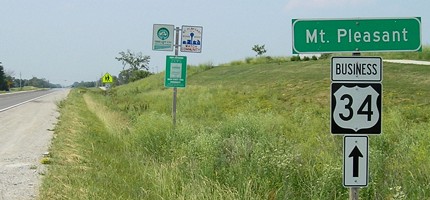 Facing north on old 218
This 34 shield on old 218 on the south side of Mount Pleasant, just north of the 255th Street turn, is very lost. This road is neither Business 218 nor Business 34, though a 218 marker here might have made a bit of sense. Mount Pleasant High School, site of the Avenue of the Saints ceremony on June 16, 2006, is just ahead. The Avenue itself is a short distance to the right.
EAST End: Interchange, US 34/IA 163 and US 218/IA 27, Mount Pleasant, Henry County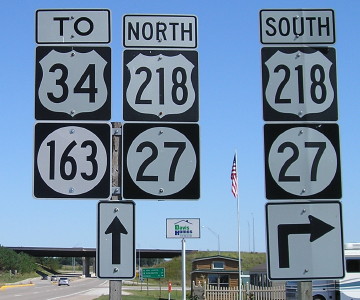 Facing east on Business 34, but heading south on Business 218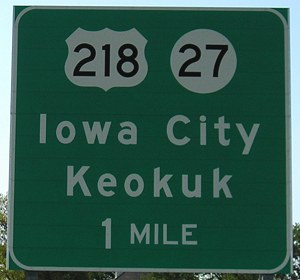 Facing west on 34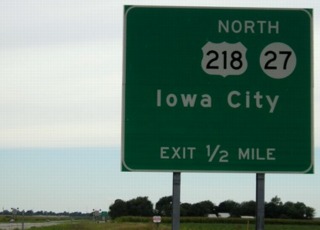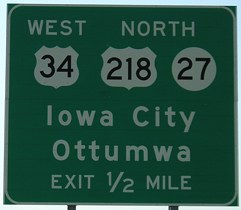 Facing west on 34 (2005 / 2008)
The left picture was taken in August 2005 the day before the bypass opened.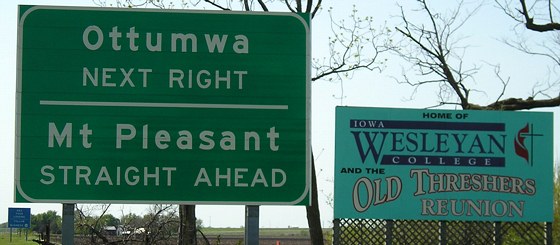 Facing west on 34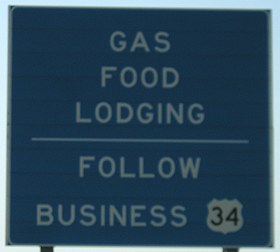 Facing west on 34
Perhaps because this is on 34, Business 218 is not mentioned although it could be.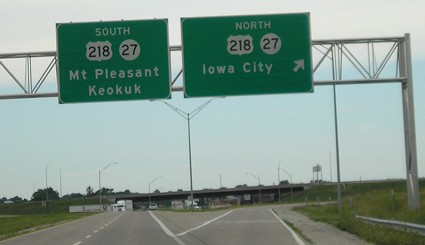 Facing west on 34 (August 2005)
The below picture a few months later shows the left sign replaced with two others.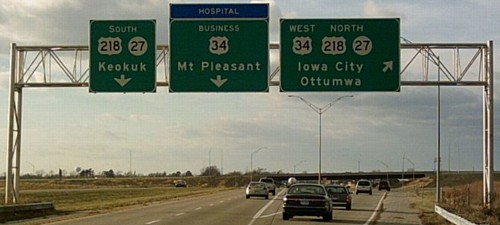 Facing west on 34 (November 2005)
Photo by Jason Hancock
Although Business 218 also begins ahead, there is no mention of it on 34.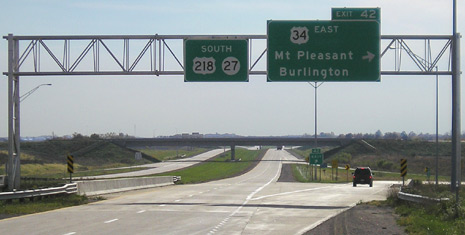 Facing south on 34/218 (2005 / 2010)
Unlike the northbound sign (see below), there was enough space to put standard-size 34 and 163 markers next to each other, but it didn't happen.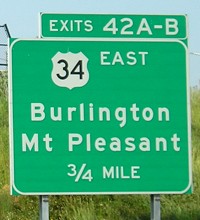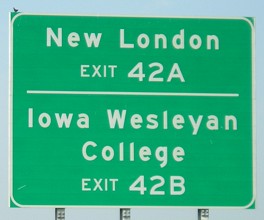 Facing north on 218/27
Now that US 34 is on the route, there are (at least during the second half of 2005) mile markers for BOTH 34 and 218 between the two exits. I don't know how long this situation will last. I would prefer that the exits would retain US 218's numbers, even if 34's mile markers end up the only ones on the route, like the situation on the New Hampton bypass.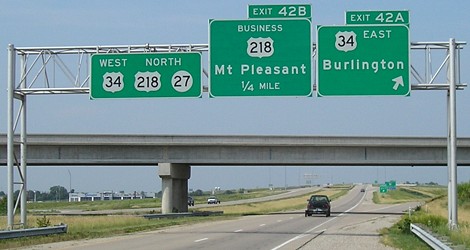 Facing north on 218/27 (2006)
Conversely there is no signage for Business 34 on 218.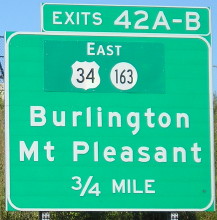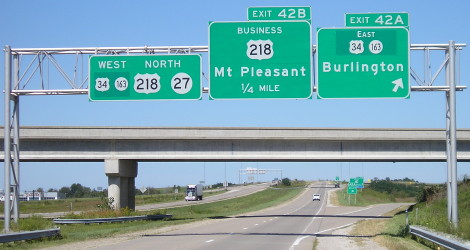 Facing north on 218/27 (2010)
The slap-job of IA 163 is pretty obvious on the signs.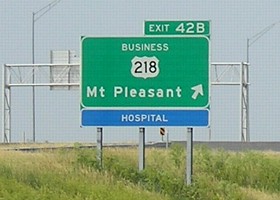 Facing north on 218/27, as seen from the offramp to EB 34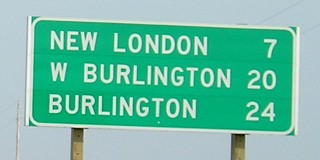 Facing east on 34
This all-caps mileage sign is more like one in Illinois, since in Iowa all-caps signs are ones with arrows at interchanges.
Seventeenth picture by Jason Hancock: 11/23/05
Pictures by me: First-fourth, 12/18/06; fifth, sixth, and 18th, 10/21/05; seventh-ninth, 20th-22nd, 25th, and 26th, 6/16/06; tenth, 19th, 23rd, and 24th, 9/8/10; 11th and 13th-15th, 5/12/08; 12th and 16th, 8/14/05
Page created 2/12/06; last updated 11/3/11