BUSINESS
NORTH End: Stop sign, US 71, Buena Vista County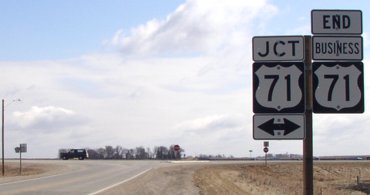 Facing east, but heading north, on Business 71
For the past 65 or so years, US 71 had an odd little, or should I say long, kink in it. Since 1937, it has entered and exited Buena Vista County on about the same line, but in the middle in went west to visit downtown Storm Lake. That's understandable. But then, as it approached IA 3, it went back east, perhaps prematurely, as the map below shows: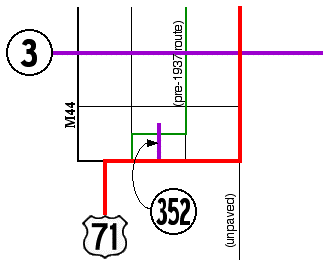 The thinnest lines mark gravel county roads. The line on the right rejoins US 71 on the same line, although it was unpaved. Prior to 1937, according to old maps, 71 followed a stairstep pattern in that six-square-mile area (green line). A line north of Truesdale was marked going west of Rembrandt, meaning that the alignment was shifted when the route was paved. The slightly more logical thing would have been to continue 71 north those last two miles to IA 3, then east to where it would hang a left and go north. But instead, 71 got its own east-west alignment, going past what became IA 352 in the process.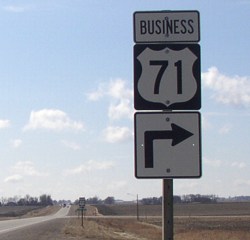 Facing south on 71
While the current intersection is a regular one, prior to 71's realignment there was a large eastbound-to-northbound curve, as indicated in aerial photos.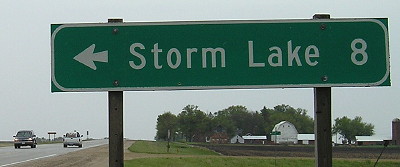 Facing north on 71
Storm Lake is signed in both directions even though we're past it northbound.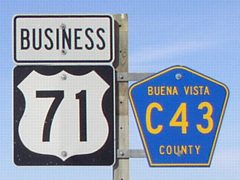 Facing west, but heading south, on Business 71
This is the only indication along the east-west portion of both Business 71 and C43, except at the south end of old IA 352.
Surrounding area information: Junction IA 3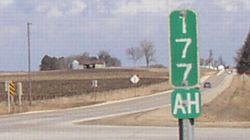 This mile marker is just north of the intersection, marking where the gap is with the shortening of the route. This is one of only two major realignments of 71 in the mile-marker era (post-1970), not including possible minor bypasses of small towns. The road in the foreground leads to a gas station and the Crossroads Motel, an indication that this is a major intersection.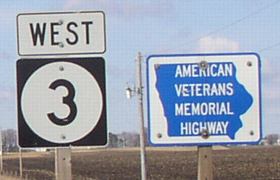 And as another symbol of significance, two "American Veterans Memorial Highway" markers are placed leaving the intersection in each direction.
Along the route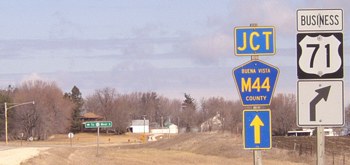 Facing north on Business 71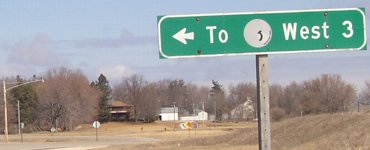 Facing north on Business 71
This peeling sign is where Business 71 turns eastbound. This is the fastest route to 3 west. At this point, M44 goes (up and) left while C43 goes right, but the latter is not mentioned. Southbound are an M44 shield, visible under the light pole, and a Business 71 sign (not visible).

So Business 71 is assimilated into the county road system, but IA 352, dead 20+ years, isn't? Update: Changed in the 2000s.
End Iowa 914 North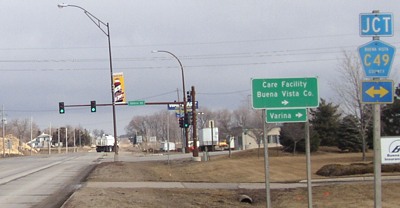 Facing north on Business 71
I am not separating out the 900 route as I usually do because I believe the route has already been decommissioned. While the 2002 PDF maps do show it, maps in 2003 put out by the DOT, notably the transfer-of-jurisdiction map, do not mark nor mention this route at all.
At left is an AmeriHost Inn, one of the first in the state, which became my first stop on my spring break trip. Ahead is a Wal-Mart Supercenter, under construction as of March 2003.
End Iowa 914 South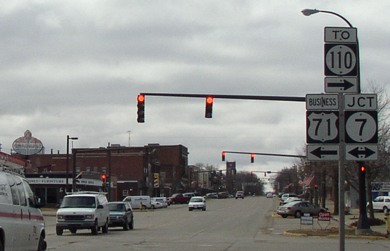 Facing south on Business 71
At this point, Business 71 joins IA 7 and thus comes under state control again. Notice the "To 110" sign. The "Jct 7" is actually a redundancy, because there was a "Jct 7" two blocks back. At left is half a Standard sign.
Now, in so many original routings, the main route charged headlong into the business district, instead of skirting it as they are apt to do today. My 1937 map, combined with early 1980s topographic maps, reveal where the routes used to go.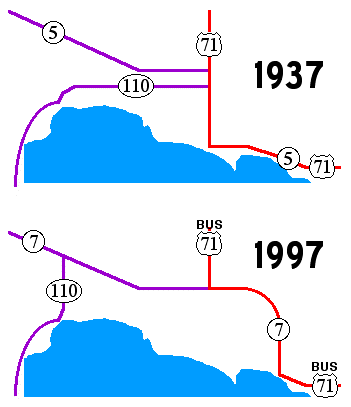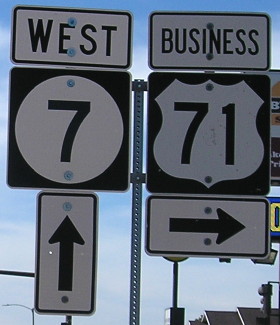 Facing west on 7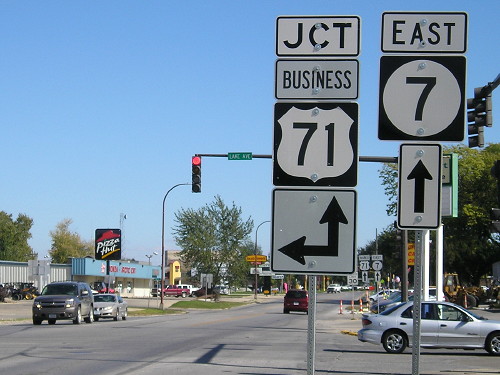 Facing east on 7
The Department of Redundancy Department, hard at work. The right picture comes after the left, which puts the "Jct" on the wrong pole by any definition.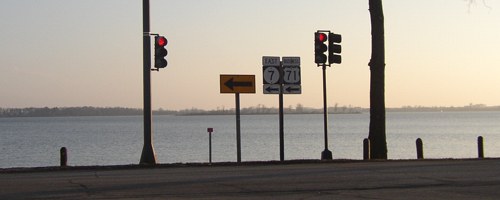 Facing south
Nice lake view from this intersection. Old (1937) 71 was the crossroad, going both left and right.
SOUTH End: Stop sign/T intersection, US 71, Buena Vista County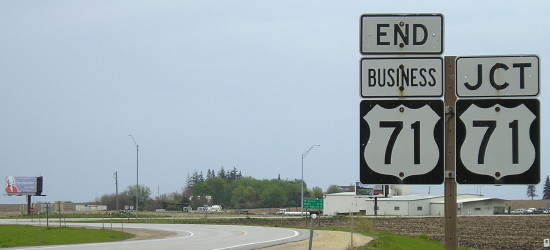 Facing east, but heading south, on Business 71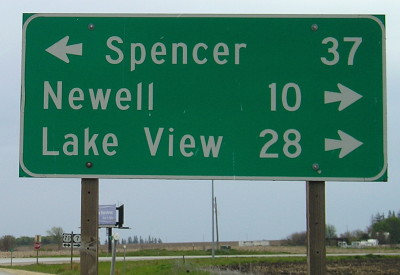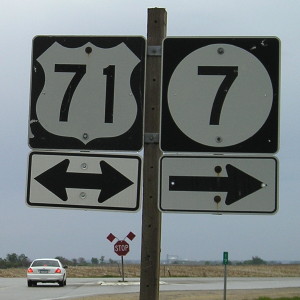 Facing east, but heading south, on Business 71; the mile marker is 7's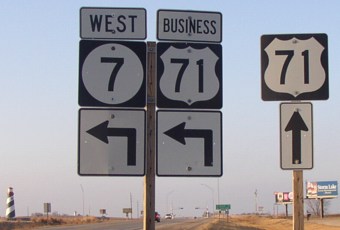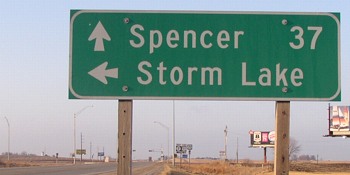 Facing north on 71
This LGS reflects the new mileage; two miles to the south, the LGS on westbound 7 says Spencer is 43 miles away.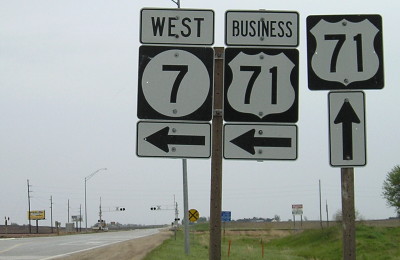 Facing north on 71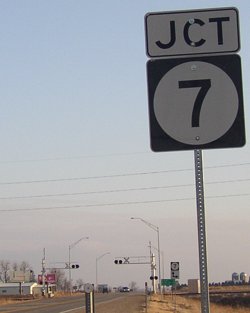 Facing south on 71; no mention of Business 71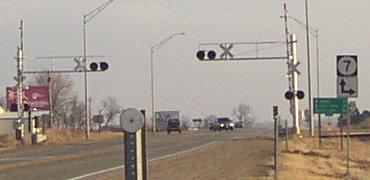 Facing south on 71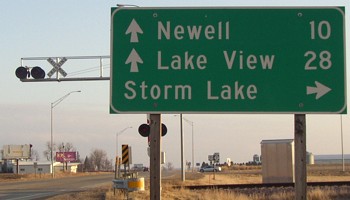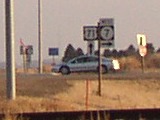 Facing south on 71
All pictures by me: First, second, and fourth-eleventh, 3/21/03; 12th, 13th, 16th, 20th, 21st, and 23rd-26th, 3/20/03; third, 17th-19th, and 22nd, 5/10/10; 14th and 15th, 10/3/16; all graphics, 6/22/03
Page created 6/22/03; last updated 1/29/17