BUSINESS
NORTH (or EAST) End: Stop sign, US 71, Page County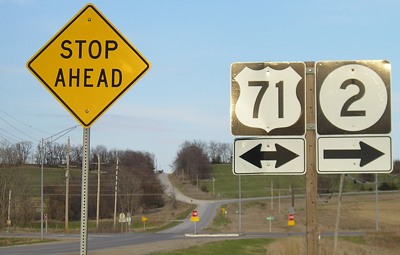 Facing west on Business 71/Business 2
Although a business route for a north-south highway, Business 71's route through Clarinda has about twice as much east-west mileage. Old IA 2 continues east from this intersection; the 2 shield in the picture needs a "To".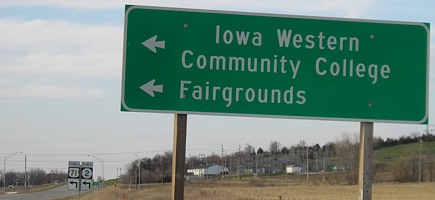 Facing north on 71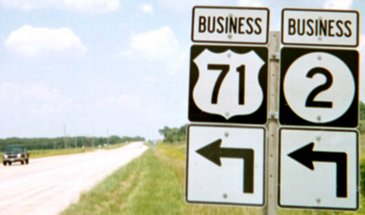 Facing north on 71
The signage here is mostly accurate, but would better be "Jct Business (#) <-" Notice the sign below is not in this earlier picture.

Facing north on 71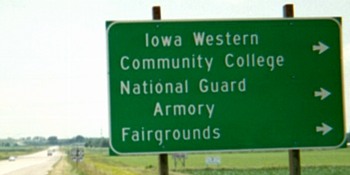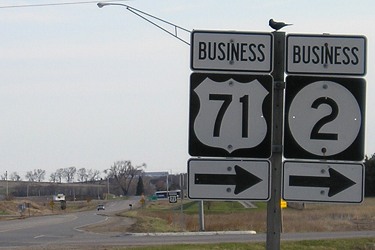 Facing south on 71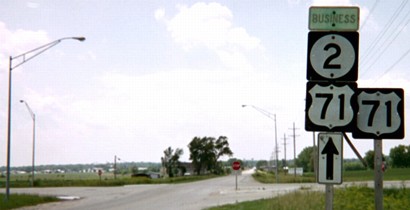 Facing west on old 2
This road does not have any designation; it continues southeast to rejoin 2. For most of the 1970s, secret IA 960 was applied to old 2 from its junction to the east city limits of Clarinda. This was my first encounter with green "Business" tags above the shields, whose condition leads me to believe they are originals from the creation of the two business routes in 1972. I'm not quite sure what that extra 71 shield is standing there for.
Downtown Clarinda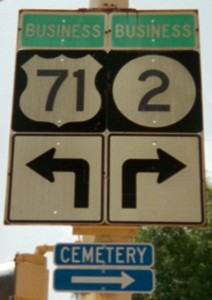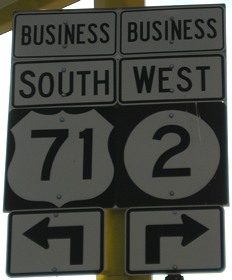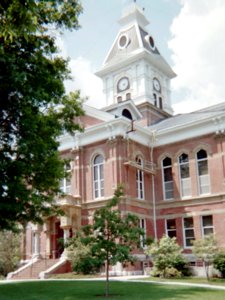 At northwest corner of courthouse square, 2009 / 2003 / 2009 / Facing southeast
The left shield assembly, if I remember correctly, was all in one piece. All along the east-west portion of this route were yellowed 71 and 2 shields with slightly faded numbers and green "Business" designation, again leading me to believe they are from 1972 - or even older, perhaps being the original DOT shields left behind. Compare the arrows in this picture to the arrows on 71 four pictures up; again, those here may be in the early '70s style. But when I returned to Clarinda, I found a very un-Iowa-like setup on the stoplight - first the Butt-Ugly Kansas-Style Signage (and notice how it's inconsistent with the "Business" tags), but the squat ahead-and-turn arrows underneath.
I have seen green associated with business routes in two other places: Business US 34 in Chariton and an old Business US 63 sign in Hudson (now gone), except in both cases it was green letters on white background instead of vice-versa like these.
Both of these business routes were unknown to Jason Hancock or myself until after this site began. Dave Backlin pointed out the existence of Business 71 but didn't mention Business 2 in October 2002, and I stumbled upon Business 2 when going to take pictures of Business 71's north/east end on the June 2003 trip.
The two business routes split at the northwest corner of courthouse square; Business 71 goes down the west side. This provides an excuse for including a courthouse photo.
"Sherman, set the Wayback Machine for 1908..."

Facing southeast (center portion of photo)
Photo by F.J. Bandholtz; courtesy Library of Congress
This panorama photo, about 2/3 of the original, encompasses the Page County courthouse square shortly after the turn of the 20th century. This photo and my photo above, taken 95 years and 20 days later, capture the courthouse from nearly the same direction. The pole at foreground left is in the same vicinity as the stoplight holding the 71-2 sign above. The road on the left later became IA 2; the road on the right, US 71. If you look closely, one of those vehicles coming toward the photographer on 71 doesn't have a horse attached. It is (ahem) a horseless carriage. Crazy newfangled gadgets... The cobblestones are nice, especially when compared to the mud he encountered in Clarion a year before.
There are a lot of other panoramas of Iowa town squares that Mr. Bandholtz photographed in 1907-08, available at the Library of Congress. Unfortunately, many of them are not identified by streets, so only by structures still up a century years later (such as the courthouse) can place and direction be determined. It's worth noting that his photos were taken before any coherent system of roads in Iowa, as the named routes weren't collected until 1914, and not numbered until 1920. Clarinda was the intersection of the Marysville-Carroll Trail (approximately the original route of US 71) and the Waubonsie Trail (approximately the original route of IA 2, with some exceptions). A pity that panoramic photos like these are so rare nowadays.
SOUTH (or WEST) End: 4-way stop, US 71 and IA 2, Clarinda, Page County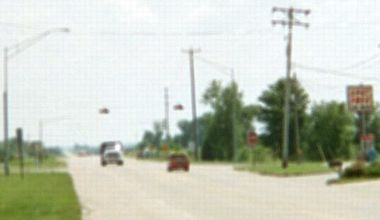 Facing south on Business 71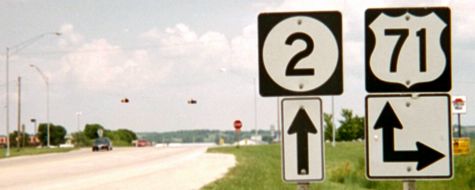 Facing east on 2
There is no reference to Business 71 on eastbound 2.

Facing north on 71
While this area may have been far enough away for a "bypass" in 1972, the city limits now extend down here. There are restaurants, gas stations, a bank, and a Hy-Vee (where I bought yet another pair of cameras since it was my best chance after Chariton).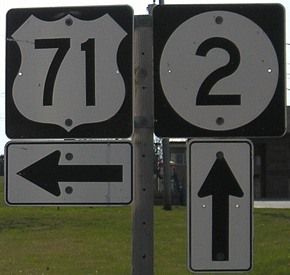 Facing west on 2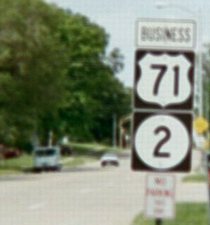 Facing north on Business 71
This is the first sign northbound, with an IA 2 shield that seems to be lost since this is not Business 2. (This was the only time prior to June 2007 that I saw a 2 marker in the skinnier Series C font.)
All (21st century) pictures by me: First, second, fourth, sixth, eighth, tenth, 16th, and 17th, 4/19/09; third, fifth, seventh, ninth, eleventh, 13th-15th, and 18th, 6/16/03
Twelfth picture by F.J. Bandholtz: 5/27/08
Page created 12/16/03; last updated 1/27/10