NORTH End of MB 75: MB 100/Trans-Canada Hwy., Winnipeg MB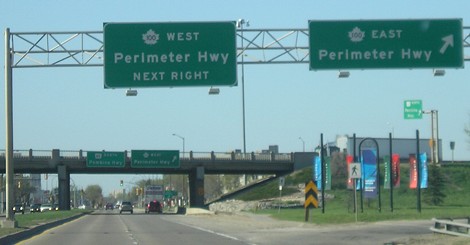 Facing north on 75
Until US 75 was cut back from the south, a single number ran from the Gulf of Mexico to Winnipeg. Today, at about latitude 49°46'43", "Highway 75" finally ends at the Perimeter Highway. (It also carries the Trans-Canada Highway designation, hence the maple-leaf shield.)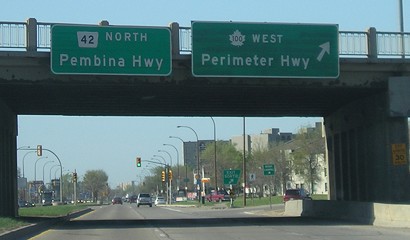 Facing north on 75
Pembina ND is a pretty small town, but the road south from downtown Winnipeg is the Pembina Highway.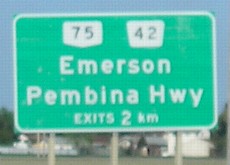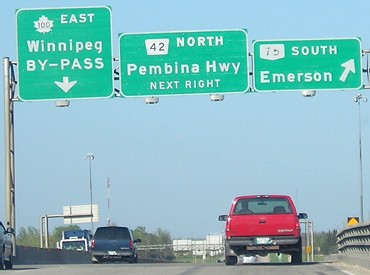 Facing east on 100
The first picture of metric distances on this website.
South of Winnipeg, 75 has become a four-lane road to act as an extension to I-29, until JUST north of the border, when it veers to the east to serve a border crossing that no longer exists: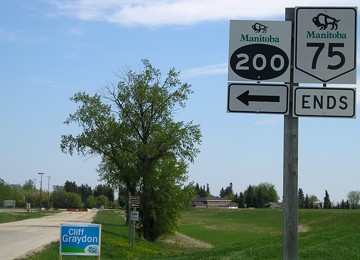 Facing east, but heading south, on 75
The closed Emerson/Noyes crossing is ahead. The United States side is shown below.
NORTH End: Canada border, Noyes MN/Emerson MB, Kittson County MN

Facing north on 75
The border crossing at Noyes was closed earlier in the decade, yet all signs still indicate the highway continues north to this point.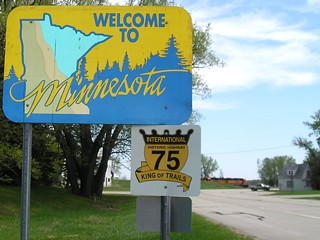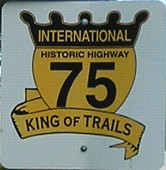 Facing south on 75
The original route of 75 follows the "King of Trails" auto trail from Manitoba to Galveston, Texas. Newspaper headlines in western Iowa in the 1920s referred to paving on the "K-T". Minnesota has made a push to revive this historic designation.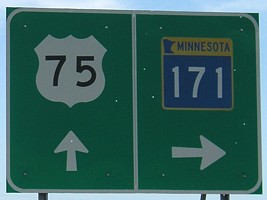 Facing south on 75
Four miles south of the border, this southbound panel is the first actual marker for US 75.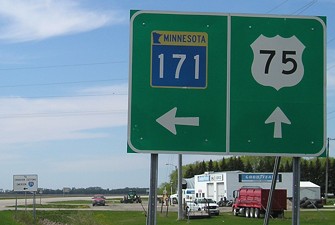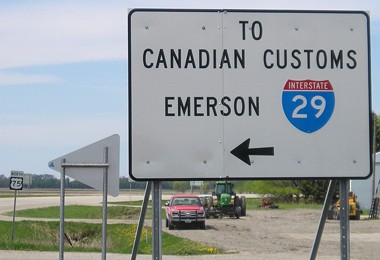 Facing north on 75
In the right picture, you can see the last northbound marker. Minnesota has repaved 171 recently and built a new bridge across the Red River, possibly to handle the extra traffic coming from 75. I would like to see 75 and 171 swapped, so 75 crosses into North Dakota and either ends at I-29 or, preferably, goes north in a triplex of I-29/US 75/US 81 to the border crossing so the two 75s can hook up again.
Along the route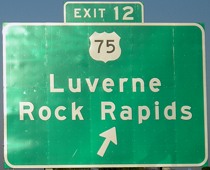 Luverne, Minnesota: Interchange with I-90
Approximately a third of the modern route is within Minnesota.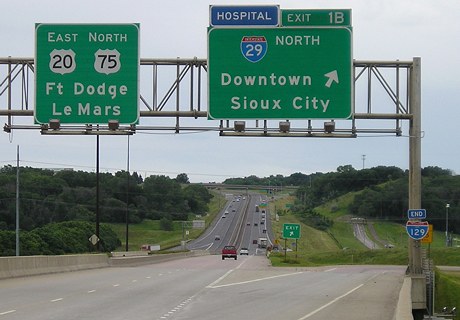 Sioux City, Iowa: East end of I-129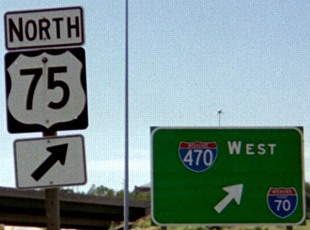 Topeka, Kansas: Junction I-470
SOUTH End: I-30/I-45, Dallas TX, Dallas County TX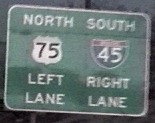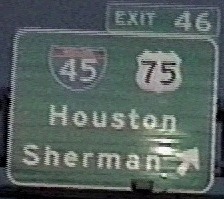 Facing east on 30
There's another Iowa-related highway in the mix here too, US 67, in a hidden multiplex with I-30.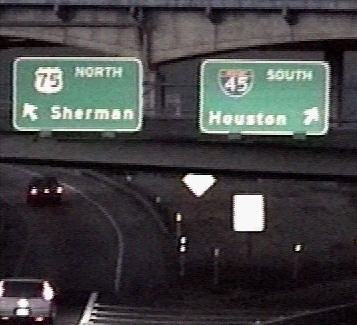 Facing east on 30
This is the north end of I-45, which supplanted US 75 from here to Galveston.
First-fourth, 5/9/07; fifth-eleventh, 5/10/07; twelfth, 9/16/06; thirteenth, 6/12/05; fourteenth, 7/13/05; video frames, 12/25/01
To Dale Sanderson's US 75 page
Page created 2/10/08