(August 6, 1980-May 1, 2003)
NORTH/EAST End: Stop sign, IA 5 and J3T, Moravia, Appanoose County
Highway 142 is like 136 and 410 in one respect: It's a highway that has near-equal distances north-south and east-west, making for a highway that forms half a rectangle. In 142's case, the other two sides are filled with IA 2 and 5. As the crow flies, the total N-S distance is 10 miles, and E-W is 11.25, but as the car drives, using the junction with S70 as the switch point, the N-S distance is 11 miles and E-W is 10!
The Feb. 6, 2003, Centerville Daily Iowegian ran an article on 142's changeover, headlined "A switch in the road." Appanoose County decided to take the road voluntarily, with $5 million from the DOT, deciding that was a better deal than "to wait and have legislation force it onto them with no accompanying funding."
The article had a large picture of Appanoose County Engineer Jim Armstrong by the first sign heading north (visible in Ben Prusia's picture below), marked as "North," heading into Plano. The town of Numa was mentioned twice in this paper, the second time in an AP article about preserving old high schools. Numa had a powerhouse of a girls basketball team in the 1940s.
According to a DOT meeting agenda, IA 142 in its entirety, including the segment through Plano, was turned over Jan. 14, 2003; however, official documents indicate an effective date of May 1. The signs were still up in late January as evidenced by the photos below.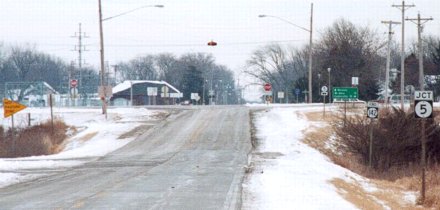 Facing east on 142
Photo by Jerry Power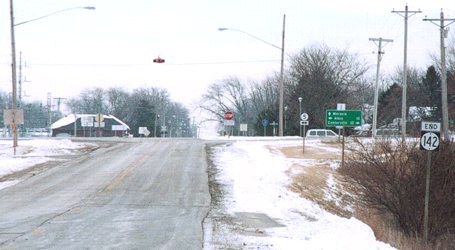 Closer to the intersection
Photo by Jerry Power
Until the 1970s 5 was a bit farther east. The road was straightened out, running along the west side of Moravia (see the LGS below). J3T continues from this intersection.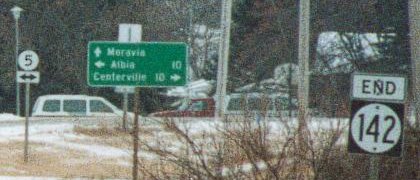 Enlargement of signs on right
These signs appear all well and good, but when you look from the other directions, weird things are going on.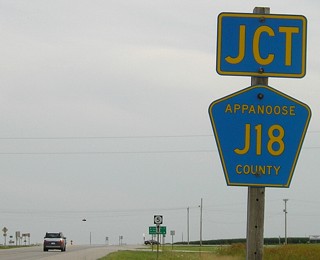 Facing south on 5
Notice there is no signage for J3T (here, going left) on 5.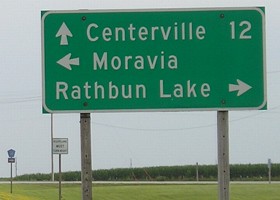 Facing south on 5
Just like the signs on US 34 at IA 5 in Albia, "Rathbun Lake" includes no mileage. The lake is more than a mile away, so what's up with that?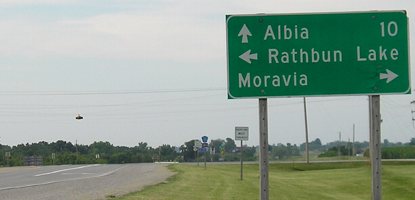 Facing north on 5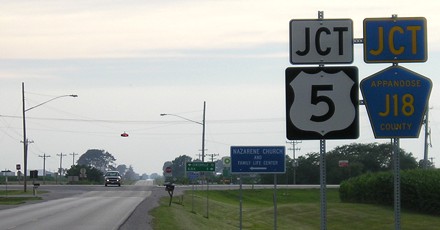 Facing west on J3T
I know I travel a lot, but I didn't expect to end up in western New England, which is where US 5 runs.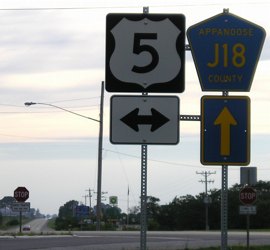 Facing west on J3T
Appanoose County goofs up not once, but twice.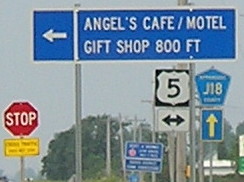 Signs facing west
Northwest corner of 142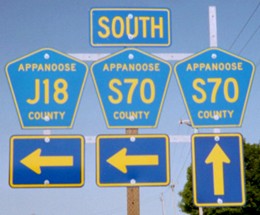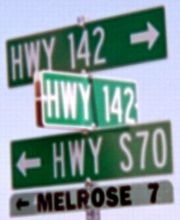 Facing west on 142
By mid-June, all 142 shields were gone and replaced with J18 and S70. These were the names before the state took over the road, and the two share some mileage. The upper right part of the assembly may have held a "Jct", but a "North" would be accurate to place there now. The rural sign assembly hadn't changed, though.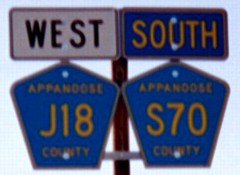 Facing south on 142
Did 142's signage change along the route? This assembly just south of the turn makes me think so. The two county roads split after crossing Rathbun Lake, and perhaps that was where the north-south signage took over.
SOUTH/WEST End: Stop sign, IA 2, Appanoose County
Facing south, but heading west, on 142
Photo by Ben Prusia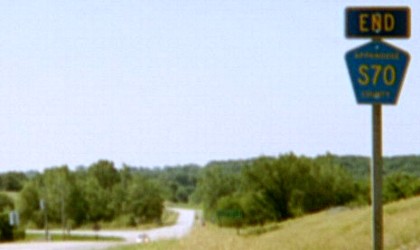 Same pole, June 2003
The road you see that continues south for 0.15 miles runs into an old (and paved) alignment of IA 2, with a few more corners than the current diagonal here. You can see the road hang a left; to the right is a stub of the old route.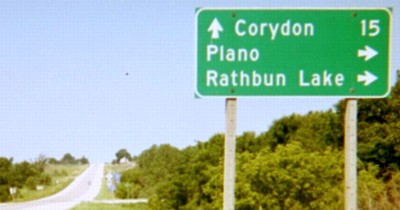 Facing west on 2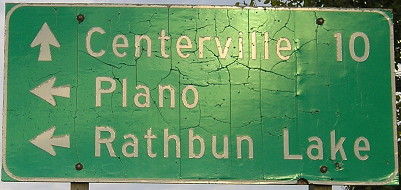 Facing east on 2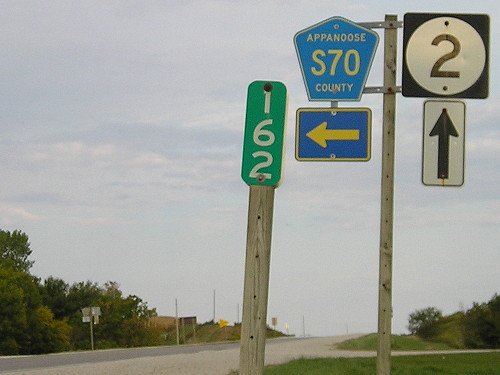 Facing east on 2

Facing north
This metal sign is on a short gravel road connecting present 2 with an old concrete alignment.
Last seen: 2003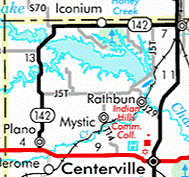 Special thanks to Jerry Power for getting the photos near Moravia and the newspaper article.
Pictures by me: Fourth-eighth, 7/11/05; 11th-13th, 15th, and 16th, 6/16/03; ninth, tenth, 17th, 18th, and 19th, 9/13/11
Page created 10/14/02; last updated 3/17/17