(October 25, 1926-November 25, 1980)
Note: Instead of adding updated photos to this page, see IA 187 for the new signs and the roundabout.
WEST End: IA 150, Fayette County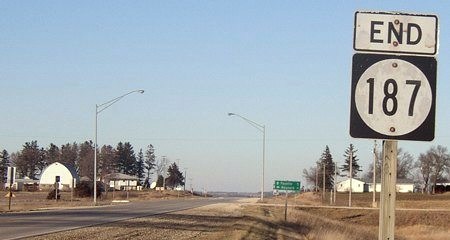 Facing north, but heading west, on 154
Until 1981, this was the end of IA 154, and then 187 superseded its entire route. The 1981 state map, with a notation that routes are correct as of October 1980, shows 154 still on its route. Replace the "187"s with "154"s to get an idea of what was here.
Because 154 went six miles north-south but eight miles east-west, it was an east-west route. Further confirmation of this is that the mile markers on the part of 187 north of 3 are on the left/west side, meaning a count-up from the west end.

LGS in background of above picture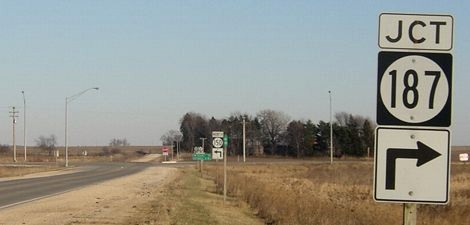 Facing east, but heading north, on 150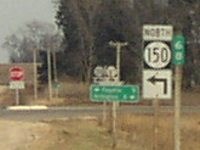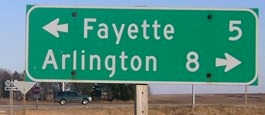 Closeup of signs and LGS in background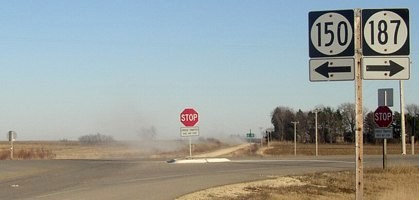 Facing east, but heading north, on 150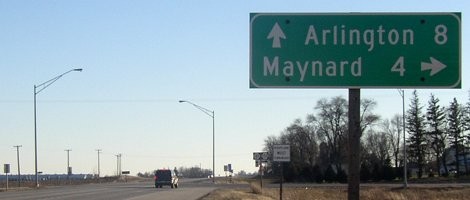 Facing south on 150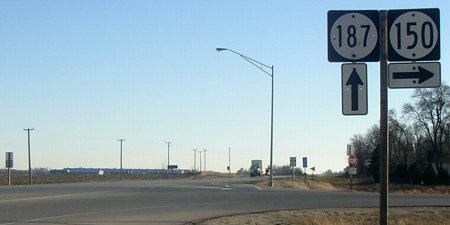 Facing south on 150
One mile south of here, 154/187 turns east while W33 goes straight south.
EAST End: Stop sign, IA 3 and W51 (IA 187 in 1980), Fayette County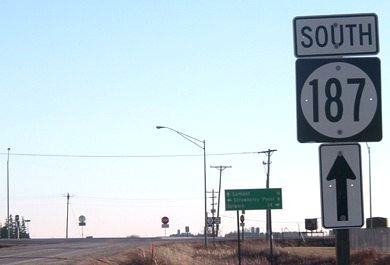 Facing south on 187, but heading east on 154
This is the most likely candidate for the "End 154" pole.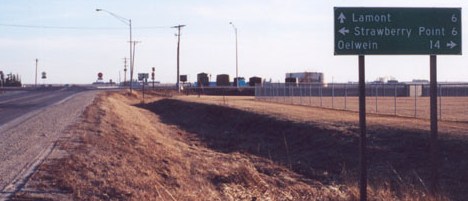 LGS in above picture
Photo by Jason Hancock

Facing east on 3
This LGS has the three communities (in order) that make up the Starmont school district - a conglomeration of town names Strawberry Point, Arlington, and Lamont. The school in Arlington is abandoned.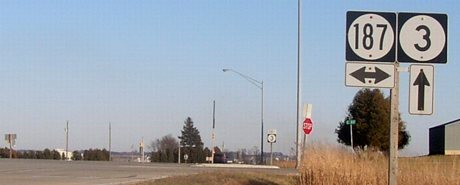 Facing east on 3
This standard, run-of-the-mill intersection was replaced with (ick) a roundabout in 2009.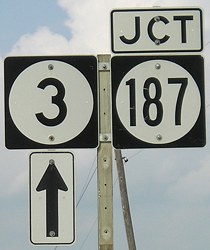 Facing west on 3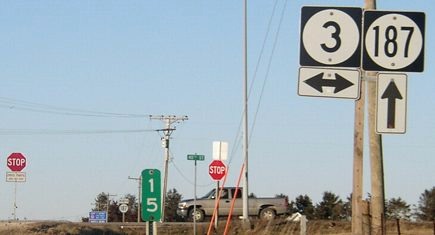 Facing north on W51/187
Prior to 1980, the shield at right would be a 154 (with the same up arrow) - that is, if it was signed.
Last seen: 1981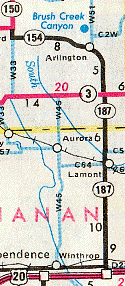 Notice that on this map, 154 and 187 both end at the junction with 3.
Tenth picture by Jason Hancock: 1/26/02
Pictures by me: First-ninth, eleventh, twelfth, and fourteenth, 12/14/04; thirteenth, 9/2/08
Page created 5/7/02 (as part of 187); last updated 3/17/17