(December 1, 1930-July 1, 2003)
Old WEST End: 4-way stop, Main Street, Van Horne, Benton County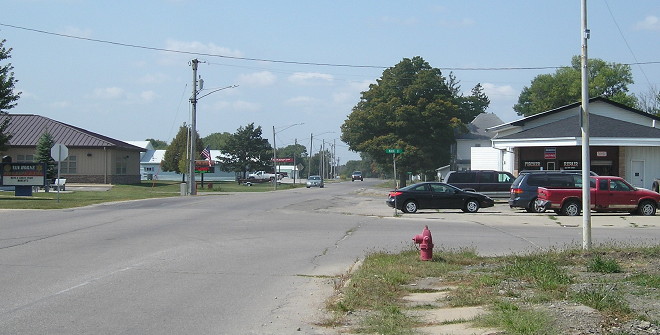 Facing west on 199 (9/13/17)
Nearly all Benton County spurs were truncated at their respective city limits in 1980. This intersection is at the south end of the business district.
WEST End: City limits of Van Horne, Benton County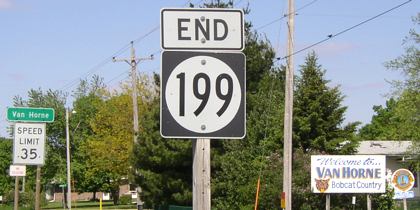 Facing west on 199 (5/20/03)
IA 199 was the only east-west Benton County spur after IA 363 became a connector to I-380. A north-south double spur between Van Horne and Blairstown by extending IA 82 north of US 30 would have been an option as well. Van Horne has the high school for the Benton Community school district (which also includes Elberon in Tama County, through a series of mergers).
Numbers 180 through 208 were all signed on December 1, 1930, as part of the First Great Commissioning. Of the five incremental Benton County spurs (198-202), four remained until 2003, with the 202 spur to Shellsburg discontinued. Similar signing spurts were in Marshall County (233, 234, 235) and in Warren County (205, 206, 207).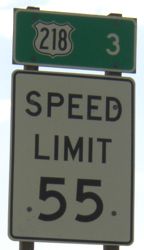 Facing east on 199 (5/20/03)
EAST End: Stop sign, US 218 and E44, Benton County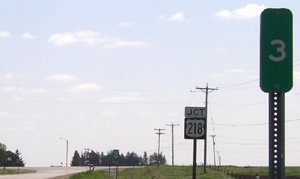 Facing east on 199 (5/20/03)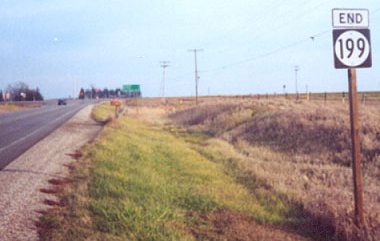 Facing east on 199 (12/2/01)
Photo by Jason Hancock
The pole is still there as of summer 2017.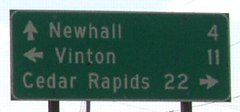 LGS in background of above picture (5/20/03)
While the DOT signs indicate Vinton is 11 miles away, the Benton County sign on westbound E44 says Vinton is 10 miles away.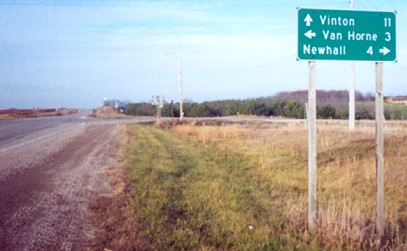 Facing north on 218 (12/2/01)
Photo by Jason Hancock
Or, again, alternately, there could have been a double spur from Van Horne to Newhall intersected by 218. Benton County is horrendous at signing county roads at intersections; no intersection of a US highway and one of the spurs displays any county road signs, although the Hiawatha Pioneer Trail is signed. (This has since been somewhat rectified after the Second Great Decommissioning.) Here, even though you can turn right...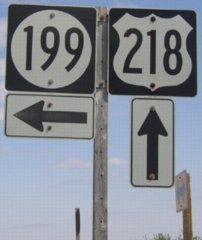 ...there's a double arrow at the end of 199(!), because the roads are slightly offset. The pole under the 199 is a stop sign. (5/20/03)

Facing north on 218 (5/16/17)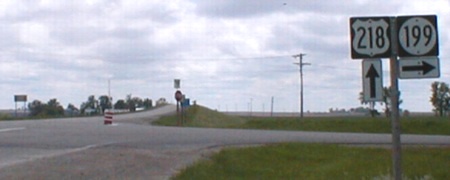 Facing south on 218 (5/25/02)
Between 1930 and 1938, this intersection was just three miles north of 218's south end at US 30.
The east end of 199 and the north end of 287 are equidistant from the confluence of 42 degrees north, 92 degrees west. The confluence, located in the middle of Section 15 of El Dorado Township (T83N-R10W), is about 1.6 miles away from both - in 199's case, 1.5 miles east and .5 mile south on a fence between two fields.
Last seen: 2003

Page created 2/23/02; last updated 1/8/18