(December 1, 1930-July 1, 2003)
NORTH End: Stop sign, US 30/218, Benton County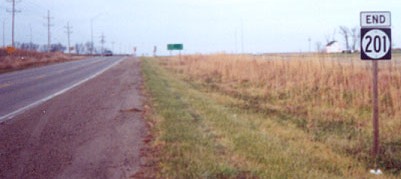 Facing north on 201 (2001)
Photo by Jason Hancock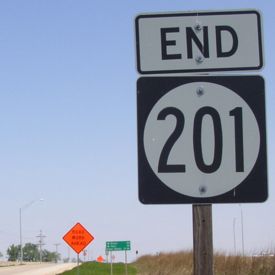 Facing north on 201 (2003)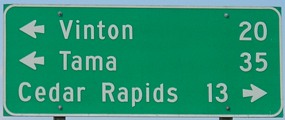 Facing north on 201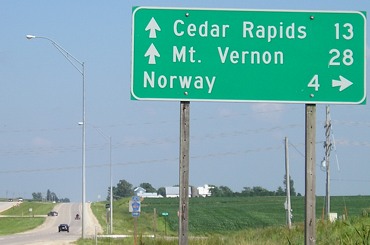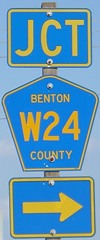 Facing east on 30/218
This is the first appearance of Mount Vernon on an LGS.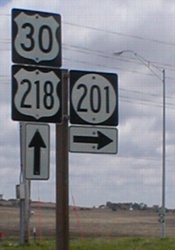 Facing east on 30/218
The first sign for 201 south can be seen on the light pole. This intersection marked the end of the four-lane segment until November 1999.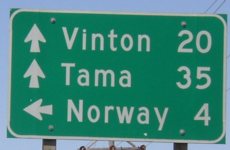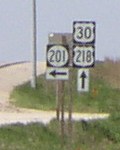 Facing west on 30/218
SOUTH End: South (West) city limits of Norway, Benton County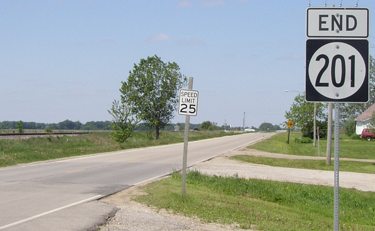 Facing west, but heading south, on 201
Highway 201 turns west to go through Norway, share four blocks with E66, then ends and becomes only E66 between Younglove and Carver streets. This is one of two Benton County spurs that still entered the city limits after 1980 (82 was the other). Ahead and to the right is a diamond that was used for a summer legend known as Norway baseball. (Now a major motion picture! The naked pole that used to hold the first "North 201" shield appears in the background of one scene.)

Facing north on 201
Compare the fonts to 279's LGS.
Point of interest:
Norway's final two state baseball championships, in 1990 and 1991, were both won against other public schools (North Tama and South Clay, respectively). Since then, three public schools have met in the Class 1A championship only twice: North Kossuth over Kee High, 1996; Lenox over Sentral, 2006; and Martensdale-St. Marys over Kee again, 2011.
Last seen: 2003

Pictures by Jason Hancock: First, 12/2/01
Pictures by me: Second and seventh-ninth, 5/20/03; third-fifth, 8/8/09; sixth, 5/25/02
Page created 2/23/02; last updated 5/13/17