(November 9, 1958-July 1, 1990)
NORTH End: Camp Dodge, NW 78th Ave., Johnston, Polk County

Facing north on 401
Photo by Jason Hancock
The north end of 401 was hard to find, Jason says. Maps from that time don't extend to the suburbs, so it wasn't visible. Jason took a picture of the last LGS, which if you look at it makes plenty of sense if it was at the end of a state highway. (See also IA 301.)
Camp Dodge is the headquarters of the Iowa National Guard.
Surrounding area information: Mile marker 4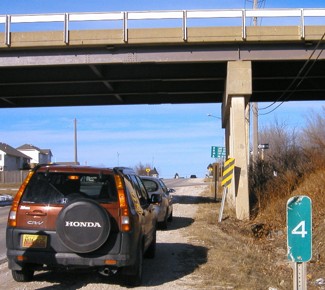 Facing north on 401
This intersection, Merle Hay Road and NW 70th Avenue, isn't an intersection at all. It's a two-lane to two-lane interchange that predates many segments of Iowa's interstates. The LGS in the background is city-standard. This is just south of where Merle Hay runs into NW Beaver Drive. Turning left at the onramp will eventually lead to IA 44 at IA 141. Update: Steven Witmer, planning assistant for the city of Johnston, tells me that the bridge was likely constructed in 1960-61, and in 2005-06, has been removed to make a four-lane Merle Hay Road and at-grade intersection.
The mile marker isn't the only piece of 401 that stuck around into the 21st century. The highway has amazing staying power, popping up in phone book maps and newspaper graphics 16 years after decommissioning. (Mapquest and Street Atlas, on the other hand, removed it, unlike dozens of vintage 1980 spurs.)
North Des Moines beltway?
A document from the DOT's archives shows there was a preliminary interest ca. 1971-72 in building a road that curved from the above Merle Hay Road "interchange" northeast, running across the Saylorville Dam, and then east on Oralabor Road. Its project number indicates it would have been an extension of 401. However, nothing progressed past that study.
SOUTH End: Stoplight, US 6 E/Douglas Ave. and US 6 W/Merle Hay Rd., Des Moines, Polk County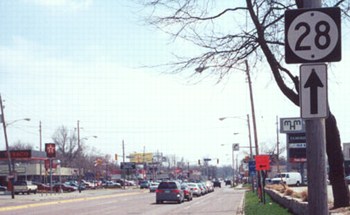 Facing south on 401
Photo by Jason Hancock
The "MHM" behind the 28 sign is for Merle Hay Mall. Both the mall and the north-south street here are named after Merle Hay of Glidden, one of the first Americans to die in World War I.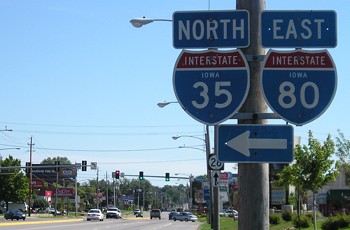 Facing south on 401
These signs are missing a "To" above them - 35 and 80 aren't here, but they can be reached by going either way on 6, really, or turning around for that matter. Another sign for 35/80 is after this one.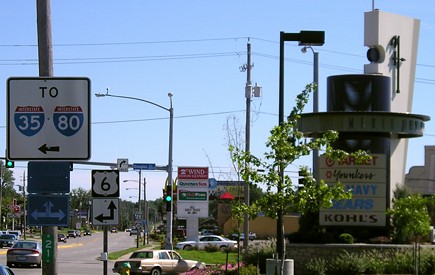 Facing south on 401
In late 2002, the Merle Hay Mall logo was redesigned (with a corner marker that looks like something out of Tomorrowland at Disney World).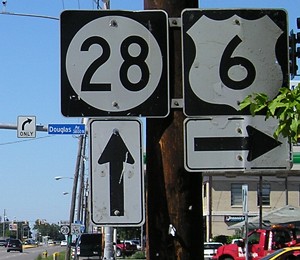 Facing north, but heading east, on 6
When 401 was decommissioned, 28 was extended north, duplexing with 6 until it split to go north to I-35/80 and end there. The east-west part of 6 is on Douglas; the north-south part here is Merle Hay, which 28 continues to follow.

Facing west on 6
Photo by Jason Hancock
Differences between Jason's picture and mine below: 1) The mall sign; 2) The Younkers is now a Target; 3) The far right turn-sign poles and "West 6" marker have been removed (and other poles replaced); 4) The Texaco is now a BP; 5) Gas prices doubled.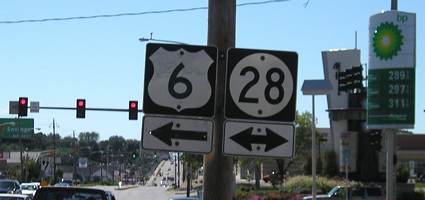 Facing west on 6
Last seen: 1990 (1991 map)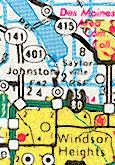 Pictures by Jason Hancock: First and third, April 2002; seventh, September 2002
Pictures by me: Second, 1/19/04; fourth-sixth and eighth, 8/14/06
Page created 1/17/03; last updated 4/18/14