WEST
(and assorted other points of interest)
WEST End: South Dakota state line, 5 mi. NW of Larchwood, Lyon County IA/Minnehaha County SD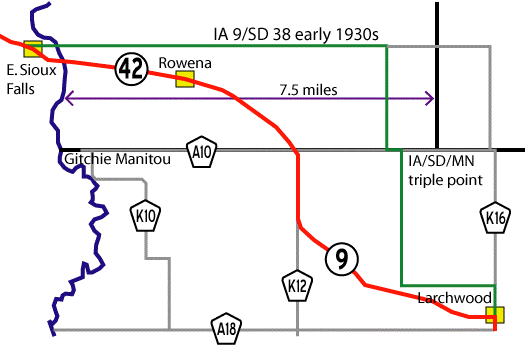 Highway 9 goes into South Dakota, but it goes out of Iowa on the north side! The border with Minnesota is not on or near the Big Sioux, it's about 7.5 miles east. In the map above, paved roads in Iowa are in gray. The original route of IA 9 is in green, drawn to the best of my research; I don't believe it hit the corner. Paved routes are in gray. South Dakota Hwy. 38 went east from Sioux Falls and became 9 until 1994, when SD 42 was extended east from I-29 along SD 38 to the Iowa line.

Facing west on 9, leaving Larchwood (6/25/06)
This sign is indicative of when SD 38 instead of 42 connected to 9 east of Sioux Falls.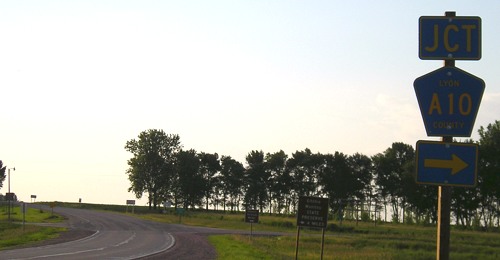 Facing north, but heading west, on 9 (6/25/06)
This is the only indication of A10 at this intersection. It is not signed on the state-line road itself. West of here, Minnehaha County appears to be in charge of the road. The foreground brown sign is for Gitchie Manitou State Preserve (more on that later), and the second is for "Historic Tri-State Marker" (more on that later, too).


Facing northwest, but heading west, on 9/SD 42 (6/18/02)
Photos by Neil Bratney
Just before the state line, 9 turns northwest from heading north. In the background are, in order of travel, the South Dakota sign, the first "West 42" sign (closeup at right), and a reminder of South Dakota's seat belt law.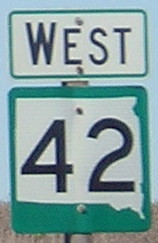 Facing northwest, but heading west, on 9 (9/30/15)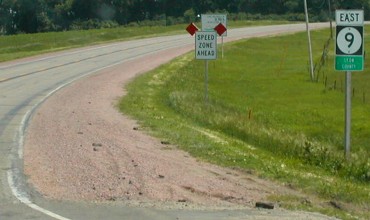 Facing southeast, but heading east, on 9/SD 42 (6/18/02)
Photo by Neil Bratney
The state line is in the foreground where the paved shoulder ends and South Dakota's mile marker on the line ends on a fraction (378.14) - but we're only 78 miles away from the "end" at SD 37; see that section farther down the page. The two-lane speed limit in South Dakota is 65.

Facing southeast, but heading east, on 9 (6/25/06)
Differences between Neil's picture and mine: 1) The new large Lyon County sign; 2) the A10 sign on westbound 9.
This photo is more or less at Latitude 43°30' North - the definition of Iowa's northern border - and a shade west of Longitude 96°30' West, maybe about 2000 feet. The east end of IA 9 is in Lansing at about 43°21'54" N, 91°12'54" W, though 9 does drop to around 43°15' at Forest City. Other notable points in Iowa west of 96°30': US 18 at the state line, the entirety of old IA 403 and the IA 3/12 duplex, IA 3's west end, and the towns of Akron, Westfield, and Chatsworth. (Hawarden, IA 12's north end, and IA 10's west end are just east.)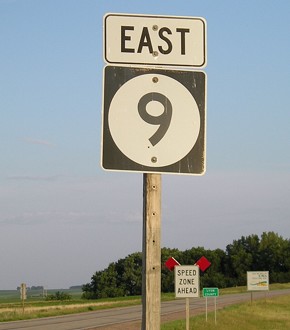 Facing southeast, but heading east, on 9 (6/25/06)
A few years after those pictures were taken, a casino was approved for Lyon County. The area looks like this now:

Facing east on 9 (7/21/12)

Facing east on 9 (7/21/12)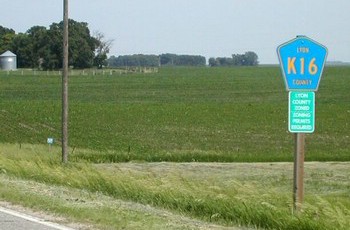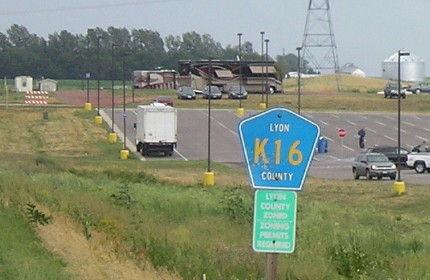 Facing east (6/18/02 and 7/21/12)
Left photo by Neil Bratney
Neil wrote in 2002, "Despite heading due east from the IA 9 border crossing, Lyon Co. K16 is marked like like a North / South route. It goes east four miles along both the Iowa / South Dakota border and the Iowa / Minnesota border before turning south toward Larchwood." This likely explains why there was no sign for A10 in Neil's picture; it was marked as K16 then. As of 2006, there is NO signage along the state line for either A10 or K16.
Surrounding area information: Iowa/Minnesota/South Dakota triple point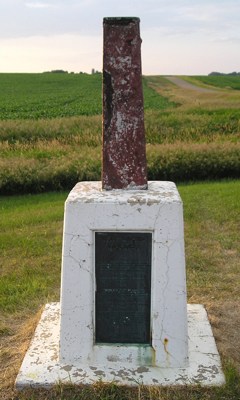 Northwest quadrant of the intersection (South Dakota) (all these)
Pity this marker, for it has been through a lot and it shows. The plaque at the base says it was erected in 1859, removed in the early 1900s after vandalism, reset in 1938, broken by a vehicle in 1979, and "relocated at this site" in 1980. The states' names are stamped on the top part, but are hard to make out.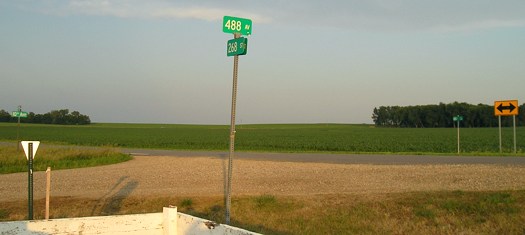 Facing southeast (6/25/06)
Three different states' counties' rural street signs are in this picture. Can you find them?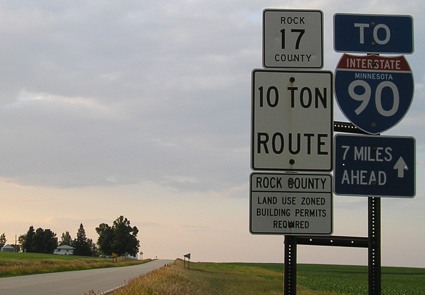 Facing north, one mile east of the marker (6/25/06)
This picture, taken from Iowa, shows the southwesternmost shield for I-90 in Minnesota. To the right, the paved road stradding the state line soon takes a turn south, where the first K16 marker now is. Just over 6 miles ahead, this county road meets old US 16, at the closest point that federal route ever came to Iowa - it will spend a lot of time between about 8 and 14 miles away. About 7 1/2 miles ahead, this county road will meet I-90 and become MN 23.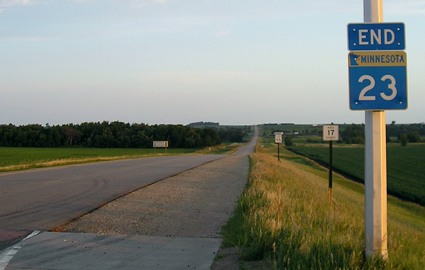 Facing south on 23, 8.5 miles north-northeast of the triple point (6/25/06)
This highway is a long one in Minnesota and even crosses into Wisconsin briefly before ending in Duluth. It's signed east-west, though its north-south distance is nearly as long or possibly longer and I think it would make more sense signed north-south.
Surrounding area information: The northwesternmost point in Iowa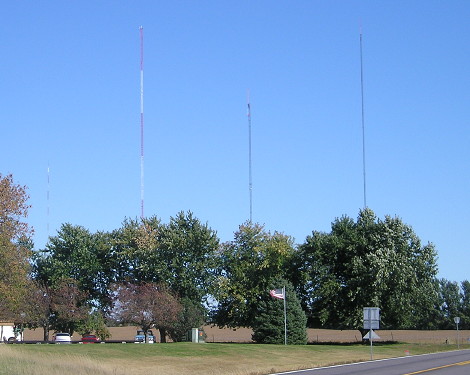 On the north side of the road are towers for the three Sioux Falls TV stations, the tallest structures in South Dakota. (9/30/15)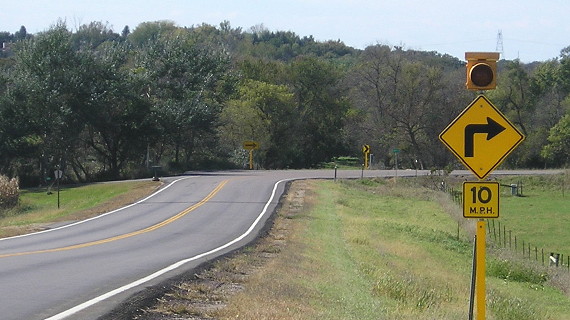 Facing west (9/30/15)
The paved road — which has received a deep covering of new asphalt — approaches Gitchie Manitou State Preserve...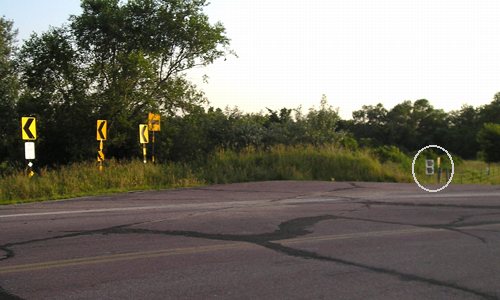 ...and that's as far as we can go by car. Circled are two Iowa DNR markers, which are probably right on the line. The corner, at the Big Sioux River, is half a mile west, but this is as far as the car can go. (6/25/06)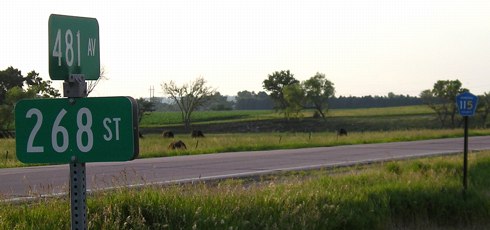 Facing northwest, Minnehaha County signs (6/25/06)
If you take this paved road north, you will run into one of SD 42's two major intersections before Sioux Falls.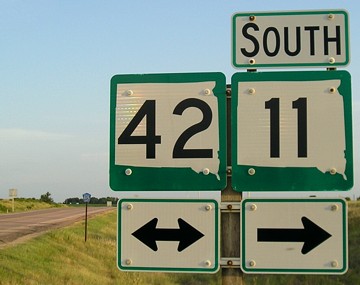 Facing south (6/25/06)
Notice how cleanly the state's outline is marked on these shields. This is not the case with all markers.
South Dakota plans to build a four-lane alignment west of this intersection in the 2010s and rebuild the road eastward to the Iowa border, including a potential Rowena bypass.
WEST End of SD 42: SD 37, 11 mi. S of Mitchell SD, Davison County SD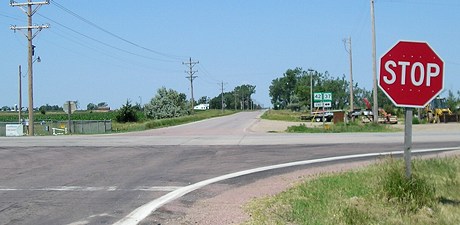 Facing west on 42 (all these 6/27/06)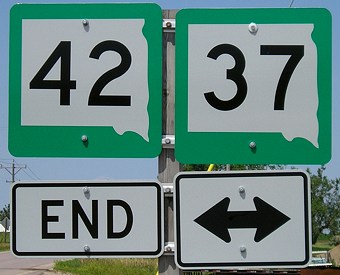 Signs in background, across the highway
With these shields, the eastern border has devolved to a squiggle, and the top, left, and bottom left borders are pure straight lines in relation to the shield and not the state shape. Come on, SDDOT - take pride in your work!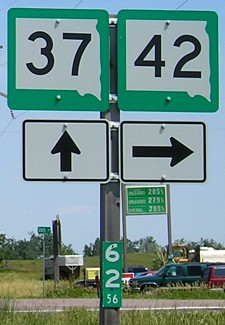 Facing north on 37
A helpful guide here - a milepost with the intersection given in hundredths of a mile. Thus, we are 62.56 miles north of the Nebraska line on 37.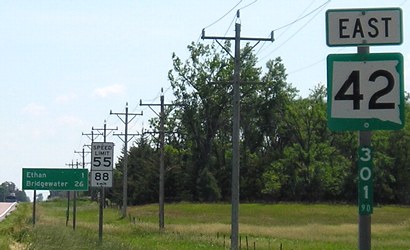 Facing east on 42
A not-so-helpful guide here - 301.90 miles from what, exactly? Further confusing the situation, this is only the beginning of the section of 42 contiguous with IA 9 - there's 6 more "orphan" miles farther west that never connect to this segment. Even including them, that starts the counting at 295, a very strange place to start.
WEST End of SD 38: Business Loop I-90, Mitchell SD, Davison County SD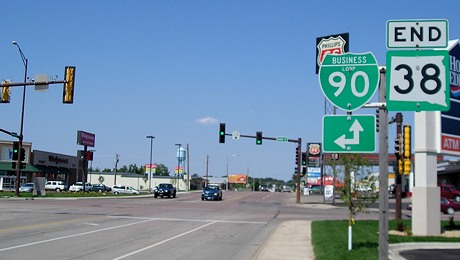 Facing west on 38
Prior to the construction of I-90, 38 ended east of Mitchell at US 16. Prior to the mid-1990s, 38 continued east from Mitchell, running north of 16, to Sioux Falls, where it went southeast through the city and then to Iowa. Today, 38 ends at I-29 and 42 runs straight east-west through downtown before angling southeast to Iowa. (US 16's old route went northeast from near I-229 to Brandon, but changes to SD 11 and the road itself make it harder to find. The Iowa map was slow to reflect 11's reroute south from Brandon to 42, as shown in the Gitchie Manitou photos.)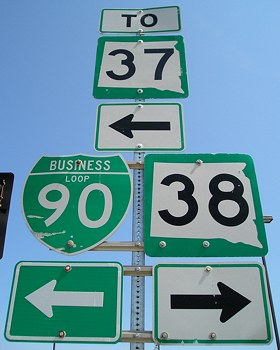 Facing north on Business Loop 90
Behind the camera, the loop goes south to rejoin the interstate. SD 37 used to go through town here but now goes along the west side and joins 90 for a couple of miles.
To the IA 9 East End (with IA 26 South)
Page created 5/6/04; last updated 12/13/16