Old NORTH Iowa line (US 61, 1926-69; US 151, 1938-69): Mississippi River (Eagle Point Bridge), Dubuque IA, Dubuque County IA/Grant County WI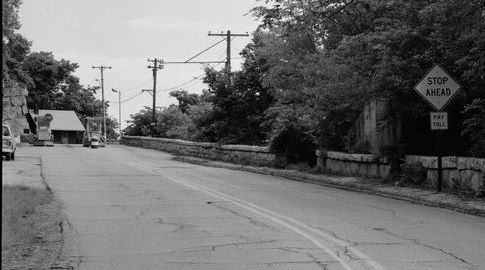 Facing northeast (June 1982)
Library of Congress photo
The Eagle Point Bridge was documented for the Library of Congress shortly before the bridge's 1983 demise. Much of the traffic had been removed from it in May 1969, when US 61 and 151 were rerouted through Illinois and on US 20.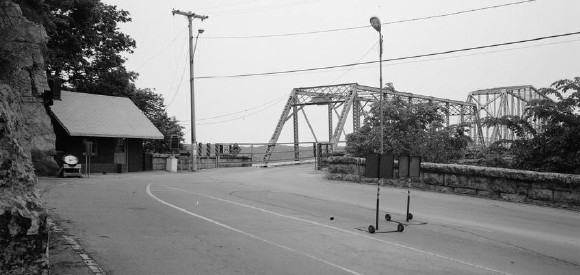 Facing northeast (June 1982)
Library of Congress photo
The road between US 52 and the bridge would remain under state control until 1992.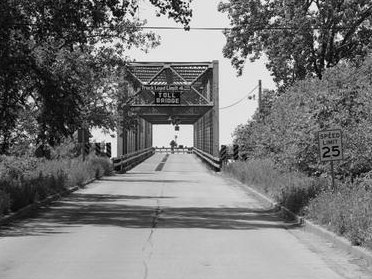 Facing southwest in Wisconsin (June 1982)
Library of Congress photo
For photos of the bridge area on both sides of the river in the 21st century, see John A. Weeks' page.
NORTH Iowa line: Mississippi River (Dubuque-Wisconsin Bridge), Dubuque, Dubuque County IA/Grant County WI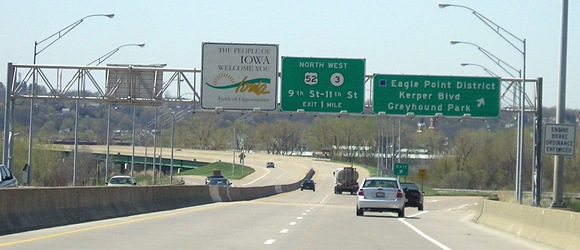 Facing west, but heading south, on 61/151 (4/17/06)
From the bridge's opening on Aug. 21, 1982, until the freeway's extension in the early 1990s, all traffic had to exit here.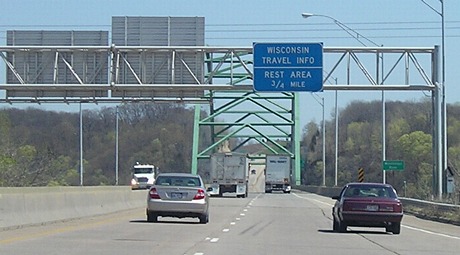 Facing east, but headling north, on 61/151 (4/17/06)
The Wisconsin welcome center advance sign is on the same Iowa-side gantry as the above photo. The welcome center is reached by taking the first exit.
...or at least, it was. In mid-2009, every welcome center in Wisconsin became a casualty of state budget cuts in the "Great Recession." The facility is still open, but now it's just a rest area with some local pamphlets. Tourists are directed to the Platteville Chamber of Commerce in town, which completely defeats the purpose of having a welcome center by the freeway in the first place, not to mention its inaccessibility to US 61 travelers.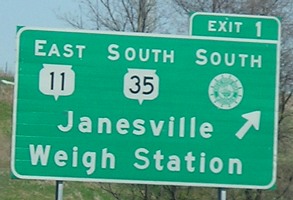 Facing north on 61/151, less than a mile from Iowa (4/17/06)

Facing east on 11 (4/17/06)
If the green car continues straight ahead, it will enter the rest area. This picture is taken leaving the rest area.

Facing east on 11 (4/17/06)
At this interchange, WI 11 begins its trek across the southern edge of Wisconsin, ending in Racine.
Old NORTH Iowa line (1969-82): Julien Dubuque Bridge, Dubuque IA/East Dubuque IL, Dubuque County IA/Jo Daviess County IL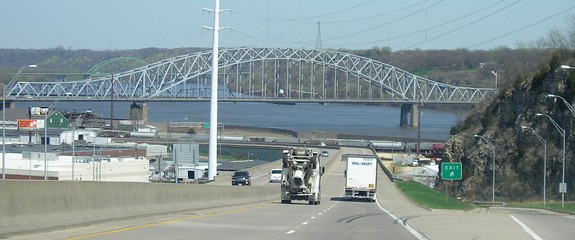 Facing north on 52/61/151 (4/17/06)
For more than a decade, 61 and 151 had a small segment in Illinois as they went east with US 20 and then rejoined their Wisconsin route by using IL 84/WI 80. That's the Julien Dubuque Bridge in the foreground. This side trip to Illinois stopped when the new bridge opened (background), about halfway between the Eagle Point and Julien Dubuque bridges.
SOUTH End (US 151): I-80 exit 225, Iowa County IA
The current and historic south ends of US 151 are on a separate page.
SOUTH Iowa line (US 61, with US 136): Des Moines River bridge, near Keokuk, Lee County IA/Clark County MO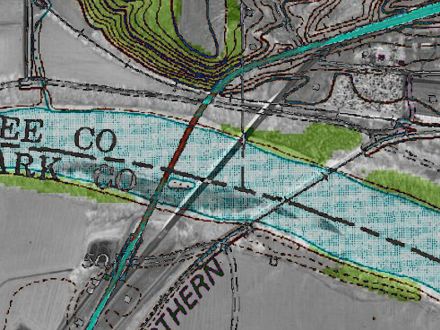 2002 aerial photo and 20-plus-year-old topographic map
This composite marks the positions of the previous and current locations of the bridges into Missouri relative to each other. The one on the left (reddish) is the old bridge, which can only be made out now by a small treeless scar by the river on the Iowa side. The gray line is the present bridge.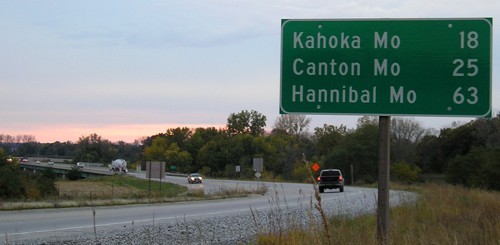 Facing southwest on 61/136 (10/21/05)
It's a close contest, but I believe that this bridge at the state line on the river is the southernmost point of Iowa that is easily accessible by car. For more on this state extreme, see the bottom of the Business US 61 page. There is a road that is south of 136 in Keokuk, but it goes through an industrial area and crosses railroad tracks a couple of times.

Facing southwest, but heading west on 136, and south on 61 (10/25/08)
Facing northeast, but heading north on 61 and east on 136 (10/25/08)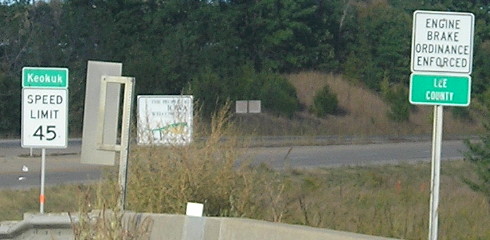 Facing northeast, but heading north on 61 and east on 136 (10/3/15)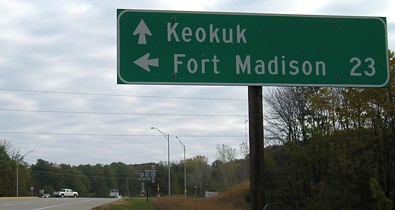 Facing east on 136, but heading north on 61 (10/25/08)
Right after crossing the bridge, US 136 has one of its two major Iowa intersections, as US 61 heads north.
Page created 7/3/06; last updated 3/6/17