SOUTH
For pictures of US 151's north state line entrances in Dubuque, see the US 61 page.
Old SOUTH End (Jan. 1, 1938-1940): 1st Ave. at 1st St. (NW/SW), Cedar Rapids, Linn County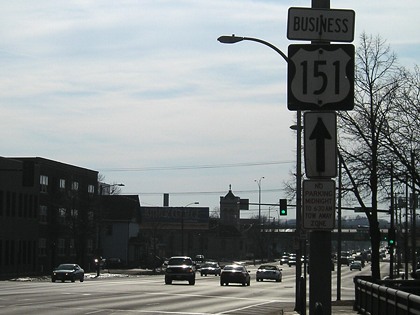 Facing southwest, but heading south, on 151 (now Business 151) (3/12/07)
At the end of the 1930s, US 218 would have been left and ahead; US 30/IA 64 continued ahead. Prior to 2003, IA 94 began to the right (but ended a ways behind the camera; see that page for more).
Through research and old maps, Jason Hancock has identified three intersections as the historic ends of US 151, extended by using the northern half of US 161 in Iowa and US 118 in Wisconsin. On January 1, 1938, US 161 ceased to exist, with its southern half superseded by an extension of US 218. One can only imagine how Iowa's highway history would be changed if instead, 161 had been rerouted to supplant 218 (which until then existed only north of US 30), which would have removed the "polarity problem" of an even-numbered highway running north-south and intersecting its parent in the middle. But judging by documents of the time, the possibility of 151 replacing 218 never appeared to have crossed anyone's mind - the options revolved around Iowa making the most changes. A letter from the Wisconsin State Highway Commission suggested 151 from Cedar Rapids to Manitowoc "solely because present marked 151 apparently constitutes the longest marked link in the route, thus minimizing the new highway marking replacement."
Other options for a odd diagonal running from a then-north end of US 41 in Fond du Lac WI to Cedar Rapids would have been US 251, which would have crossed its parent in Madison; US 261, which would have crossed its parent in Dubuque; or US 741, ending at its parent with a high number because 41 already had many 'children'.
Early in the history of this website, I thought that the end of US 151 was in northeastern Cedar Rapids. Instead, 151 continued across the Cedar River with US 30 in a redundant multiplex to the intersection of 1st Avenue and 1st Street SW, where they would have met US 218. Since the road had been US 161, it would have helped traffic coming north from Iowa City connect to the road going to Dubuque.
Old SOUTH End (1940-Sept. 23, 1981): Williams Blvd. at 16th Ave. SW, Cedar Rapids, Linn County

Facing southwest, but heading south, on 151 (3/12/07)
When 151 was ending here, US 30/218 would have been the cross road and IA 149 would have begun here going south.
Old SOUTH End (Sept. 23, 1981-Sept. 19, 1985): Interchange, US 30/218, Cedar Rapids, Linn County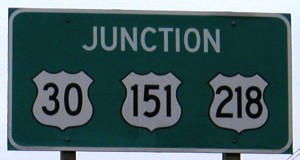 Facing southwest, but heading south, on Business 151 (11/28/03)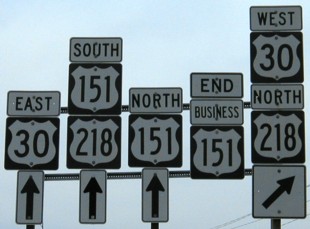 Facing southwest, but heading south, on Business 151 (11/28/03)
For much more information and pictures of these ends, see Jason Hancock's Cedar Rapids Highway History page and photos for the old north ends of IA 149 and south end of IA 922 (Business 151). The southernmost pre-1981 portion of 151 that's still 151 today runs eastward from the intersection with IA 13 in Marion, and then whatever remains after multiple straightenings, bypasses and four-lanings later.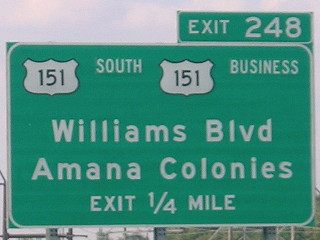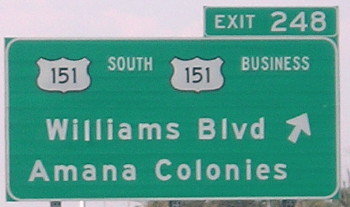 Facing west on 30, but heading south on 151, but heading north on 218 (9/28/14)
SOUTH End (since Sept. 19, 1985): I-80 exit 225, Iowa County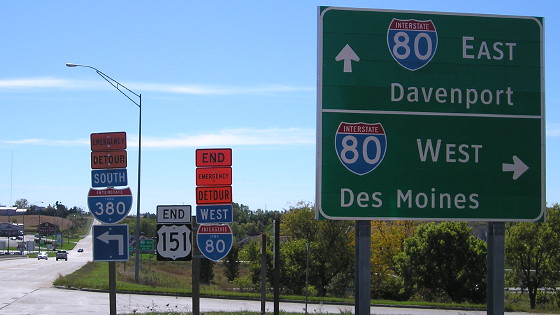 Facing south on 151 (10/7/13)
The standardization/genericization of interstate interchange signs in Iowa resulted in a whole new set of signs for 151's end.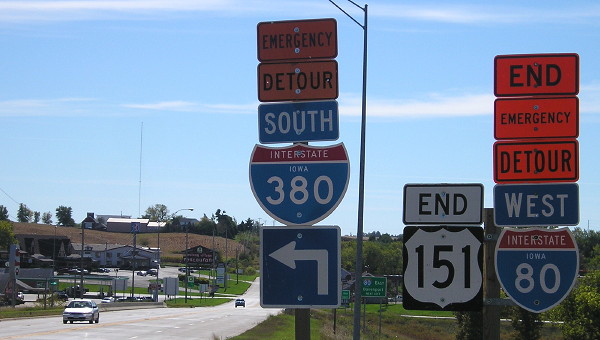 Closeup of signs in above picture (10/7/13)
Not all the highways that ended at four-lane roads were/will be lucky enough to keep signs to that effect; the inclusion of an "emergency detour" for I-80 may have aided that.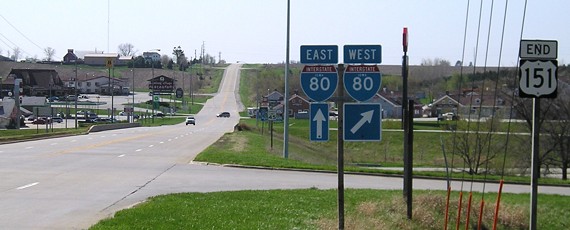 Facing south on 151 (7/15/06)
This has been the south end of US 151 since 1985, the fulfillment of a long-running proposal to get the Amana Colonies a more direct paved connection to I-80. Before that, a gravel road extended north of here, and the Williamsburg exit was the best way to get to the Amanas.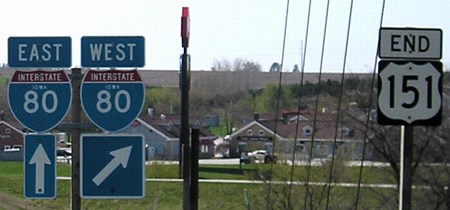 Closeup of signage (7/15/06)
The development in the background is "Little Amana," the interstate gateway to the German villages. This is similar to what happened in 1860, when the Amana Society purchased the village of Homestead in order to have a depot on the railroad; later, US Highway 6 followed the railroad along the south side of the colonies. A century and a quarter after Homestead, the Amanas once again had a connecttion to the major transportation network for the United States.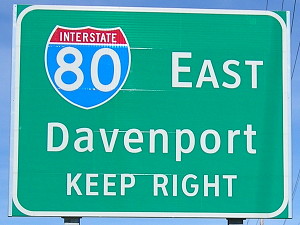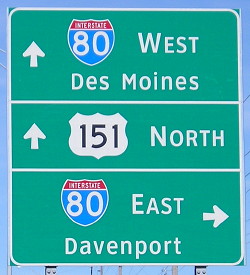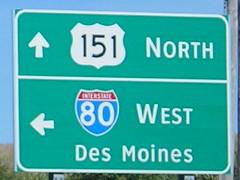 Facing north on 151 (10/7/13)
These signs replace the ones seen below.

Facing north on 151 (4/9/04)
This is the first 151 sign heading north, with no "Jct 80/Jct 151" behind here. I'm not sure what's up with the number positions on the 80 shields.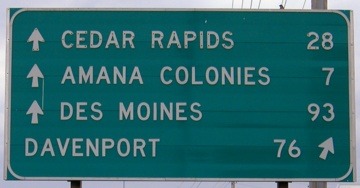 Facing north on 151 (4/9/04)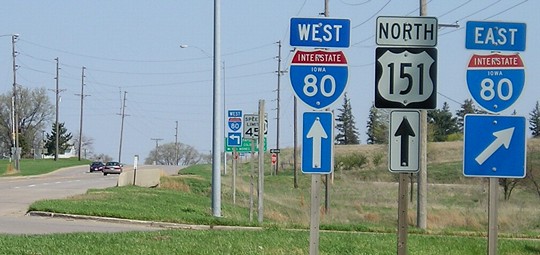 Facing north on 151 (4/18/06)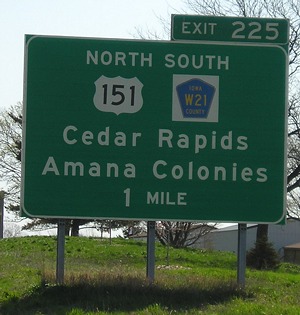 Facing east on 80 (4/18/06)
Westbound signage doesn't include Cedar Rapids. In 2005, W21's pavement was extended farther south (it originally went to gravel a mile south of the interchange).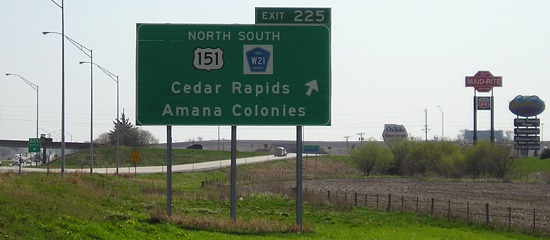 Facing east on 80 (4/18/06)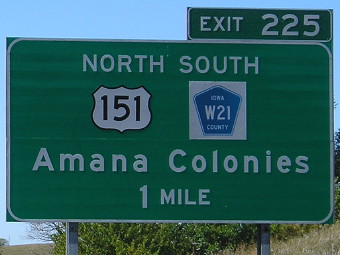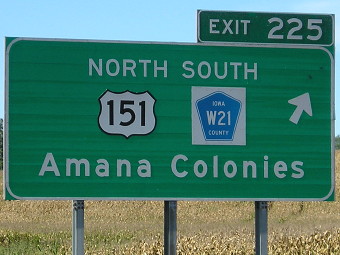 Facing west on 80 (10/7/13)
All pictures by me: First and second, 3/12/07; Third-fifth, 7/15/06; sixth, seventh, and tenth-twelfth 4/18/06; eighth and ninth, 4/9/04
Page created 5/5/06; last updated 4/15/07