BUSINESS
NORTH End: Direct merge into US 218, Henry County
Compare the signs below to their earlier versions in the same location on the IA 438 page.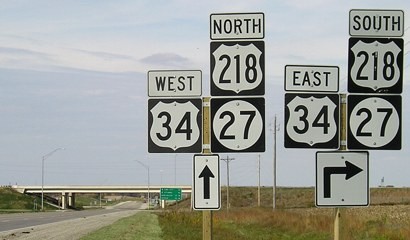 Facing north on Business 218
These signs (minus a "West 34") used to be all on separate poles. Nice to seem a limited return of brackets.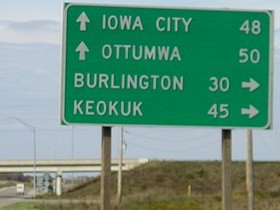 Facing north on Business 218
What may be surprising is that despite being so far southeast, Iowa City is only marginally farther away from this point than Keokuk.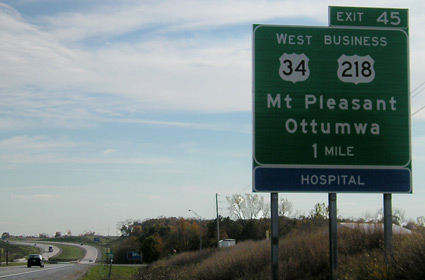 Facing south on 218/27
OK, so in 2001 the DOT posts a "34 West / Mt Pleasant / Ottumwa" sign, even though getting to 34 west involved using old 218 to the four-way stop since there was no bypass. Then in 2005, when the 34 bypass was completed, they replaced either the entire sign or the top half of it, negating the first sign's existence. (If they knew the sign would be replaced, why not just make a simple "Mt Pleasant 1 mile" BGS?) Then, in 2010, the 34 shield was covered up with smaller shields for 34 and IA 163.
This sign is also evidence in my dislike for Butt-Ugly Kansas-Style Signage: It's inconsistent! Notice how "Business" does not have a bigger first letter.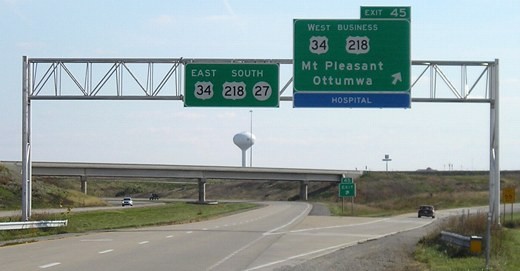 Facing south on 218 (2005)
The "East 34" had been on the left side ever since the gantry was put up.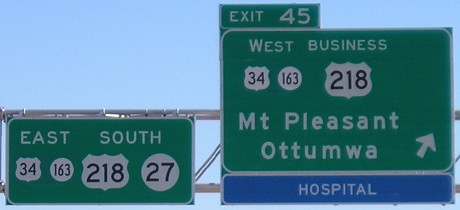 Facing south on 218 (2010)
...and then this happened.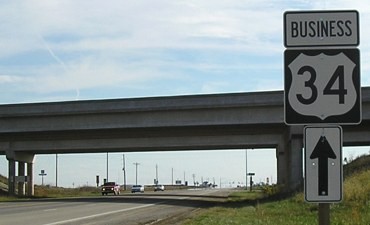 Facing south on Business 218
Uh, oops. As a "Business 218" this sign, just north of the 34 bridges, would work out very well as the first sign. As a "Business 34," though, it's mighty lost. Business 34 is 2 miles to the south.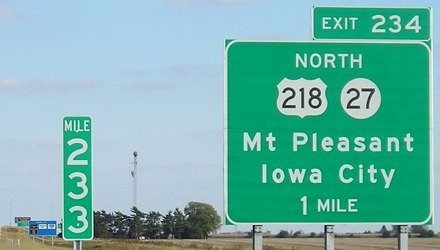 Facing east on 34
Exiting on eastbound 34 does not take you directly to 218. Instead, you must turn left, onto the last piece of old/Business 218, which then merges into northbound 218/27. See the IA 438 page for an overview.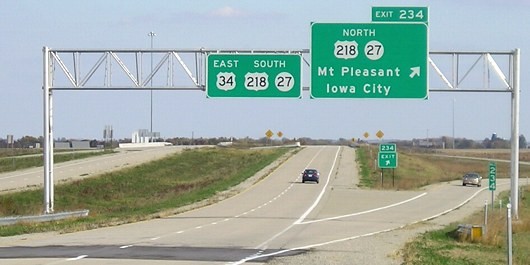 Facing east on 34
The 34 bypass crosses over old 218 and then merges into 218/27. There is also an exit from westbound 34 to the business route, 34 traffic having just come off 218/27.
SOUTH End: Interchange, US 34/IA 163 and US 218/IA 27, Mount Pleasant, Henry County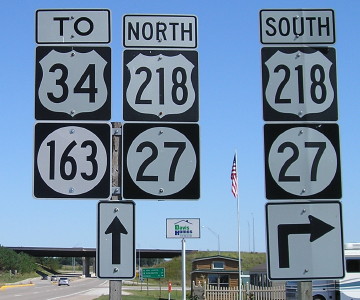 Facing east on Business 34, but heading south on Business 218
Instead of continuing to the south end of Mount Pleasant, Business 218 heads east with Business 34 for a bit to end at the same interchange. As of October 2005, however, neither business route was signed at the most important point in the routes, the four-way stop that was the old 34/218 intersection.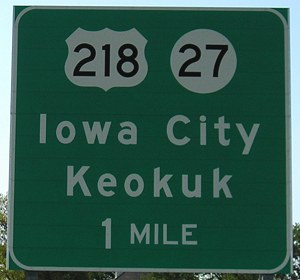 Facing west on 34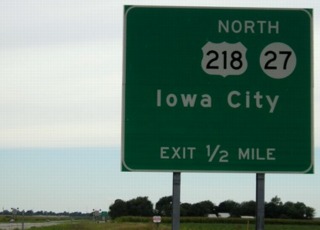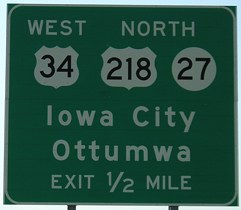 Facing west on 34 (2005 / 2008)
The left picture was taken in August 2005 the day before the bypass opened.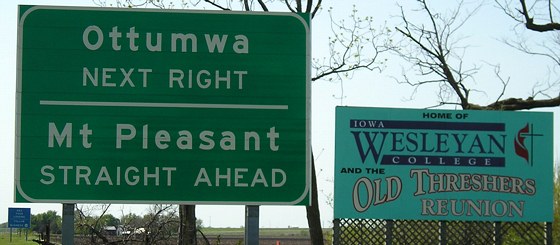 Facing west on 34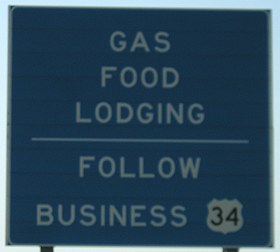 Facing west on 34
Perhaps because this is on 34, Business 218 is not mentioned although it could be.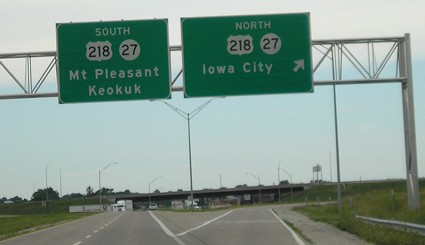 Facing west on 34 (August 2005)
The below picture a few months later shows the left sign replaced with two others.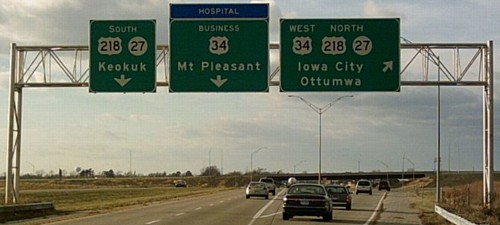 Facing west on 34 (November 2005)
Photo by Jason Hancock
Although Business 218 also begins ahead, there is no mention of it on 34.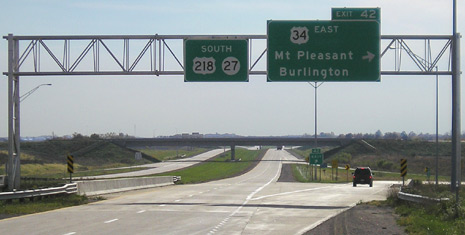 Facing south on 34/218 (2005 / 2010)
Unlike the northbound sign (see below), there was enough space to put standard-size 34 and 163 markers next to each other, but it didn't happen.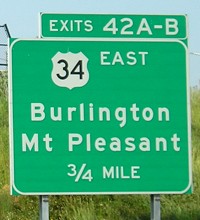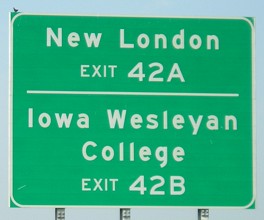 Facing north on 218/27
Now that US 34 is on the route, there are mile markers for BOTH 34 and 218 between the two exits. I don't know how long this situation will last. I would prefer that the exits would retain US 218's numbers, even if 34's mile markers end up the only ones on the route, like the situation on the New Hampton bypass.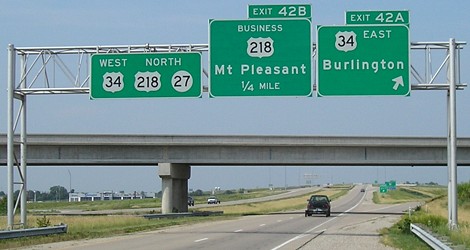 Facing north on 218/27 (2006)
This sign is the first mention of Business 218 on northbound 218. A 34 shield could have been put in the middle sign and the top "Business" could be used for both at once.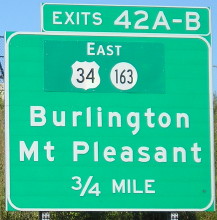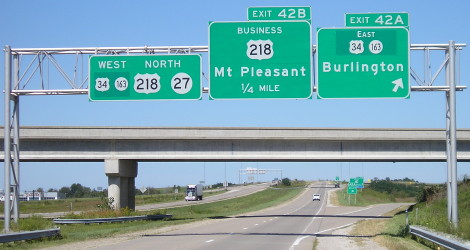 Facing north on 218/27 (2010)
Instead of adding Business 34, we get green-outs with IA 163.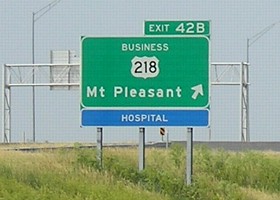 Facing north on 218/27, as seen from the offramp to EB 34
Just as Business 218 isn't signed from 34, Business 34 isn't signed from 218.
Sixteenth picture by Jason Hancock: 11/23/05
Pictures by me: First-fourth and sixth-eighth, 10/21/05; fifth, ninth, 18th, 22nd, and 23rd, 9/8/10; 11th and 15th, 8/14/05; 10th and 12th-14th, 5/12/08; 19th-21st, and 24th, 6/16/06
Page created 2/12/06; last updated 11/3/11