BUSINESS
WEST End: Interchange, US 34/IA 163, Jefferson County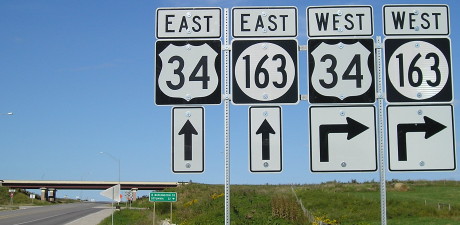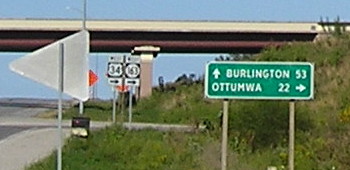 Facing west on Business 34 (9/8/10)
The Fairfield bypass was the last link to be completed in the long-planned four-lane from Des Moines to Burlington. At the west end of the business route, new 34 crosses over old 34 and then curves back west to rejoin the old route west of the Libertyville corner (north end of old IA 303).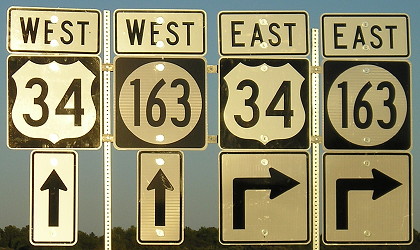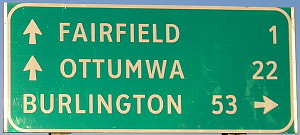 Facing east on old 34 (9/7/10)
The segment of old 34 between the interchange and where 34 rejoins the previous route is in kind of a limbo. It doesn't have a business designation, nor does it have a county road number. The business route isn't signed until after the road crosses under 34.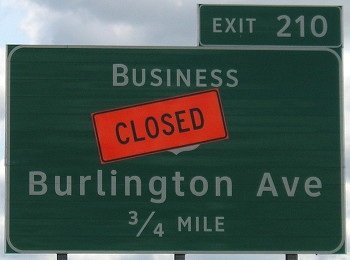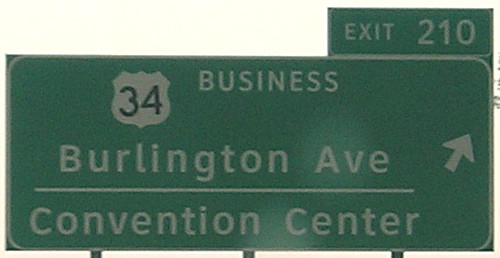 Facing southeast, but heading east, on 34 (9/26/13 and 8/31/09) (photos have been adjusted for color)
Originally, the BGSs at the west end of Business 34 only said the Fairfield street name; sometime in 2013 they were remade to add "Convention Center". The left BGS was put up before a bridge on old 34 was replaced, so the sign ended up being functional for less than five years!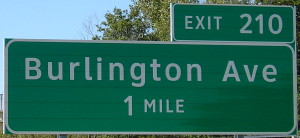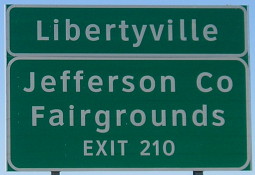 Facing west on 34 (9/8/10)
As is customary with Iowa business routes, the designation is NOT included on signs on the "other end" of the route once you pass the city.
EAST End: Interchange, US 34/IA 163, Jefferson County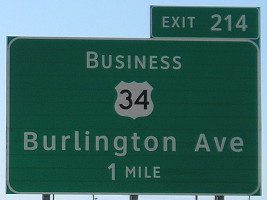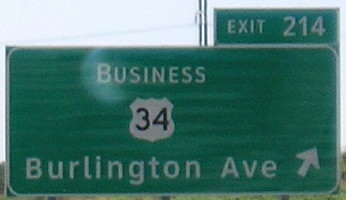 Facing west on 34 (9/7/10)
The exit signs imply the two ends of the business route are about four miles apart. This is a horrible lie. A bypass inherently is almost always longer than the road it is intended to replace, and in Farfield's case, it's a LOT longer.
In fact, with the dips and curves and deviations that the expressway/freeway takes from the two-lane - that is, its route circa 1995 - the mileposts and exit numbers are vague guidelines at best. (And I'm sure the mileage log is just as funky.) In an ideal world, upon completion of the expressway, they would have at least taken the reading from the east end of the Ottumwa business route and measured anew all the way to Burlington. (It still wouldn't be perfect for 34 as a whole because of realignments on the west end of the state, but it would help out the east.)
Page created 11/3/11; last updated 2/16/14