NORTH End: Stop sign/T intersection, US 2, Bayfield County WI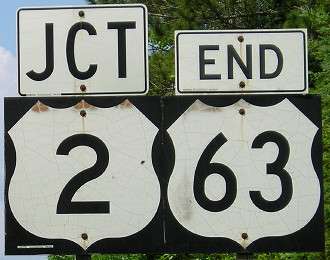 Facing north on 63 (all pictures 7/15/13)
US 63 originally never made it to Wisconsin or Minnesota. In Oskaloosa IA, 63 turned northwest to end in Des Moines at an old route of US 6. In late 1934, 63 was rerouted on IA 59, making its way through Waterloo IA and Rochester MN and crossing US 61 and 53 in Wisconsin (which also created a numbering violation). See the US 163 page for more info.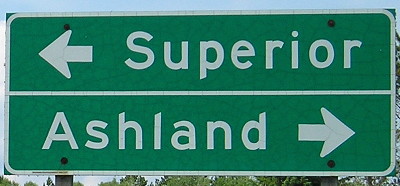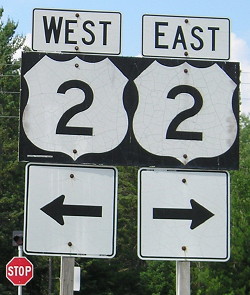 Facing north on 63
Facing north on 63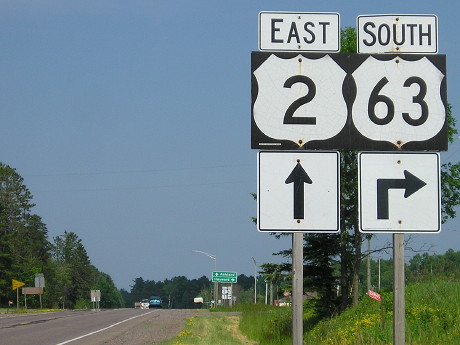 Facing east on 2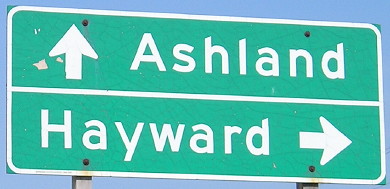 Facing east on 2

Facing east on 2
Old SOUTH End: I-55 exit 23B, near Gilmore, Crittenden County AR
(scroll down for pictures)
Seeing any highway manipulated and twisted to serve an ulterior motive is bad (e.g. I-69). Seeing it happen to my favorite highway is even worse. Until 1999, 63's general route was best symbolized by a sweeping arc, with its points at either end. Then Arkansas decided to extend it, as a press release dated November 8, 1999 shows:
LITTLE ROCK (11-8) ­ Portions of several Arkansas highways will be receiving a new designation, according to Arkansas Highway Commission Vice Chairman John "M" Lipton of Warren.

U.S. Highway 63, which presently enters the state from Missouri at Mammoth Springs and ends in West Memphis, is being extended from West Memphis to near Ruston, Louisiana.

From West Memphis, the route of U.S. Highway 63 will run concurrently with I-40 west to Highway 11 near Hazen. The U.S. 63 designation will then follow Highway 11 to Stuttgart where it will join U.S. Highway 79 southwestward to near Altheimer. From that point, U.S. 63 will follow existing Highway 15 to El Dorado where it will join U.S. Highway 167 into Louisiana.

"This designation will provide a continuous route from Interstate 55 at West Memphis to Interstate 20 near Ruston, Louisiana," Lipton noted. "This will link the towns of Hazen, Stuttgart, Pine Bluff, Warren, El Dorado and Ruston on a single U.S. Highway," he added.

The Arkansas State Highway and Transportation Department made a joint application with the Louisiana Department of Transportation requesting the designation in August of this year. The Route Numbering Committee of the American Association of State Highway and Transportation Officials considered the request at its October meeting in Tulsa, Oklahoma and recently notified both Departments of the approval.

"This route is yet another artery for commerce and economic development in southeast Arkansas," Lipton noted. "I'm very pleased that our request was accepted. It is a logical addition to the U.S. highway system."
A logical addition?!?
First of all, if 63 did indeed end at West Memphis, Arkansas certainly didn't show it. As the pictures below show, signage for 63 STOPS at the I-55 interchange. PERIOD. No signs indicated 63 continuing south. Finally, the extension is anything but logical. For 63's entire original route in Arkansas, it was northwest-to-southeast, angling toward Memphis.
Let's review what the new route does: It duplexes with I-55 for 16 miles and then I-40 for 103 more - unsigned. The 119 miles without a mention of 63 is longer than 63's entire route in Minnesota! Then it goes southwest, entirely against the original orientation, crosses US 65 (a numbering violation) and getting redundantly multiplexed with US 167 south of El Dorado to I-20. There is no other accurate way to explain this convoluted routing than to say, really, that an entirely new 63 has been created. Rand McNally signs it better than Arkansas does.
A far more acceptable solution, although equally far from perfect, would be removing the 63 designation south of Jonesboro (the rest, after a decade of construction and cajoling, became I-555), and reroute 63 along US 49 and US 70, the latter paralleling I-40. Maybe then it would get some recognition. Remember, 63 is not signed at all along I-40 or I-55. Not on shields along the shoulder, not on any BGSs in West Memphis. Oh, and by the way, the Memphis map on the back of the 2001 Tennessee map still shows US 63 crossing the Mississippi into the city. (The announcement designating I-555 was the first ARDOT press release in 2001, dated January 10.)
Here are some maps to help you understand the status of 63 at its historical ends near I-55. (With help from Street Atlas)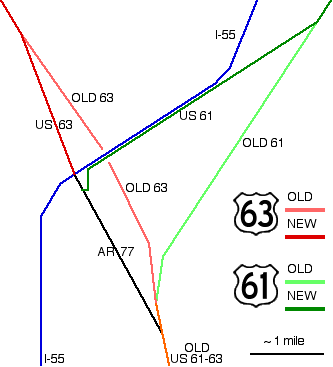 As the colors above indicated, US 63 went a little more southwest before, continuing on what is now part of AR 77 before meeting up with (old) US 61 in Turrell and continuing (signed, I assume) into Memphis. As you can see, 61 has been rerouted a bit too, leaving I-55 and heading for a time on what is essentially a frontage road before going its own way again. Oh, I guess Arkansas forgot to tell you - US 61 is on I-55 south of this point too! And guess what - it's even more poorly signed, as in, not at all! Not even on BGSs at the interchange (see below). US 61 is also unsigned for its southernmost 23 miles in Arkansas; past its crossing from Tennessee you might think it vanished completely. The part of old 61 that paralleled I-55 is now the southern part of AR 77.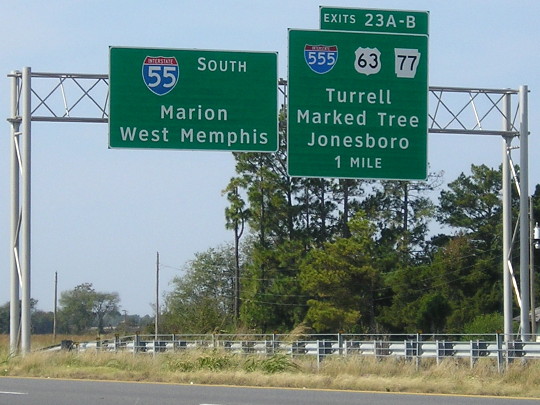 Facing south on 55 (10/19/16)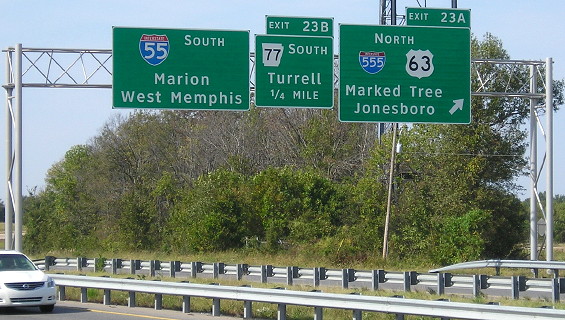 Facing south on 55 (10/19/16)
These pictures were actually taken from southbound US 61, the dark green line in the diagram above. The second exit, for AR 77, should say "North 61 South 77 Turrell."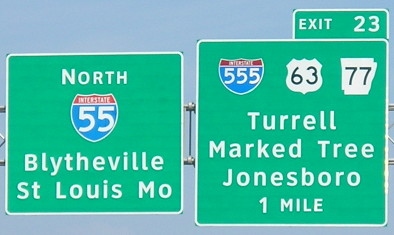 Facing north on 55 (10/19/16)
Even new BGSs put up at this interchange, after its upgrade, don't have any markers for US 61. Additional recent photos are on AARoads' site.
An enlarged view of I-55 exit 23 (as it looked in 2001) is below. The colored dots correspond to the pictures below, with arrows in the picture's direction. Light blue lines are ramps. Gray lines are frontage roads that parallel the freeway on both sides. For a while, 61 and 77 are frontage roads north of the interchange. The biggest difference today is a flyover ramp from northbound I-55 to northbound I-555 and the removal of a turn from northbound AR 77/US 61 to southbound I-55.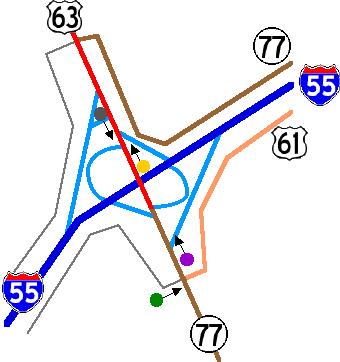 Pictures work northeast, then northwest, then back southeast.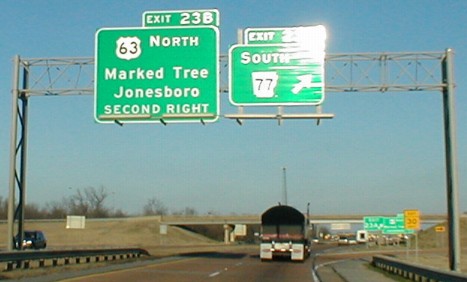 Facing north on 55, about where gray frontage road on south side turns to parallel 77 (12/29/01)
The signs in 2001 were somewhat recent, given that they display Butt-Ugly Kansas-Style signage (larger first letter). I seem to recall in 1994, when we traveled this path as well, that 61 was signed here, but that memory's pretty foggy.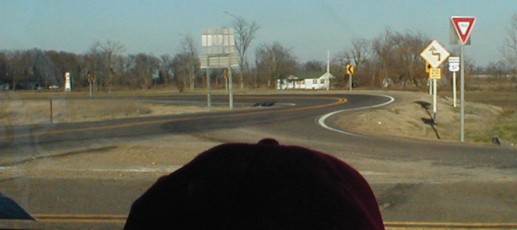 GREEN DOT: Facing north on the offramp for 77 south (12/29/01)
Ignoring the hat in front, you can see the ONLY sign for US 61 I saw at the interchange, on 61 itself, just below the yield sign. I'm inclined, given the shoddy signage so prevalent, to think the signs on 61 that we see the backs of are for (our left to right) US 63 north, To I-55, and AR 77 south. That arrangement changed after I-555 came to town: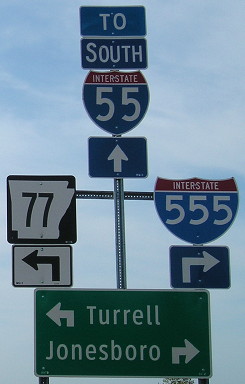 Facing south on 61 (10/19/16)
This is the current version of the assembly with its back to us in the 2001 picture. Here, US 61 disappears, and 63 isn't mentioned. In order to get to southbound 55 now — which, technically, also includes continuing south on 61 — you have to take a service road two miles south and get on at the AR 42 exit. Northbound 63 is to the right, with I-555.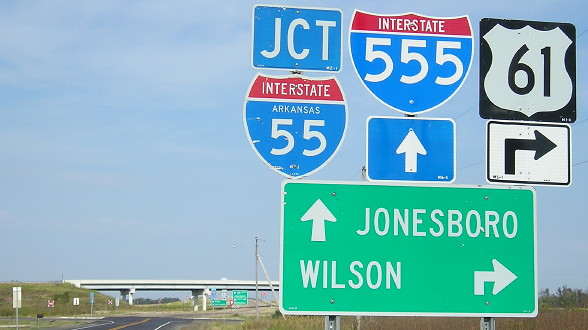 Facing northwest on 77 (soon-to-be 63) (10/19/16)
The flyover ramp is new, part of I-55 to I-555.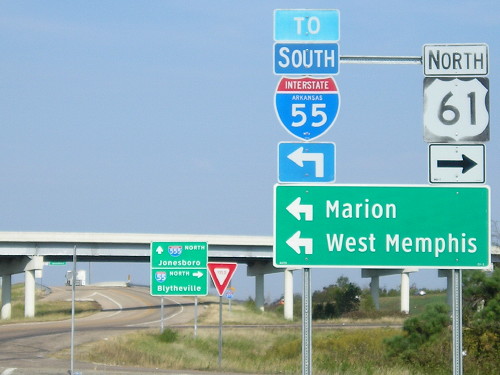 Facing northwest on 77 (soon-to-be 63) (10/19/16)

PURPLE DOT: Facing northwest on 77 (12/29/01)
Notice that there is NO signage for 63 south - an enlargement of the sign at right is below (forgive the fuzziness).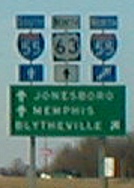 Closeup of sign in above picture (Jonesboro, Memphis, Blytheville) (12/29/01)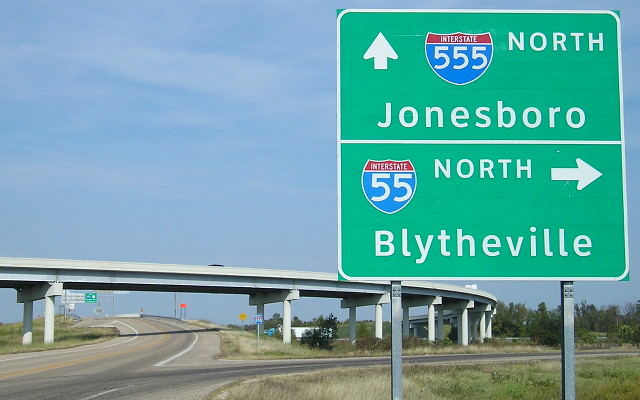 PURPLE DOT: Facing northwest on 77 (10/19/16)
This is the equivalent of that 2001 sign set. What little signage there was for US 63 is gone except for the BGS seen below.
Facing northwest on I-555, US 63, and AR 77 (10/19/16)
This unorthodox two-way bridge over the interstate probably flies under AASHTO requirements because neither the flyover ramp from nortbound I-55 nor the exit from southbound I-55 have merged yet. That means the interstate-to-interstate access is still fully controlled. But to get that controlled access, a left turn had to be eliminated.

YELLOW DOT: Facing northwest on 63 (12/29/01)
This is what you saw after you cross the bridge; this turn is gone. Whether we are really "on" 63 yet is sort of negligible; traffic going south on 63 will turn on the ramp to Memphis ahead of us, but traffic coming north came off the I-55 inner cloverleaf loop (also since eliminated) and is traveling where we are. What's missing? Everyone together now: Signs for 63 south!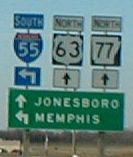 Slight enlargement of sign in above picture - Memphis ramp is the left turn where the car ahead of us is in the above picture. (12/29/01)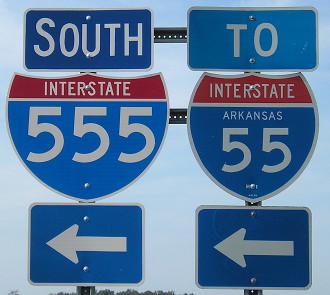 Facing west-ish (10/19/16)
This is the ramp at the Gilmore exit. Sadly, the new I-555 shields do not include the state name. Southbound 63 is omitted, and it's possible that ALL 63 shields at interchanges have been replaced, instead of supplanted, by I-555 shields all the way to Jonesboro because Arkansas is like that.
Facing southeast, but heading south, on 555 (10/19/16)
Closeup of bottom of above picture (10/19/16)
This was the only shield for 63 not on a BGS that I saw in the entire area. But you wouldn't know where 63 goes next, because there's no indication that it goes south with I-55.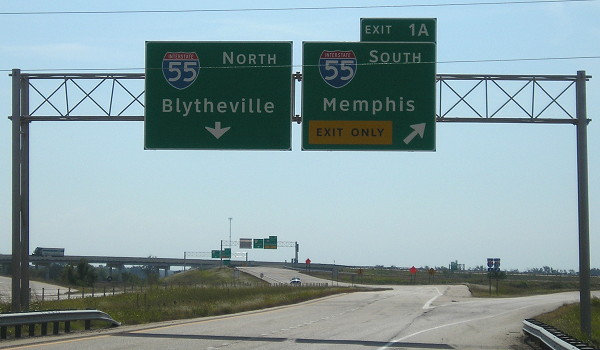 Facing southeast, but heading south, on 555 (10/19/16)
And the picture you've been waiting for...
doesn't exist. There is no remnant of an "End 63" sign. There probably wasn't ever an "End 63" sign here. This is the best I can do, traveling on the last few hundred feet of 63 until 1999:

GRAY DOT: Facing south on 63 (12/29/01)
The white semi is on the bridge, right about where 63 used to end...and still should. These roads will have to be retooled before this road gets a final I-55 designation.
SOUTH End: I-20 exit 85, near Ruston, Lincoln County LA
Anything I want to say about this end I already have.
To Dale Sanderson's US 63 page
Page created 4/11/02; last updated 7/17/17