Iowa's 1968 Highway Plan
(or, The Highways of Today … Yesterday)
With about 65% of Iowa's original interstate system open to traffic at the end of 1967, the Highway Commission looked to the future. Planners envisioned upgrading the state's major routes to four-lane corridors. Some had already been sketched out in late 1964, but the plans laid out in February 1968 would be the blueprint for the next 40 years of construction, with a few changes along the way. The 1964 plan labled each route with an "F" designation, F1 through F5. In the 1968 plan, controlled-access freeways were given a "5XX" designation while expressways were labeled with the existing number. Maps of the expressway plans often skipped the current alignments altogether, instead going between section lines a few miles to one side of the two-lane.
Many of the roads in the plan ended up being built in the 15-year period of 1993 to 2008, but some were axed circa 2001 out of budget fears and only a few were restored later in the decade. Those that were built stuck with the two-lane alignments (now carrying two lanes in one direction) much more often than the original plan had laid out.
1964 Corridor F1
A proto-"Avenue of the Saints" decades before the phrase was conceived. It could be split into three segments: A southern segment following US 61 from Fort Madison to Muscatine and then due north to I-80; a central segment from Iowa City to Cedar Rapids following US 218 and then heading northwest and north mostly following IA 150 to Independence via Urbana; and a northern segment from Waterloo to Garner (where I-35 was originally expected to pass), following US 218 and US 18. This was revised into Freeway 518, though much of the eastern alignment of the southern segment was revived after 1968 as upgrading US 61.
Only F1 was substantially different from what was included in 1968. The following roads are all from that year's plan, in numerical order by freeway and expressway.
Freeway 500
The idea: Corridor F3, an eastern bypass of Des Moines. A southern bypass was the westernmost part of Freeway 592.
What happened: Absolutely nothing until the 1990s. Finally, on a path that wasn't quite as straight as the initial sketches, the Des Moines "beltway" was completed in 2002 as relocated US 65 and IA 5. (It's somewhat interesting that there has never been a single numerical designation for the beltway, though its pieces easily function as one unit.)
Forty years later: Done. Why the original designation was 500 instead of 565 is unknown, since the rest of the designations included two numbers of the road it was expected to carry.
Freeway 518
The idea: Though the number was based on US 218, it followed some other roads. From Keokuk to IA 2 it followed US 61, with a short expressway connection to Fort Madison, but then continued north near County Road X23 to New London, then west to Mount Pleasant along US 34. Mount Pleasant would be bypassed to the southwest.
From Mount Pleasant, it went north along US 218 to Cedar Rapids, then northwest along today's I-380 corridor to Urbana, where it split. The 518 designation was applied to IA 150 running north to Independence, while 518A was for the future I-380 diagonal, as there was doubt about whether the state would be allowed to construct a diagonal highway. Either way, 518 joined Freeway 520 westward to Cedar Falls.
At Cedar Falls, 518 split from 520 at the same point an IA 330 expressway would come up from Des Moines, right about where northbound IA 58/27 splits from 20 today. The basemap shows 518 going due north and then due west to Mason City, following County Road V14 closer than US 63 or 218.
What happened: The first part of Freeway 518 to be built became I-380, diagonal included, in the 1970s and early 1980s. But once the four-lane was extended south to IA 22 in 1985, nearly nothing happened for a decade. In 1988, the DOT did a study of the US 18/218 corridor from Clear Lake to Waterloo, with plans for a four-lane to Waverly already figured in.
Then, in the early 1990s, interest began to be revived under the "Avenue of the Saints" idea to connect St. Louis and St. Paul via four-lane roads. After considering US 63 and 52 between Waterloo and St. Paul, US 18/218 was chosen to be the route. In 1993 and 1995, and then every year from 1997 to 2006, four-lane segments gradually opened to traffic.
Forty years later: It has been constructed, but with at-grade intersections instead of as a controlled-access freeway.
Freeway 520
The idea: Corridor F2 in the 1964 plan, Highway 20 has been a candidate for four-lane improvement in Iowa for more than half of its entire life.
What happened: When a new four-lane opened between Sioux City and Moville in 1964, no one could have imagined that that would be it in western Iowa for four decades (apart from the Sioux City bypass). Central and eastern Iowa fared better in that the road has actually been built. As far back as the mid-1970s, the DOT did studies for a new route through the Iowa River Greenbelt, but shelved them.
The road between Waterloo and Dubuque was built off and on between 1974 and 1986. Webster City had a four-lane connection to I-35 by 1976, but Fort Dodge had to wait until 1990. In 2000, the "easy part" of the remaining segment between I-35 and Waterloo opened, and then three years later, in part with the help of a new bridge-building technique, the environmentally sensitive segment through the Greenbelt finally opened.
Forty years later: A projected completion date of 2015 is the optimistic end, with 2025 being more realistic. A new alignment between IA 4 and the current end of the four-lane near Moville is projected for 2010, but there has been waffling as to whether two or four lanes will be open. At this rate, those who gathered to celebrate new 20 in 1964 could have been told that their great-grandchildren will not be able to drive on a four-lane road between Sioux City and Fort Dodge.
Proponents have argued that completing 20 would help take traffic off I-80, but the only state slower at improving Highway 20 than Iowa has been Illinois, where it's still two lanes from northwest of Galena to Freeport, and Dubuque stoplights will remain in the way.
A sketched-out line for 520 goes straight east from Peosta to the Mississippi River, but given the topography of the area, it will remain just a line on a map.
Freeway 549
The idea: A shortcut from I-80 running northeast to Cedar Rapids, plus a freeway through the city. At the time, IA 149 was the road running from the Amana Colonies to Cedar Rapids.
What happened: After I-380 was built, a four-lane running past the Amana Colonies seemed unnecessary. In 1985, a new paved connection was built running south from the Amanas to I-80, and US 151 was extended along it. The end.
Freeway 561
The idea: Corridor F5 in the 1964 plan. Four-lane US 61 from Dubuque to Davenport, including through Davenport to the Mississippi River. In the 1964 plan, F5 stopped at the proposed junction with F1 (new 20) northeast of the Dubuque Airport.
What happened: Except for the De Witt bypass and the US 151 duplex south of Dubuque, nothing until 1982, when a new four-lane opened between US 30 and I-80. A new road was built through Dubuque in the early 1990s, and completed between Dubuque and De Witt in the late 1990s. It has and will remain city streets in Davenport.
Forty years later: Done, except for killing the segment through Davenport. Upgrading the rest of 61, between Keokuk and Davenport, was not part of the 1968 plan - though it was kind of in the 1964 plan as part of Corridor F1. Despite that, much has been done there, but the Fort Madison bypass and 32 miles in the middle remain unbuilt.
Freeway 592/534
The idea: A four-lane road between Des Moines and Burlington, including a southern bypass of Des Moines. Corridor F4 in the 1964 plan, the route would follow IA 5 from I-35 to Knoxville, then IA 92 to Oskaloosa, US 63 to Ottumwa, and US 34 to Burlington.
What happened: A new alignment of 92 was built east of Knoxville in the late 1970s with the expectation it would eventually become four lanes, but at some point in the following decade or so, IA 163 became the preferred corridor. In addition, it was decided to make the four-lane from Oskaloosa to Ottumwa go past Eddyville instead of following 63's alignment of the time past Fremont. The original sketch bypassed Mount Pleasant to the southwest with Freeway 518, but that was eventually reversed to a northeast one.
The expressway progressed in bits and pieces since the Pella bypass opened in 1994. The final piece, the Fairfield bypass, is to open in 2008.
Forty years later: Though 163 became the chosen route for the four-lane to Burlington, IA 5 between Knoxville and Des Moines has been upgraded as well because of demand. Ironically, the only segment of Freeway 592 that was solely IA 92 will never be a freeway.
US 18 expressway
The idea: A second-tier project, split into 18W (Spencer to I-35) and 18E (the east Freeway 518 junction to the Wisconsin state line).
What happened: Pretty much nothing. A straightening between New Hampton and Postville never got past the drawing board. The Freeway 518 portion was built as part of the Avenue of the Saints.
Forty years later: The interchange with I-35 that opened in 1999 makes it easy to pretend that the four-lane could one day extend along the south side of Clear Lake (the lake) to Ventura, but that's about it. There is a four-lane New Hampton bypass with US 63, though.
US 30 expressway
The idea: Four-lane US 30 across the state, but head straight west from Denison, near Soldier and Onawa, and cross at the IA 175 bridge instead of going southwest. A four-lane segment between Ogden and western Ames had already opened in 1964.
What happened: Bits and pieces. In central Iowa, a 15-mile two-lane gap between Colo and IA 330 has existed since 1998. After the completion of the Tama/Toledo bisection in 2010, there will be a 28-mile two-lane gap to US 218. Cedar Rapids has been bypassed, but Mount Vernon and Lisbon are still waiting. It is four lanes from De Witt to Clinton.
In the sketches, a Marshalltown bypass to the south of then-current 30 (a line it would eventually follow) includes staying south of Le Grand (it went north instead), while crossing US 63 at virtually the same point as the two-lane and rejoining the original alignment at IA 212/present County Road E66 (instead, it'll cross 63 to the south and rejoin just east of Tama). The entire US 218 duplex would have been built half a mile south of the current alignment.
Forty years later: In central and eastern Iowa, call it half a loaf. West of Ogden, call it dead. The segment west of Denison probably wouldn't have ended up as US 30 anyway, even if they were allowed to make a four-lane through the Loess Hills.
IA 33 expressway
The idea: Create a diagonal expressway from Sioux City to I-90. US 75 was already four lanes between the north side of Sioux City and Le Mars.
What happened: Already noted with "(60)" on the map in preparation for a number change, that's all that changed for 35 years. Construction money finally found its way over there in the 2000s. A bypass of Sioux City mostly opened in two stages, 1978 and 2001.
Forty years later: As one backer put it, if they hadn't obtained the money when they did it may never have been built. Everything north of Sioux City that wasn't already in place by 1957 opened between 2004 and 2008.
US 34 expressway
The idea: Make US 34 four lanes across the state, with the segment east of Ottumwa being Freeway 534.
What happened: In 1965, a completely new alignment had been built between Hastings and Corning with the expectation of eventual upgrades - it even included interchanges at US 71 and US 59. But aside from a new segment west of Glenwood, nothing happened.
Forty years later: Dead west of Ottumwa. The only action on this front is the continued attempt to get a new bridge over the Missouri River.
US 63 expressway(s)
The idea: Four-lane US 63 north of Freeway 518 and south of Freeway 534.
What happened: 63 was passed over in favor of 218 for the Avenue of the Saints, but has received significant four-lane segments north of Waterloo anyway. Meanwhile, Missouri has steadily been upgrading US 63 from Jefferson City northward to Kirksville.
Forty years later: An 18-mile two-lane gap between IA 3 and US 18 could be completed eventually. However, the 37 miles of 63 from Ottumwa to the Missouri line - and, by extension, the 64 total miles from Ottumwa to Kirksville - will remain two lanes for the foreseeable future.
US 71 expressway
The idea: Four-lane US 71 from I-80 to the Minnesota line. It would stay west of present US 71 between I-80 and US 30, then go diagonal from US 30 west of Carroll to Wall Lake, then more or less due north to Milford, then northeast to the Minnesota line. From Early to Milford, the proposed line ran 1½ to 2 miles east of present 71.
What happened: Nothing aside from four-laning between Spencer and Spirit Lake (unless you include the two-lane Storm Lake bypass).
Forty years later: Dead. Western Iowa gets the short end of the stick again.
IA 150 expressway
The idea: From Independence, where Freeway 518 might meet US 20, run a four-lane road north to relocated US 18 somewhere near the Fayette/Winneshiek county line.
What happened: Nothing.
Forty years later: Ditto. There are enough problems trying to iron out two quick curves between Independence and Hazleton.
US 151 expressway
The idea: Connect Cedar Rapids and Dubuque with a four-lane road.
What happened: Aside from some upgrades near Marion and in Dubuque, nothing until the 2000s, when the entire corridor between Marion and Dubuque became four lanes in a matter of four years.
Forty years later: Completed. The only real difference is that instead of going into downtown Cedar Rapids, 151 takes a bypass around via IA 13 and US 30.
IA 330 expressway
The idea: A four-lane diagonal from Des Moines to Waterloo. Its north end would connect directly with Freeway 518 south of Cedar Falls.
What happened: Given the opposition to the original road in the 1930s, it's surprising such an option was even considered. But it was a serious enough proposition that year that a map of the proposed route was included in the book.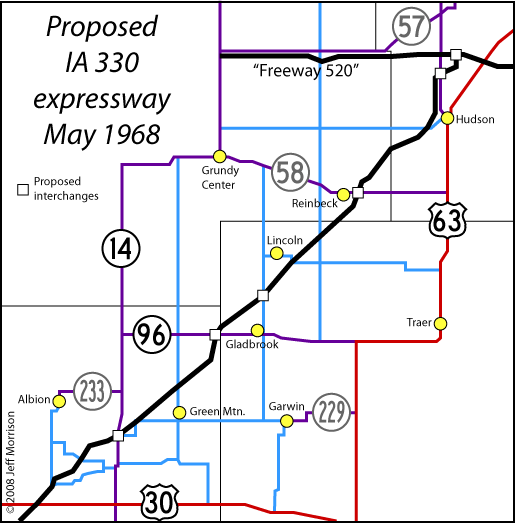 The firestorm that arose over the I-380 diagonal permanently doomed any diagonal extension of IA 330 past US 30. Instead, 330 was rerouted around Marshalltown via Albion.
Forty years later: Construction in the early 2000s created a four-lane corridor between Bondurant and US 30. The remainder of 330, plus IA 14 northward to US 20, are in the National Highway System, and with new 20 now in Grundy County that route is the corridor's replacement.
Page put online 5/18/08